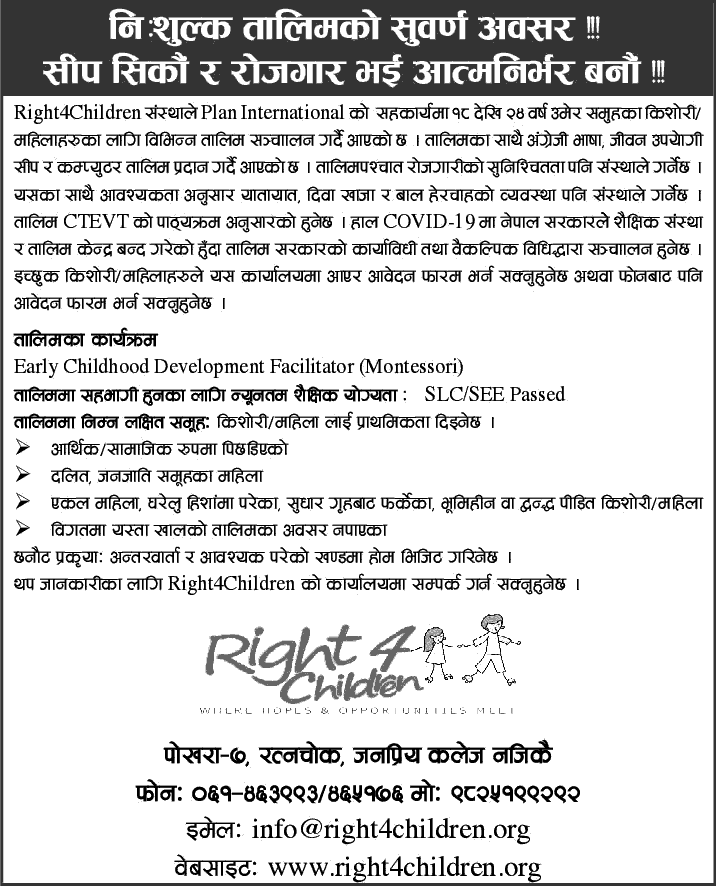 Early Child Development Facilitator (Montessori) Training at Right4Children Pokhara:
Right4Children has been conducting various training for adolescents/women in the age group of 18 to 24 years in collaboration with Plan International. Along with the training, it has been providing English language, livelihood skills, and computer training. The organization will also ensure employment after the training.
In addition to this, the organization will also arrange transportation, lunch, and child care as per the need. The training will be as per the syllabus of CTEVT. As COVID-19 is currently closed by the Government of Nepal for educational institutions and training centers, the training will be conducted by the Government of Nepal and alternative methods.
Interested teenagers/women can come to this office and fill the application form or can also fill the application form by phone.
Training programs: Early Child Development Facilitator (Montessori)
Minimum educational qualification to participate in the training: SLC / SEE Passed
Following target group in training: Adolescents/women are given priority.
Economically / Socially Backward
Dalit, a woman of Janajati Group
Single Women, Domestic Violence, Return from Rehabilitation Center, Landless or Conflict Adolescents / Women
had no such training opportunities in the past
Selection Process: The interview and the Home visit will be done if required.
You can contact the office of Right4Childeren for more information.
Contact Details:
Right4Children
Pokhara-7, Ratnachowk, near Janpriya College
Phone; 061-463223, 061-464106 Mo: 9824120222
www.right4children.org.