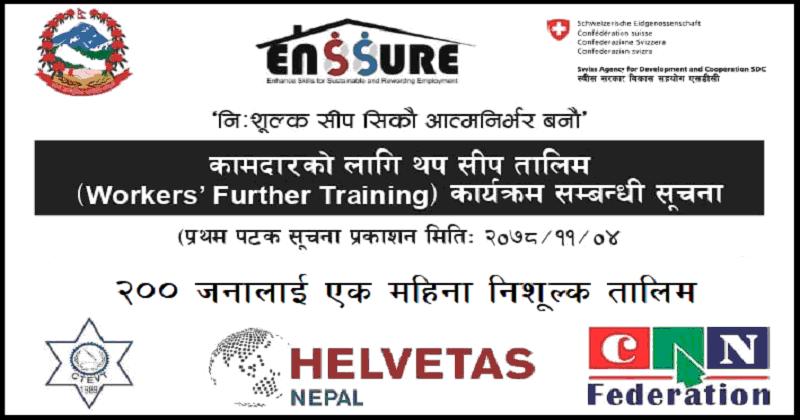 Workers' Further Training: The ENSSURE project for sustainable and dignified employment, run by the Council for Technical Education and Vocational Training (CTEVT) in collaboration with the Computer Association of Nepal (CAN) Federation, is conducting a Skills Training (Workers' Further Training) program on the specified subject; This information has been published for the interested persons to fill the online registration form as follows.
1) the last date to fill online form: Falgun 18, 2078
2) Subjects to be trained and required number:
i) Ethical Hacking - 100
ii) CCTV Installation and Repair - 80 people
iii) Printer Setup and Repair - 20
3) Training duration: 1 month 4 hours daily in the morning and evening (96 hours)
4) Place of training: Kathmandu, Nepal
5) Eligibility for training:
i) Workers or self-employed persons working in industry/business
ii) Persons returning from foreign employment
iii) People who have lost their jobs due to the Covid-19 epidemic
Online Registration form: https://training.can.org.np/
* Only eligible candidates will be invited for the interview and the selected candidates will be informed of the training program.
For more information, visit the CAN Federation's website at www.can.org.np; Or contact the Secretariat of Computer Association Nepal Federation (CAN Federation), Khusibu Kathmandu, Nepal.
Phone: 01-4381070, 01-4382090,
Email: [email protected],
URL: www.can.org.np
Application Link: https://forms.gle/sKLu33GYA3dUbn1e6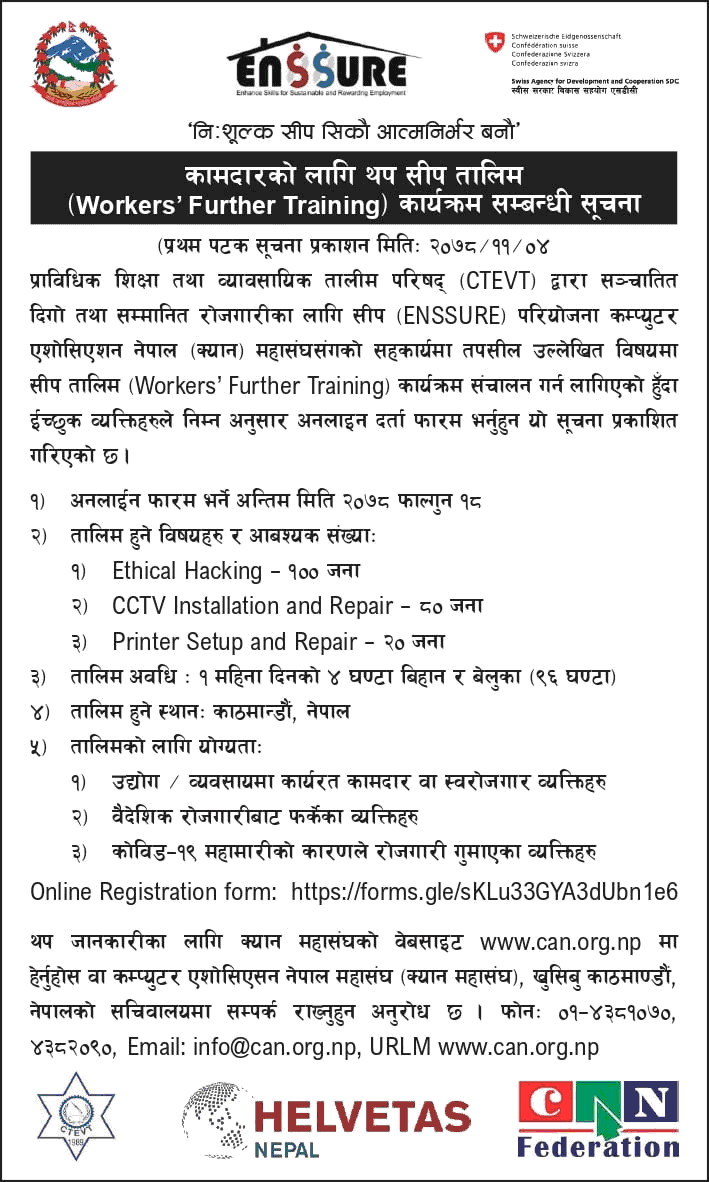 Free Training
Training