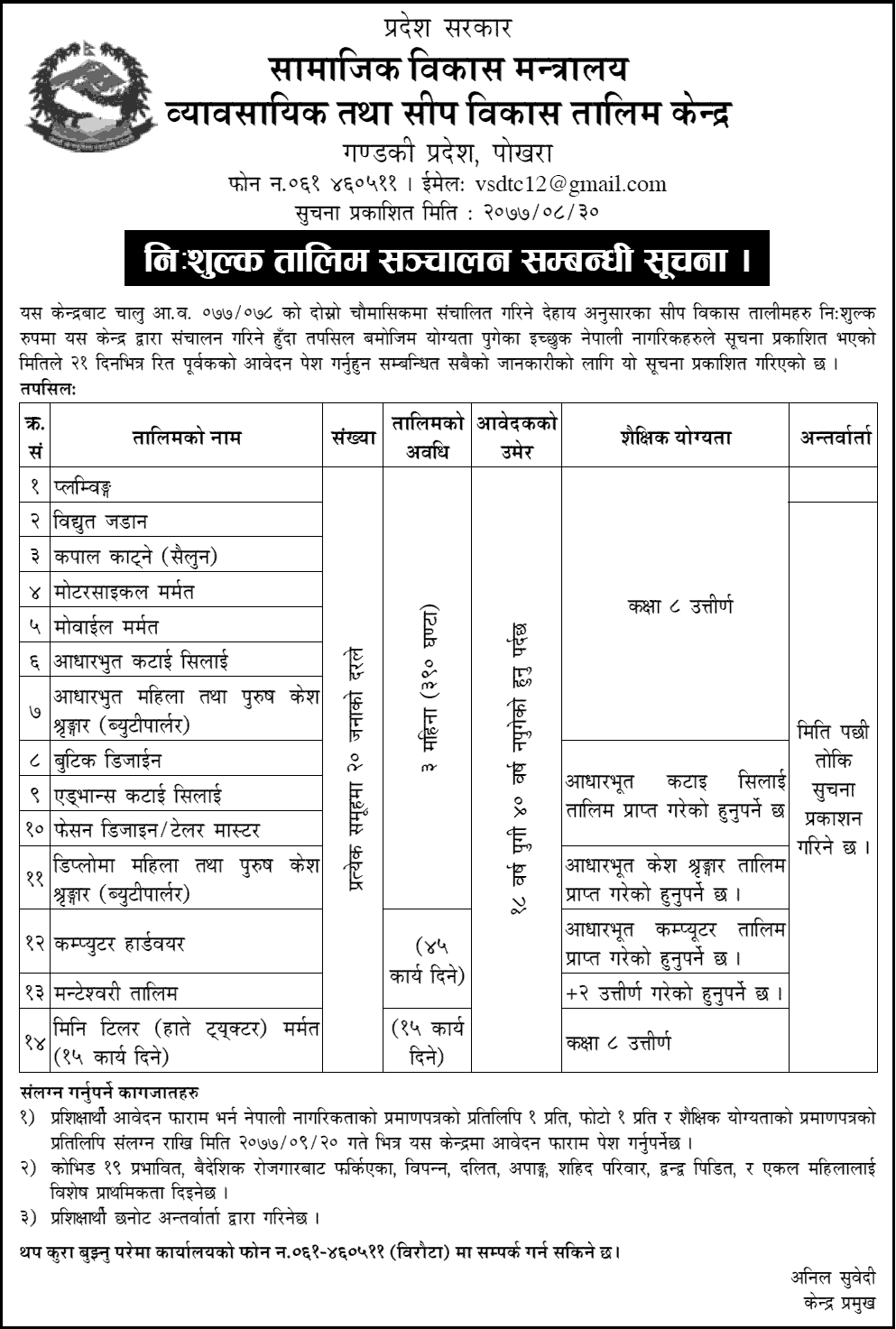 Free Skilled Training Programs from the Gandaki Pradesh Government 2077:
Province Government, Ministry of Social Development, Vocational and Skill Development Training Center (VSDTC), Gandaki Pradesh, Pokhara Notice of conducting free training:
Since the following skill development training will be conducted free of cost in the second quarter of the current Fiscal Year 2077/078 from Vocational and Skill Development Training Center, Gandaki Pradesh, Pokhara.
Interested Nepali citizens who have qualified as per the details should submit the application within 21 days from the date of publication of the notice. This notice has been published for the information of all concerned.
Training Courses
Required Qualification
3 months (390 Hours) Training
1. Plumbing

Class 8 Passed

2. Electrics wiring
3 Hair Cutting (Sailoon)
4. Motorcycle Repairing
5. Mobile Repairing
6. Basic Hair Cutting
7. Basic Hair Cutting for Women and Men (Beauty Parlor)
8. Boutiq Design
9. Advance Swing (Silai Katai)
Candidates must have received basic Swing training
10. Fashion Design / Tailor Master
11. Diploma in Hair Dressing for Women and Men (Beautiparlor)
45 Days Training
12. Computer Hardware
Must have received basic computer training
13. Montessori Training
Must have Passed 10+2
15 Days Training
14. Mini Tiller (Hand Tractor) Repairing
8 Class Passed
Age Limit: 18 Years completed and not exceeding 40 years.
Number: 20 Seats for each Group
Date of Interview: will be published later on
Documents to be attached:
1) To fill the trainee application form, 1 copy of Nepali citizenship certificate, 1 copy of photo and copy of educational qualification certificate should be attached and the application form should be submitted to this center by 2077-09-20.
2) Special priority will be given to COVID 19 affected, returnees from foreign employment, destitute, Dalit, disabled, martyr's family, conflict victims, and single women.
3) Trainee selection will be done by interview.
If you want to know more, you can contact the office on Phone No. 061-460511 (Birauta).