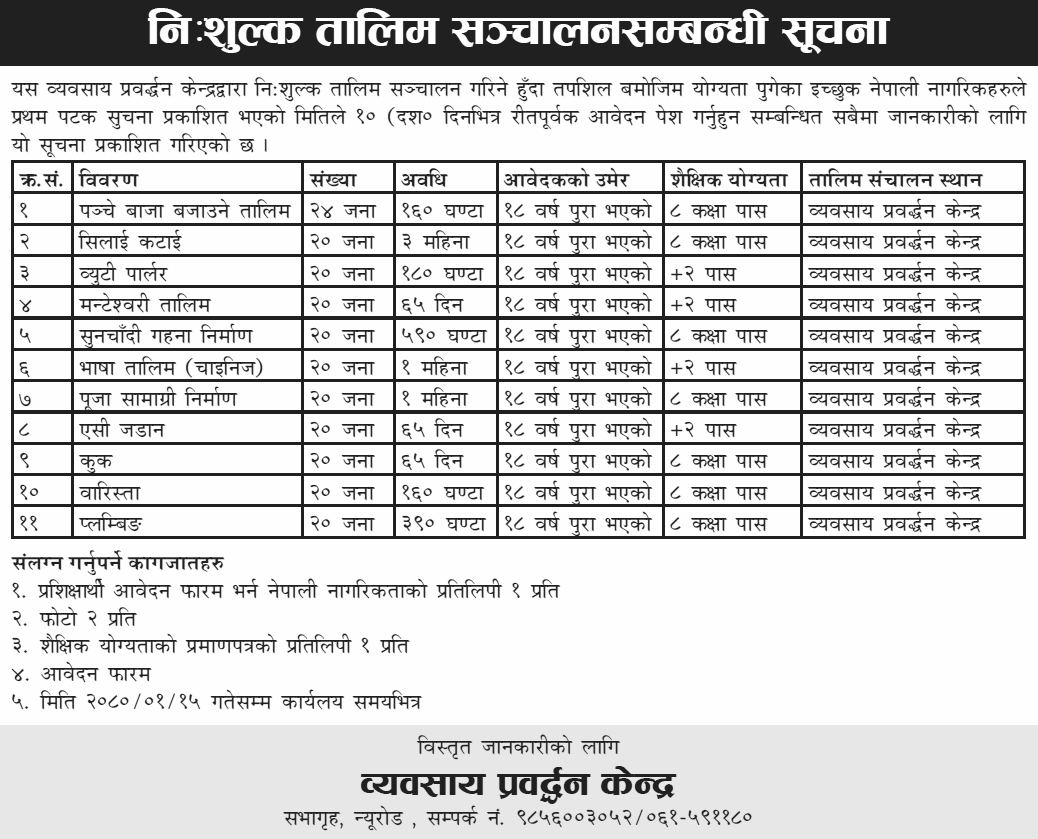 Free Training Opportunities for Nepali Citizens by Business Promotion Center
The Business Promotion Center has announced free training opportunities for Nepali citizens in various fields such as Panche Baja, Cutting Stitch, Viewty Parlour, Montessori Training, Gold and Silver Jewelry Manufacturing, Language Training, AC Connection, Cook, Varista, and Plumbing.
Application Process
Interested candidates who meet the eligibility criteria for the respective training programs should submit their applications within 10 days from the date of the first publication of the notice. The required eligibility criteria include being 18 years old or above, having passed 8th class or +2, and possessing a Nepali citizenship certificate.
Training Details
The training duration varies for each program, ranging from 65 days to 590 hours, and the number of trainees also varies, from 20 to 65 people per program. The training programs will be conducted at the Business Promotion Center in New Road.
Required Documents
Candidates should attach the following documents along with their application:
One copy of Nepali citizenship
Two copies of photo
One copy of the educational qualification certificate
Dated application form
Contact Information
For further information and queries, interested candidates can visit the Business Promotion Center auditorium or contact them via phone at 9856003052/061-591180.
Free Training
Pokhara
Training