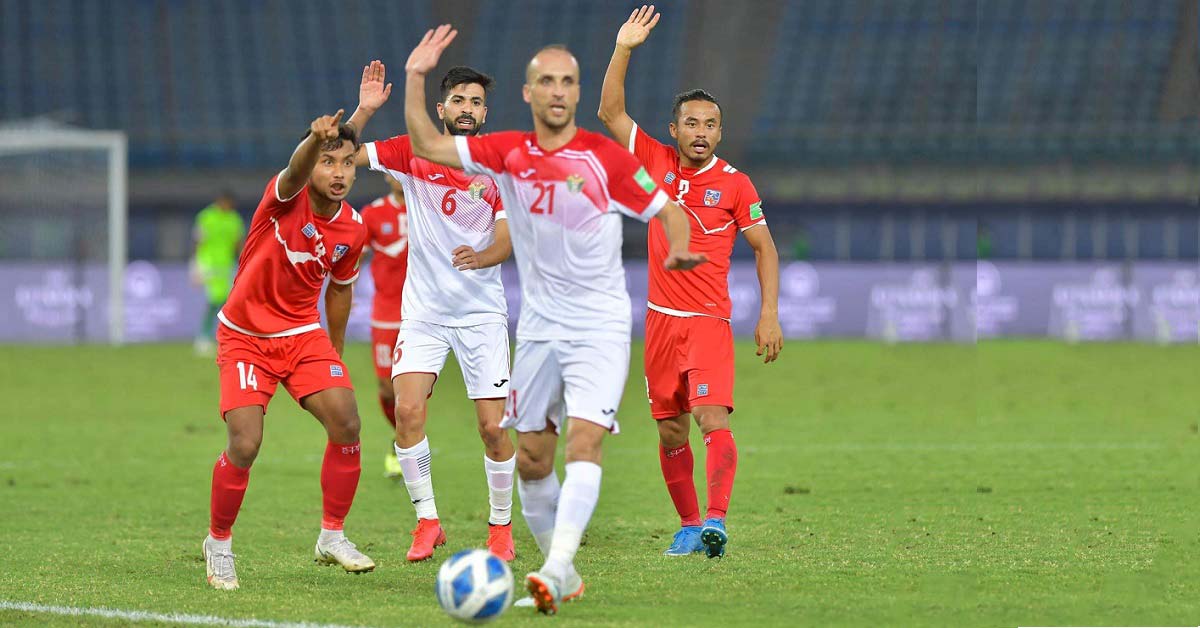 Jordan has easily defeated Nepal in the qualifying match of the World Cup 2022. Jordan defeated Nepal 3-0 in their seventh match of the qualifiers in Kuwait. Jordan has risen to the second position of Group B with the victory over Nepal. Jordan has added 13 points from six games. Kuwait has added only 10 points from the same six games. This is Jordan's fourth consecutive victory in the selection game.
In the match played at Al Jabbar International Stadium in Kuwait, Jordan made all three goals possible through free kicks and penalties.
From the start of the first half, Jordan played an aggressive game. But only in the 23rd minute he was able to open the scoring. When defender Rohit Chand fought Suleiman inside the penalty area, Jordan got a penalty. Baha Faisal Safe converted a penalty to give Jordan a 1-0 lead. Goalkeeper Kiran Chemjong dived to the right to block the penalty kick and the ball had kissed the goal post. Baha Faisal completed 11 goals in his 28th game for Jordan.
In the 29 th minute of the match, defender Bikas Khawas was injured and Sunil entered the field. In the 35 th minute, Anjan Bista could not find the ball given by Sunil inside the penalty area and Nepal was deprived of the opportunity to score.
Jordan took a 1-0 lead in the first half and added a goal early in the second half to take a 2-0 lead. Ajan Al Arab scored in the 67th minute to give Jordan a 3-0 lead. That goal was enough for Jordan to win over Nepal.
Nepal will face Australia in their final match of the selection. The match between Australia and Nepal will be played on June 11. After the match, there will be a competition between Kuwait and Jordan. The match between Kuwait and Jordan will complete the equation of the team to be selected for the World Cup.
World Cup 2022
Football
Sports