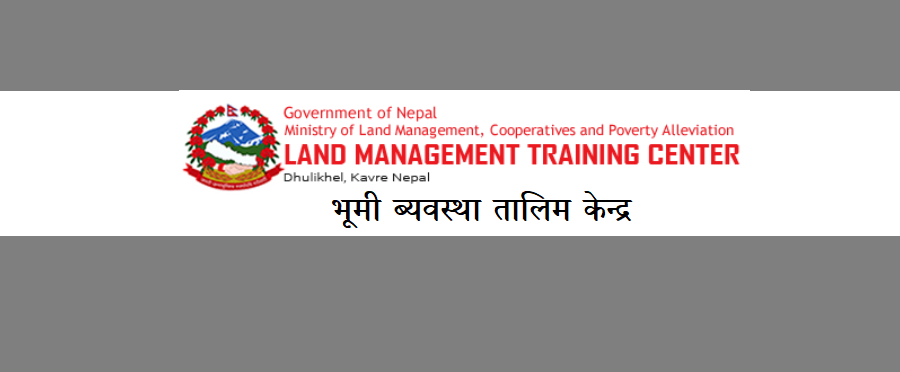 Government of Nepal, Ministry of Land Management, Cooperative and Poverty Alleviations, Land Management Training Center Notice for Junior Survey Training Programs for Departmental Group.
According to the approved annual program of Fiscal Year 2078/79 of the Land Management Training Center; As the training/study and educational programs starting in the Fiscal Year 2078/79 have to be conducted under Junior Napi Training, the first amendment to the Trainee Recruitment / Selection Process "Criteria and Basis for Selecting Trainees in Junior Napi Training Program, 2075" 2076-04. According to 19; As per the decision, it is requested to nominate and send the application form in the attached format to the interested employees who have fulfilled the criteria as per the details.
Details:
1) The applicant employees should have the following qualifications:
A) Working in Nepal Engineering Service, Survey Group,
B) Passed SLC or equivalent and received Amin or basic measurement training,
C) Completed at least 3 years permanent service period in Nepal Engineering Service, Survey Group by the last date of application.
2) The basis of seniority will be the employment period and the calculation of seniority will be done through the procedure of Public Service Commission.
3) There should be a recommendation from the department head.
4) In the case of employees working at the state and local levels after adjustment, seniority will be calculated as the position from which the adjustment has been made.
5) Last date for receipt of nomination form at the center: 2078-11-02
6) List of successful trainees to be selected in the training from the center Publication date: 2078-11-05
7) Last date for successful trainees to contact the center for selection: 2078-11-09
8) Junior Survey Training Program Training Start Date: 2078-11-15
Reference:
Ministry of Land Management, Cooperatives and Poverty Alleviation, Singha Durbar, Kathmandu
Supreme Court, Ramshah Path, Kathmandu.
Ministry of Federal Affairs and General Administration, Kathmandu.
Ministry of Energy, Water Resources and Irrigation, Kathmandu.
Department of Survey Minbhavan, Kathmandu.
Department Of Roads, Baber Mahal, Kathmandu.
Department of Mines and Geology, Kathmandu.
Department of Urban Development and Building Construction, Kathmandu.
Department of Land Management and Records, Kathmandu.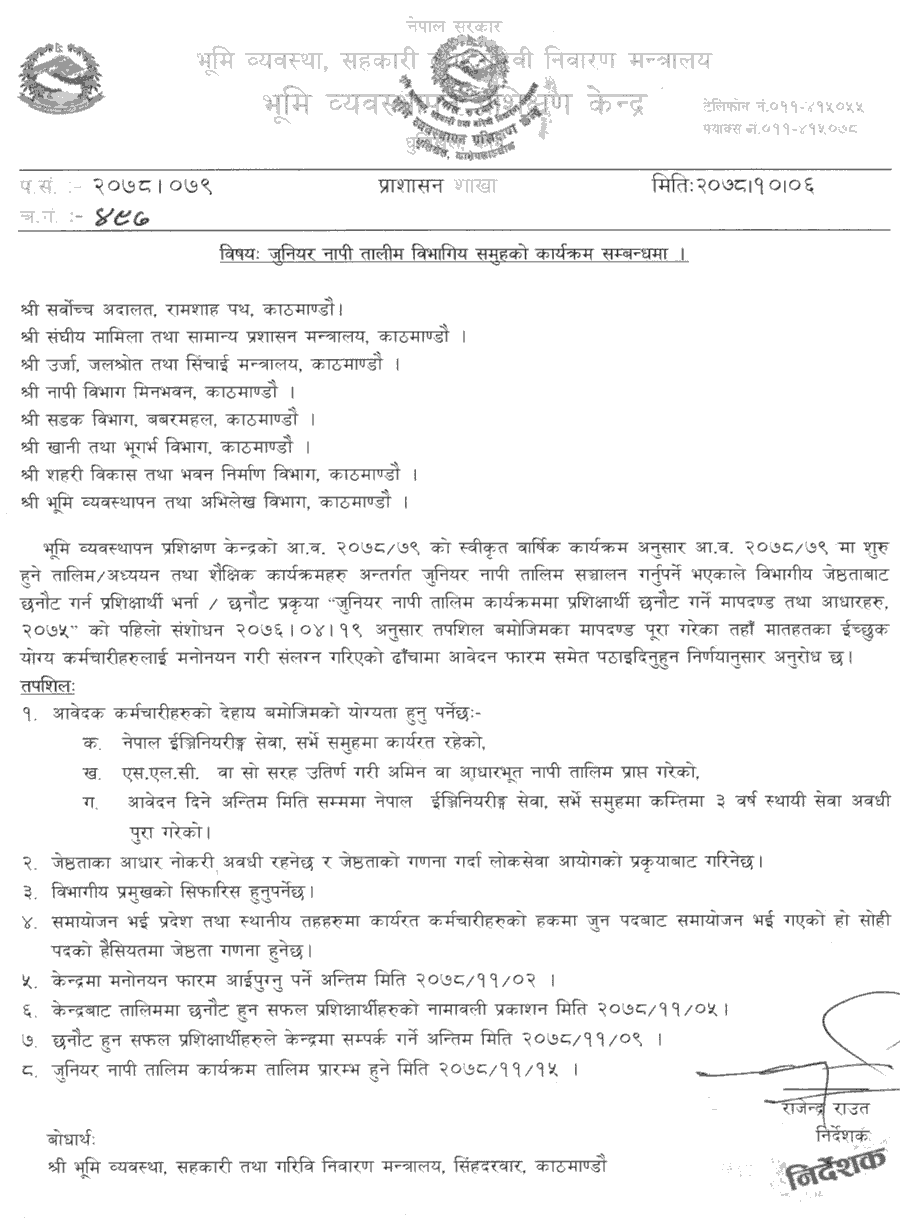 Notice
Training