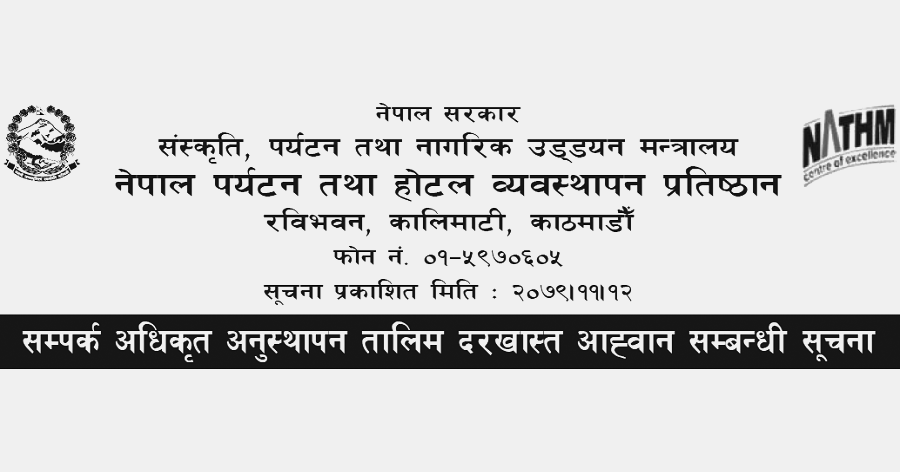 The Ministry of Culture, Tourism, and Civil Aviation in Nepal has announced a call for applications for Liaison Officer Training. The training will be conducted jointly by the Nepal Academy of Tourism and Hotel Management (NATHM) and Nepal Mountain Academy on Falgun 29, 2079.
Eligible candidates for the training include non-gazetted first-class to second-class civil service employees, gazetted third-class officers of civil service or Nepalese Army, Nepal Police, Officer staff of Armed Police, or Everest climbers. Interested applicants must submit a certified copy of certificates of eligibility and departmental recommendation along with the training fee of Rs.5,100 to Nepal Tourism and Hotel Management Foundation's current account at Citizen Bank International Limited. The application form should be submitted within 15 days of the notice publication.
To apply for the training, candidates must submit their application forms with supporting documents such as a copy of their Nepali Citizenship Certificate, two copies of their passport-size photograph, a copy of a certificate of graduation or equivalent educational qualification, a letter of recommendation from the concerned ministry/department or working body, and a copy of the certificate issued by the Department of Tourism and a copy of the entrance exam pass certificate in the case of Nepali climbers who have successfully climbed Everest Himalchuli.
Applicants can download the training application form from www.nathm.gov.np or obtain it from the Nepal Academy of Tourism and Hotel Management (NATHM) located in Ravi Bhavan, Kalimati, Kathmandu.
The Liaison Officer Transfer Training is an opportunity for individuals who are interested in mountaineering and working in the tourism industry. The training will equip participants with the necessary skills and knowledge to perform the duties of a Liaison Officer effectively. It is an excellent opportunity for individuals to enhance their careers and contribute to the development of the tourism industry in Nepal.
If you are interested in applying for the Liaison Officer Training, be sure to submit your application before the deadline and ensure that all required documents are included.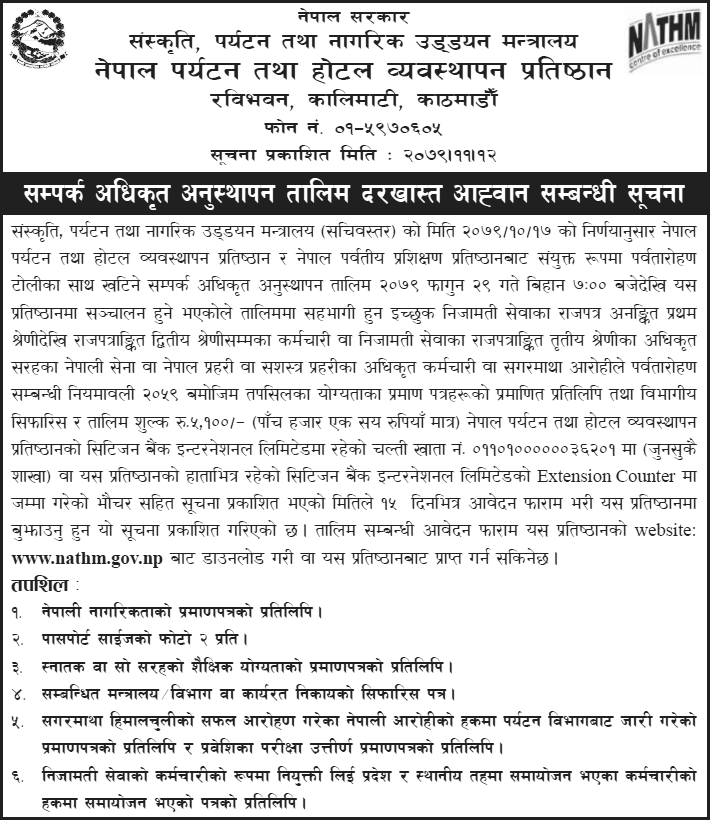 Training