Join the Celebration of Nepali Poetry: Nepal Pragya-Pratisthan's National Poetry Festival-2080 Calls for Participation
Nepal Pragya-Pratisthan, located in Kamaladi, Kathmandu, is organizing the 'National Poetry Festival-2080' to mark its 66th anniversary on the 9th of Ashad 2080. This festival is a platform for Nepali poets to showcase their talent and creativity. The institution cordially invites all Nepali poets to attend the festival or submit their poems through email.
Participation Guidelines
Participants can submit poems in all languages of Nepal, including their mother tongue. For poems in mother tongue, a translated version must be provided. The festival committee will select the best 10 poems for reading, and each selected poet will receive Rs. 15,000 along with a certificate of appreciation.
Poem Submission Criteria
Poems submitted for the festival must be original and not have been published or circulated in any electronic or printed medium before the festival's completion. Any poems submitted after the deadline or not adhering to the prescribed criteria will not be evaluated.
Contact Details
Poets interested in participating in the 'National Poetry Festival-2080' can contact Nepal Pragya-Pratisthan at 01-4221241/42, 4221283 (138 extension) or email their poems to [email protected]. Participants are also requested to send a recent passport size photograph, along with their contact address and mobile number, in a clear written form.
The 'National Poetry Festival-2080' is an excellent opportunity for Nepali poets to showcase their creative talents and get recognized. We encourage all poets to participate in this festival and submit their original and best work for evaluation. The deadline for submission is the 20th of Ashad 2080.
Notice Published on 2080/01/14 (27th April 2023)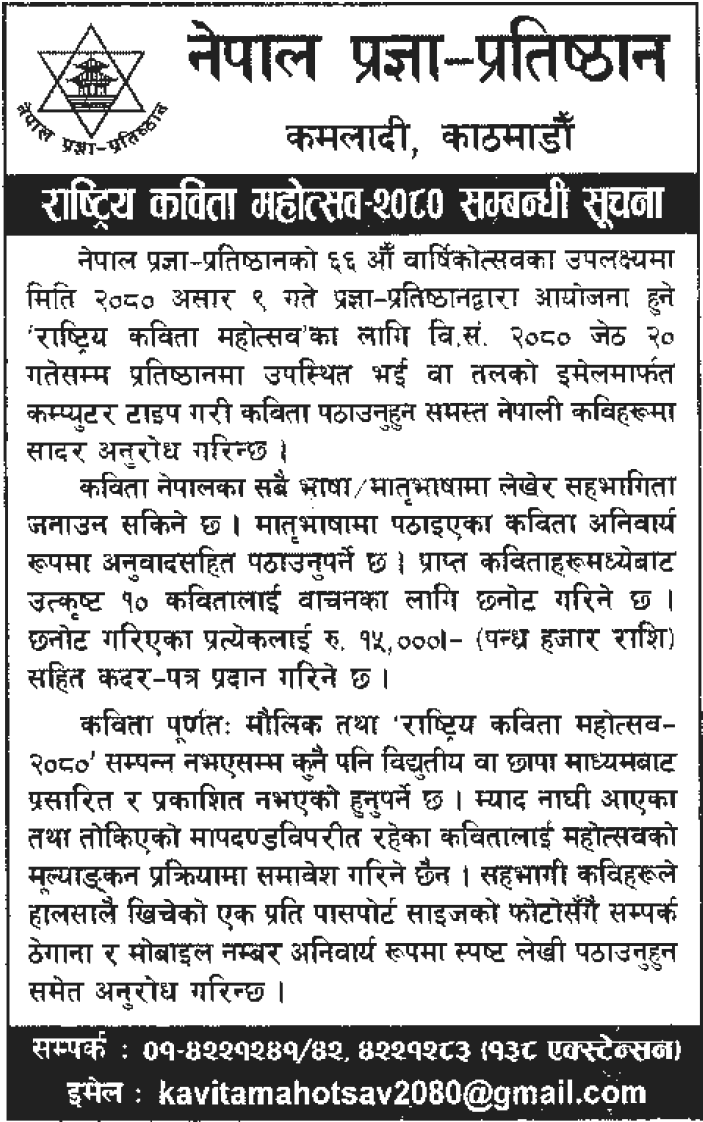 Competition
Festival