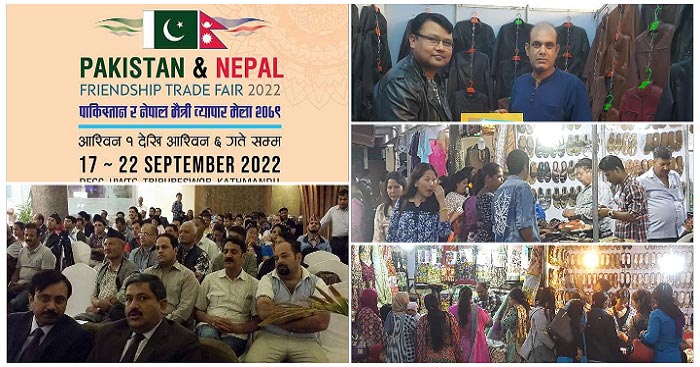 Pakistan & Nepal Friendship Trade Fair in Kathmandu from 17 to 22 September 2022: An exhibition of various goods and materials produced in Pakistan will be held in Kathmandu in the first week of Ashwin (1st to 6th of Ashwin/ September 17th to 22nd, 2022).
The 'Pakistan and Nepal Friendship Trade Fair 2022' fair is going to be held from 1st to 6th of Ashwin (September 17th to 22nd) on the fourth floor of the United World Trade Center in Tripureshwar, Kathmandu.
Furniture, leather goods, handicrafts, clothes, sarees, kurtas, bed sheets, shoes, sandals, imitation jewelry, etc. will be available at the Pakistan-Nepal Friendship Trade Fair. The organizer and event manager Introduction Trade Show Nepal Pvt. Ltd., which gives importance to the awakening of art, culture, and customs between the two countries, said.
Introduction Trade Shows Nepal P. Ltd. as an organization to make the program successful. Embassy of Pakistan KTM Nepal in Endorsed By, LCCI in Promoted by, UWTC in Supported by, DECC in Venne Provider, Ads in Digital Partner, and others will increase the service of the program.
In collaboration with the Pakistani and Nepalese embassies in Kathmandu, such an exhibition has been held in Kathmandu every year for the past decade. Prominent businessmen of Pakistan will participate in the week-long fair.
Suman Maharjan, the managing director of the organizer, Introduction Trade Show, said that fairs like these fairs are expected to be fruitful for both countries by promoting economic activities.
It expressed the hope that the leather products made in Pakistan have taken the Nepali market and the handcraft materials of Nepal have made an impact in Pakistan through the fair.
It said that such a fair would play an important role in bringing the businessmen of both countries closer, and said that the exhibition would be beneficial in strengthening the bilateral relations of the past six decades.
India and Bangladesh will also have stalls among the guest nationals for business promotion. This time, as the attraction of the fair, there will be food stalls with the taste of different countries, a gaming zone for small children, photoshoots, various cultural programs, and stalls of the best products from Pakistan, India, Bangladesh, and Nepal, according to the organizers.