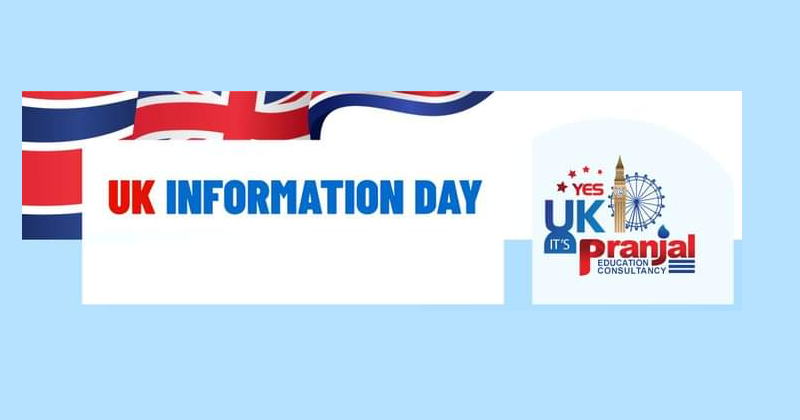 The United Kingdom (UK) stands out as a prime study destination, renowned for its exceptional education system, globally recognized diplomas, and promising career prospects. With a wide array of degree programs tailored to individual interests, the UK offers a remarkable educational experience. As an international student, you can expect ample support and numerous opportunities in a welcoming environment. Notably, studying in the UK comes at a reasonable cost of living, ensuring affordability without compromising on quality. Additionally, the UK serves as a gateway to Europe, allowing you to immerse yourself in rich cultural heritage while exploring abundant opportunities across the continent.
Don't Miss Out: Pranjal Education Consultancy's UK Information Day Event
Pranjal Education Consultancy is organizing a highly anticipated UK Information Day event on June 2, 2023, from 11:00 AM to 5:00 PM. This event presents an incredible opportunity for individuals aspiring to pursue their studies in the UK. Taking place at the esteemed office premises of Pranjal Education Consultancy, located at Putalisadak Chowk, Kathmandu, the event promises to be a hub of valuable information and guidance.
Representatives from Renowned UK Universities: Unveiling Pathways to Success
Esteemed representatives from renowned UK universities will grace the event, ready to provide invaluable insights into their institutions. Expect to interact with representatives from prestigious universities such as Oxford International, De Montfort University, Bangor University, University of Greenwich, University of Bradford, and the University of Dundee. These representatives will shed light on the diverse range of courses offered and share vital information about the scholarships available at their respective institutions.
Eligibility Criteria: Your Key to Unlocking Possibilities
The event is open to students who hold a minimum CGPA of 2.0 and possess a maximum educational gap of four years. Furthermore, students who have achieved a minimum IELTS score of 5.5 can apply for further studies at these esteemed universities. This inclusive eligibility criteria ensures that aspiring students with a passion for education have an opportunity to explore their potential in the UK.
Empower Yourself: Benefits of Attending the UK Information Day Event
By attending the UK Information Day event, you will gain invaluable insights into the advantages of studying in the UK. Engage in meaningful conversations with representatives from top-ranked universities and receive personalized guidance tailored to your academic aspirations. Discover the diverse range of degree programs and scholarships available, enabling you to make well-informed decisions about your educational journey. This event acts as a stepping stone for you to embark on an enriching academic experience in the UK, opening doors to a brighter and more prosperous future.
Don't miss this exceptional opportunity to explore endless possibilities and set your academic journey in motion. Join us at the UK Information Day event organized by Pranjal Education Consultancy on June 2, 2023. Be prepared to take your first steps towards a rewarding and successful educational endeavor in the United Kingdom.
Kathmandu