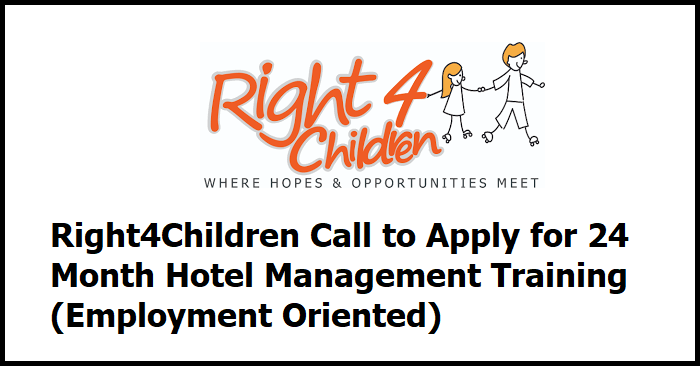 Opportunity for educational training including working practice related to free employment oriented hotel management: Right4Children (R4C) has been conducting hotel related training programs for the last few years to enhance the living standards of the youth and their families. This year too, Right4Children (R4C), in collaboration with GATE Vocational, is launching a 24-month educational training program with a new 10 + 2 level of practice. This notice has been published for the interested youths who have fulfilled the mentioned qualifications to come to this office within 8th of Poush 2078 BS and fill the application form.
Features of the training:
The trainees will learn general and professional theoretical subjects at the residential training provider institution for the first 3 months of the training period.
In the next 20 months, they will go to the related industry / business (field) and learn about basic and professional skills.
During the last month of the training period, the trainees will exchange their experiences at the training provider and learn the skills they have not been able to learn in the field.
During the training period, the teachers / trainers will continuously perform, monitor and supervise the work of the trainees and necessary orientation and guidance will be given to increase their work efficiency.
Minimum qualifications required to participate in the training:
Must have special interest in working in hotel business.
Must be economically / socially backward.
Must be a Nepali citizen who has completed 17 years of age and has not reached 23 years of age.
Must pass interview and aptitude test.
Must be studying SEE pass or class 11.
Mentally and physically able to do as prescribed by the curriculum.
Documents required to fill out the form:
1) Photocopy of Nepali citizenship certificate
2) 1 copy of recent passport size photo
3) Photocopy of SEE passed certificate
Selection Process:
Interview and Home Visit if required. For more information about this program, contact the office of Right4Children.
(Note: Offices will be closed on public holidays, Saturdays and Sundays.)
Contact Details:
Right for children
Pokhara-7, Ratnachowk, Janapriya Marg (Across Shrikrishna Pranami Temple)
Phone no.: 061-463993, 061-465176, 98028 58035 (Sujit Kumar Thapa), 9841522500 (Bivek Poudel)
Email: [email protected]
Website: www.right4children.org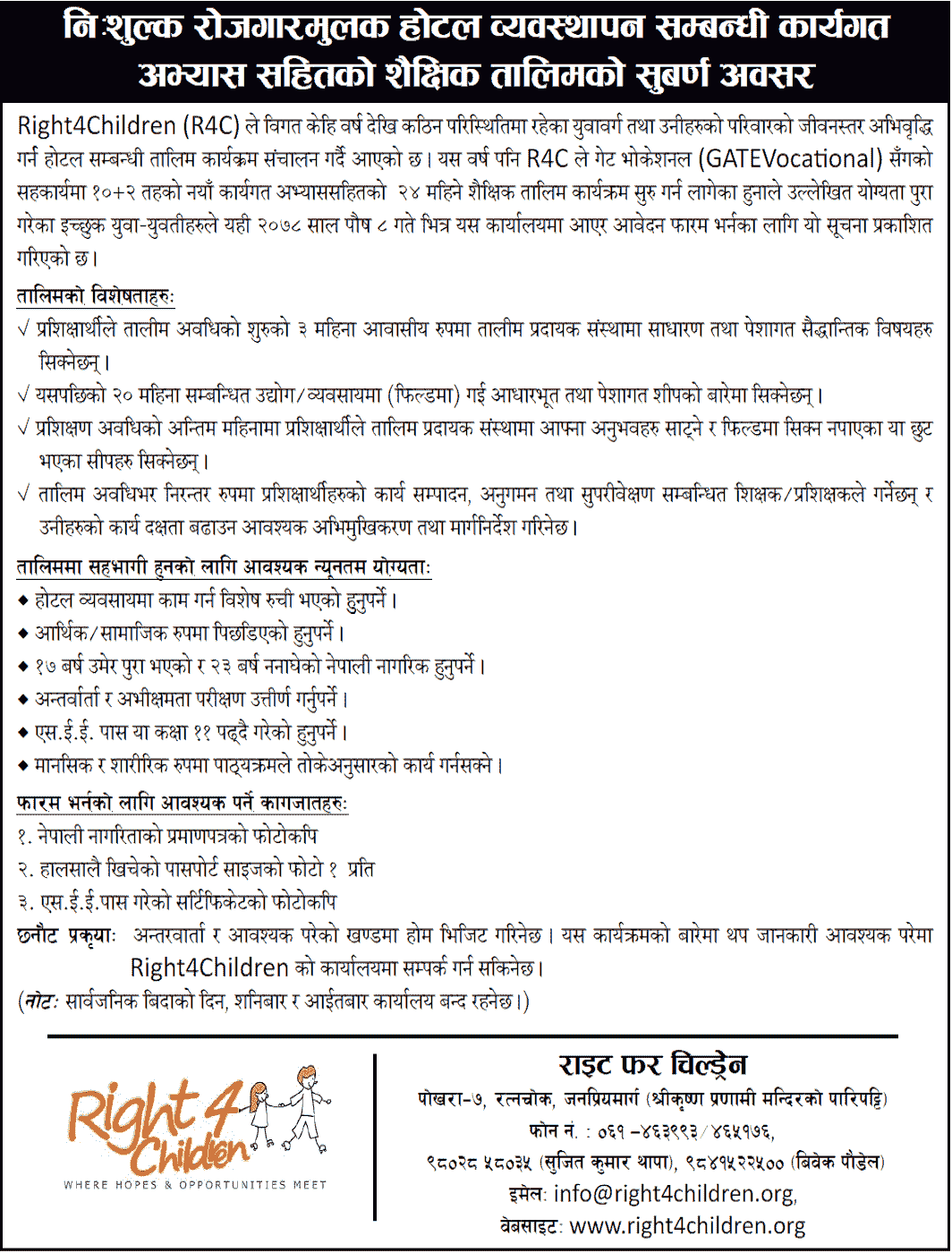 Free Training
Pokhara
Training