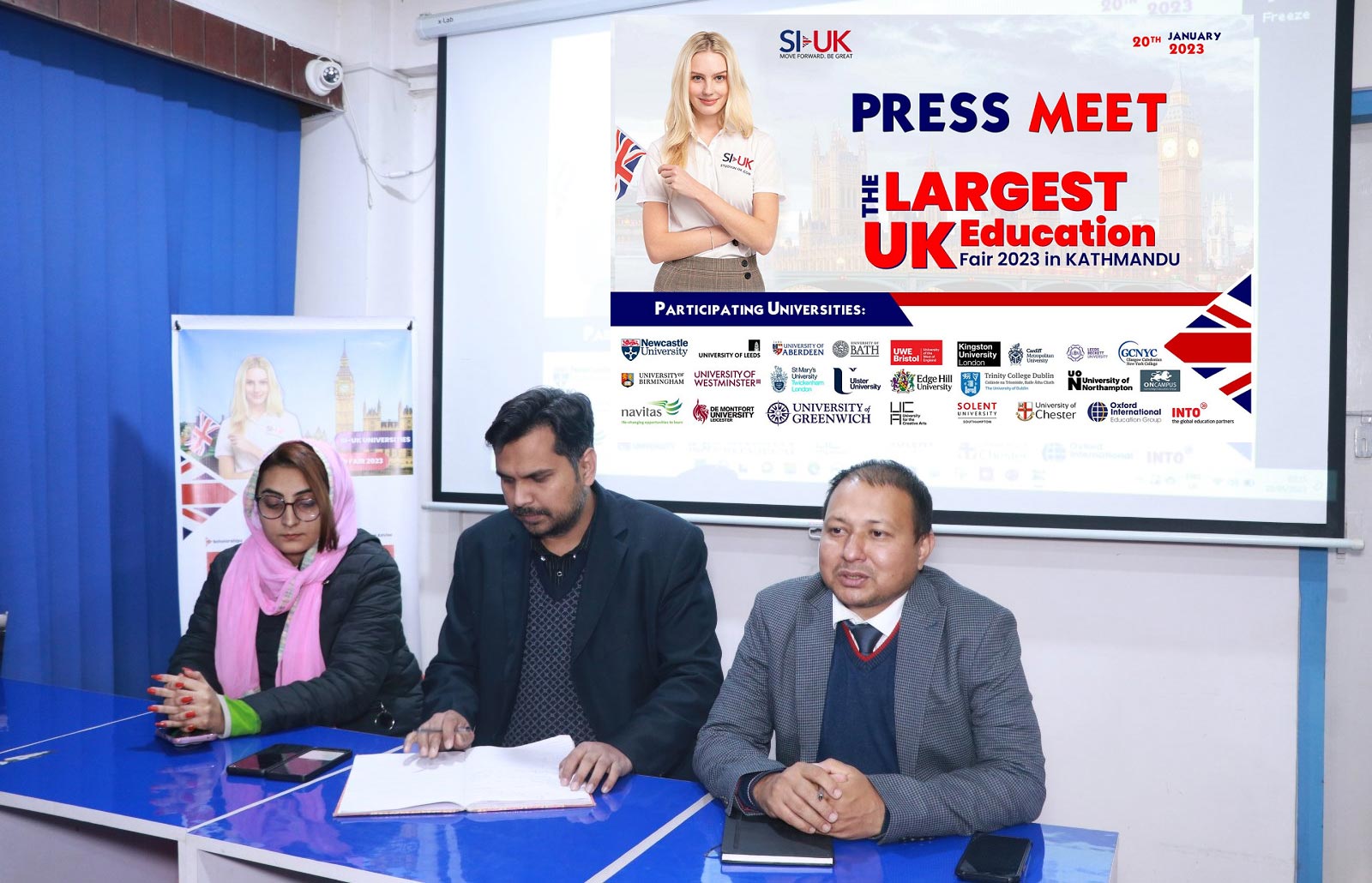 SI-UK Nepal is going to organize "The Largest UK Education Fair 2023" in Radisson Hotel Kathmandu on 4th February and Pokhara City Square Banquette on 5th February 2023 respectively.
SI-UK Nepal Country Director Binay Adhikari informed that in the "The Largest UK Education Fair 2023", will participate more than 30 world top ranking UK and Irish universities including University of Northampton, University of Leads, University of Birmingham, and Trinity College Dublin.
SI-UK claims that this program is the biggest UK education fair in Nepal so far and students who are looking for higher education in UK and Ireland will get a chance to get information about various opportunities during and after their degree.
SI-UK is an international education consultancy that has been assisting students with the right counseling and admission process to pursue higher education in the UK.
SI-UK is top ranking agent to facilitate admission to popular universities including Oxford University, Cambridge University, London Imperial University, University College London, and King's College London. SI-UK provides free independent advice and support to Nepalese students applying to study in the UK. SI-UK education consultants are fully experienced and trained by trusted university partners and the British Council.
SI-UK Nepal request all aspired students and their parents to participate in The Largest UK Education Fair 2023 at Kathmandu and Pokhara to meet direct representatives from top-ranking universities of the UK and Ireland.
Event Details:
Event Name: The Largest UK Education Fair 2023
Kathmandu
Date: 4th February 2023
Time: 10 AM to 5 PM
Venue: Radisson Hotel, Kathmandu
Pokhara
Date: 5th February 2023
Time: 10 AM to 5 PM
Venue: Pokhara City Square Banquette