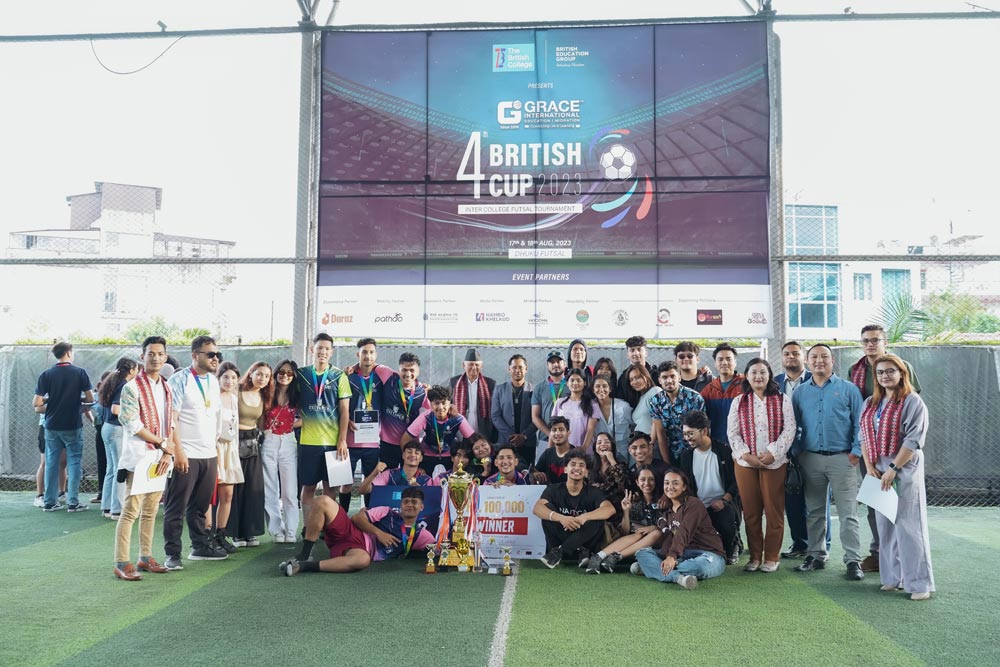 Thames College wins 4th British Cup 2023 Inter College Futsal Tournament
On the 17th and 18th of August, The British College hosted the "4th British Cup 2023 Inter College Futsal Tournament" at the Dhuku Futsal Grounds, Baluwatar, Kathmandu.
With 16 different colleges taking part, it all came down to an exciting final between Thames College and ISMT College - and Thames took the victory!
By winninng first place the Thames team took home a cash prize of one Lakh, while the runners-up, ISMT College, won a second place cash prize of Rs 50,000. Prices of 10,000 were also given to the best player and best goalkeeper of the tournament, Milan Godar Thapa and Mohamed Fahid, both from the Thames College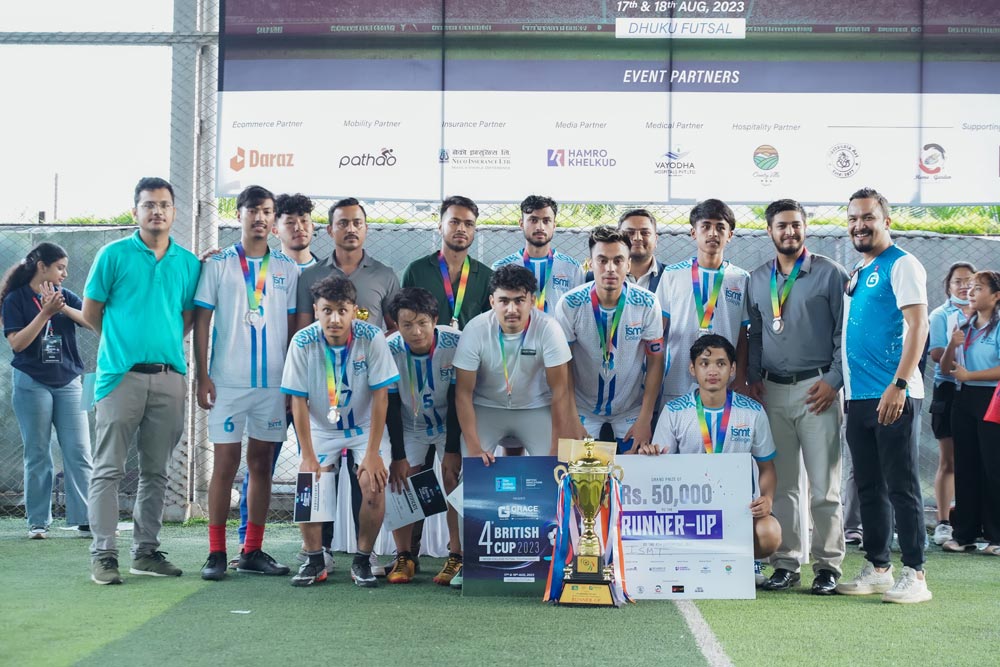 Upendra Raj Sharma, Chairman of The British College, attended the final and said of the result, "We are very proud of all of our students who organised it, volunteered at the event, and came along to support their friends. It was a great reflection of everything we stand for here at TBC".
Overall, the event was a great success, and it was all made possible through the event sponsors - which included the title sponsor, Grace International Consultancy; Insurance partner, Neco Insurance; E-Commerce Partner, Daraz; Mobility Partner,Pathao; Hospitality partner, Hotel Country Villa; Media Partner, Hamro Khelkud; Food Partner, MK Food Products; Medical Partner "Vayodha Hospital"; and Supporting Partners, Memo Garden, Red Moon, Aakhi Jhyal, and Shiva Sound.
Head of Admission & Marketing at The British College, Amardeep Mandal said of the occasion, "I would like to thank everyone who took part and everyone who made it possible." He also thanked all the College teams for participating and keeping everyone entertained throughout the tournament - King's College, Thames College, Ace Business School, Campion college, St. Xaviers, IIMS, Softwarica, Herald Ktm, ISMT, Silver Mountain, Prime, Apex, NATHM, KCM, and of course TBC.
He also gave a special thanks to Himal Karki, ECA Coordinator and Kavi Chandra Rai, Sports Coordinator for organising the tournament so successfully and added, "We look forward to coming back next year bigger and better than ever and are already preparing for the 5th British Cup in 2024".
Competition
Sports