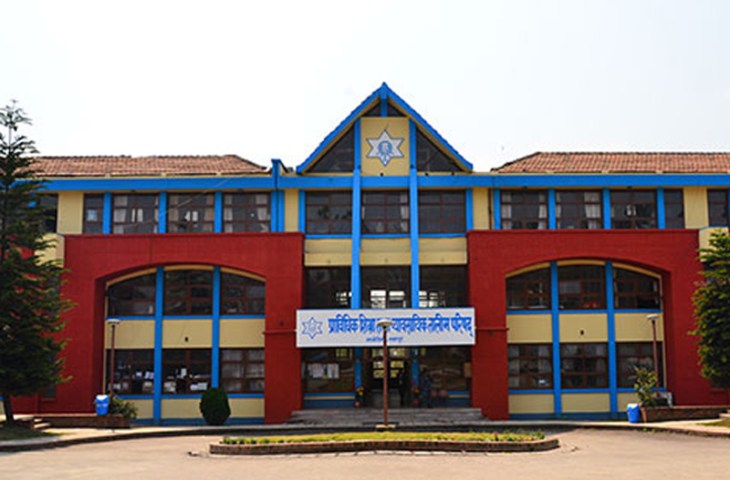 Council of Technical Education and Vocational Training (CTEVT), Office of Control of Examinations (OCE), Sanothimi, Bhaktapur Very Important Notice Regarding Submission of Examination Application Form for Pre-Diploma Level (One Subject) Chance Examination
For educational institutes that have received affiliation/approval from the Council for Technical Education and Vocational Training (CTEVT) and have conducted technical education programs in CTEVT's affiliated, partner, community schools and run all pre-diploma level programs (including special scholarship programs in technical education) at the private level; According to rule 3 b (4) of examination regulations 2071, among the regular side examinees included in the annual examination conducted in the month of Baisakh 2079, the partial examinees who have failed only one subject on the theoretical side will be charged an examination fee of Rs 200 (literally two hundred only) for the chance examination of one subject. As mentioned, this notification has been published for the information of all concerned to fill the examination application form the concerned candidates are to submit the form at the specified place and date.
a) Conditions:
1) The application form of the partial examinees of a subject from the school must be entered in ITMS Online and the application form, aggregate, exam sheet roll, and admission form must be created and the receipt of payment must be attached and registered in the relevant council and state offices.
2) Photocopy of the mark sheet/ ledger obtained from the previous examination conducted by the Examination Control Office must be attached to the form compulsorily.
3) No action will be taken on the application form that does not fulfill the mentioned conditions and is received after the specified time, the Examination Control Office will not be responsible for it.
4) If any educational institution intentionally includes the examination application form of the trainees who do not meet the conditions if the trainees take the exam, the examination results of such examinees will be automatically canceled and such educational institutions will be dealt with according to the Acts, Rules, and Regulations of the Council.
5) The application form will not be accepted if Kermet, Tipex is found inserted while filling the examination application form.
b) Place, date, and examination conduct date, time, and examination centers for submission of examination application form
1) In the case of candidates: From the date 2079-10-20 to the date 2079-11-5.
2) In the case of educational institutions (including the bank voucher where the amount has been deposited): up to date 2079-11-8.
3) Date of Examination: 2079-11-13 Saturday morning at 8:00 am.
4) Place of submission of forms: At the respective provincial offices of the council.
5) Examination Centers: Dated 2079-11-08 will be published on the website and dated 2079-11-09 in Gorkhapatra National Daily. Only 1 (one) examination center will be maintained in each province.
This notification can also be viewed at www.ctevtexam.org.np.
(Notice published date: 2079-10-20)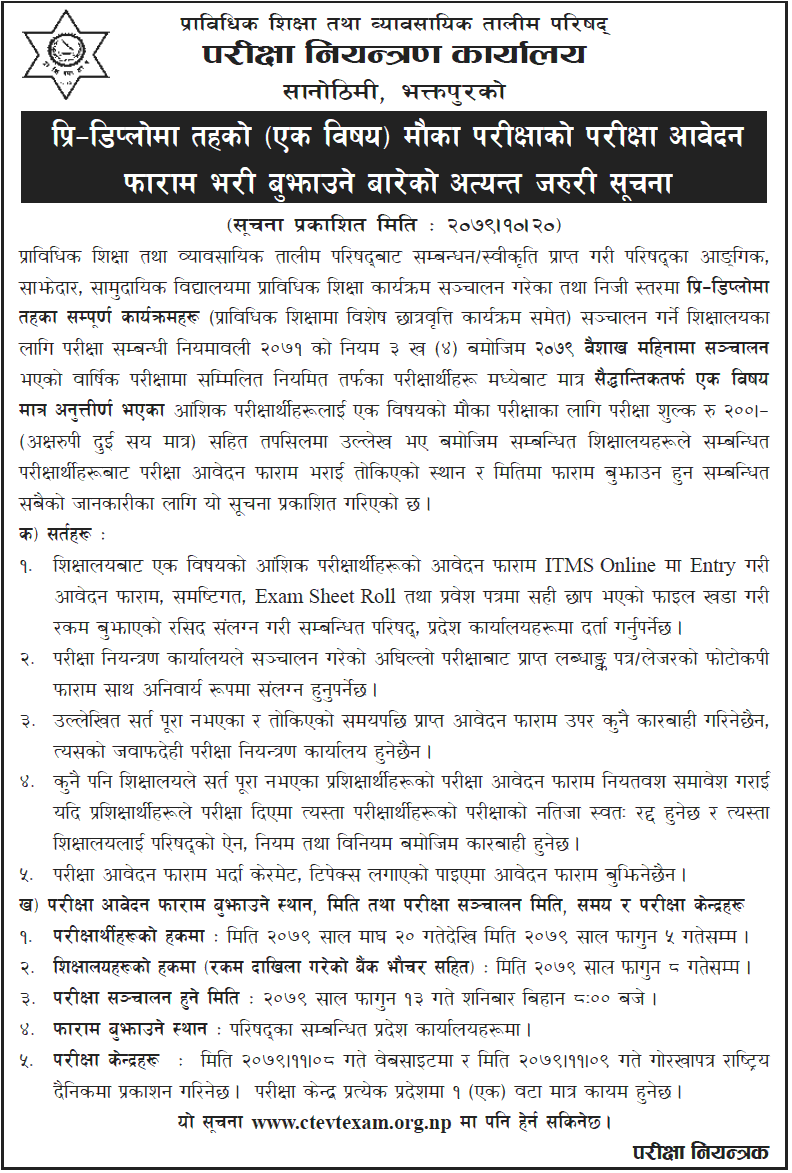 Notice
Pre-Diploma Level
CTEVT Exam
CTEVT