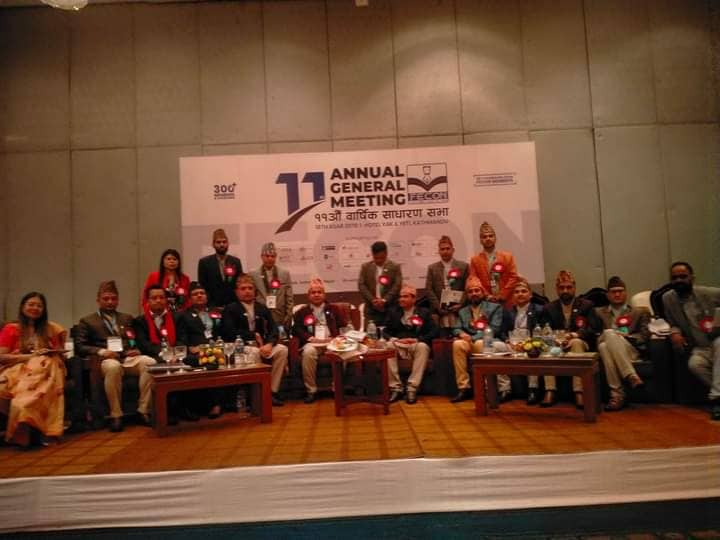 The Eleventh Annual General Meeting of Free Education Consultancy Organizations' of Nepal (FECON) has concluded. The program organized at Yak & Yati Hotel in the capital on Saturday concluded by discussing various aspects of business. Similarly, the program has been completed with the common commitment of all parallel educational counseling business umbrella organizations to make collective efforts to face the existing problems and challenges in the business and to make the business dignified and systematic.
The program was held under the patronage of Undersecretary Ishwori Prasad Gyawali of the Educational Certification Branch under the Ministry of Education. The event was attended by media persons including representatives of various other umbrella organizations of consulting professionals, representatives of various international universities and campuses, representatives of various governmental and non-governmental organizations, members of FECON and well-wishers. Prajwal Basnet, Senior Vice President of FECON, gave a welcome address at the program conducted by Raju Niraula, Central Secretary General of FECON.
Giving a congratulatory message on the occasion, President of Japanese Language School Association of Nepal (JALSAN) Jhamkalal Shrestha said that JALSAN has been cooperating with all the organizations for business interests and it will continue.
Hemant Bhattarai, Chairman of Irene, wished success to the annual general meeting of FECON, noting that there are ample challenges in the consulting business, adding that all educational consultancy professionals should be united on such common issues.
Stating that it is wrong to look at the educational counseling business only one-sidedly, NECA Vice President Niraj Sitaula stressed the need to not only send Nepali students abroad but also bring foreign students to Nepal and make Nepal an education hub.
ECAN President Prakash Pandey said, "We are also working to make the consulting business systematic and dignified. The government's decision a few weeks ago not to take a loan by pledging land is impractical and those in the ministry have to go to court for making baseless decisions. Even within the business, there is a growing tendency to go to the ministry and talk one way and talk another way among friends".
Similarly, Yubaraj Katawal, former chairman of FECON, linked the issue of state policy and bail and said that there were differences even within the consulting business. "Let the government take action against the culprits, we will help," he told the education ministry.
Undersecretary of the Educational Certification Branch under the Ministry of Education, Ishwori Prasad Gyawali, who was the chief guest at the event, said that if the political leadership or the concerned minister had come to the place where such a debate took place, there would have been more effective hearings.
Concluding the program, the President and Chairman of FECON, Basudev Nepal, thanked all those present and informed that the Ministry and its stakeholders should not shy away from the main issue of the educational consultancy business.