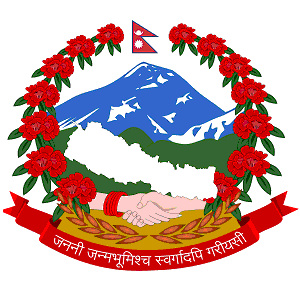 Gokarneshwar Municipality Organizes Competitive Grand Ghazal Festival
Gokarneshwar Municipality's Education, Youth, and Sports Branch in Jorpati, Kathmandu, has announced a notice of a grand ghazal recital and singing competition. The competition is scheduled to take place on Saturday, 23rd Baisakh 2080. The municipality is inviting interested ghazal artists to submit completely original ghazal compositions written or typed on one side of the paper, up to seven pages in length, and not published, broadcast, or recorded.
Submission Details
Interested artists can email their ghazal compositions, including one copy photo, phone number, and a clear address with the residence address to [email protected]. Alternatively, they can register at the Gokarneshwar Municipality Education, Youth, and Sports Branch (01-4912140) within office hours on the 15th of Baisakh 2080. After evaluating the submissions, a group of experts will select a maximum of 40 compositions for the competition.
Event Details
The event will take place at Arubari Banquet in Gokarneshwar Municipality 9, Arubari, Kathmandu. Selected dignitaries should be present at 10:30 am on the day of the event. After the opening ceremony, the reading and singing competitions will take place, followed by the announcement of the results by the judges. The awards and certificates will be distributed accordingly.
Prizes
The first prize winner will receive Rs. 60,000/- (excluding taxes), while the second prize winner will receive Rs. 40,000/- (excluding taxes). The third prize winner will receive Rs. 30,000/- (excluding taxes), and five consolation prizes will be awarded to the runners-up, with each person receiving Rs. 20,000/- (excluding taxes).
Transportation and Instrumental Requirements
Selected dignitaries may be provided with transportation expenses up to a maximum of Rs. 3,000/- (literally Rs. three thousand). For those who want to sing, if instrumental material is required, they should provide the information along with their ghazal composition.
Gokarneshwar Municipality's competitive grand ghazal festival is a great opportunity for ghazal artists to showcase their talent and win attractive prizes. Interested artists are encouraged to submit their original ghazal compositions by the given deadline and follow the guidelines.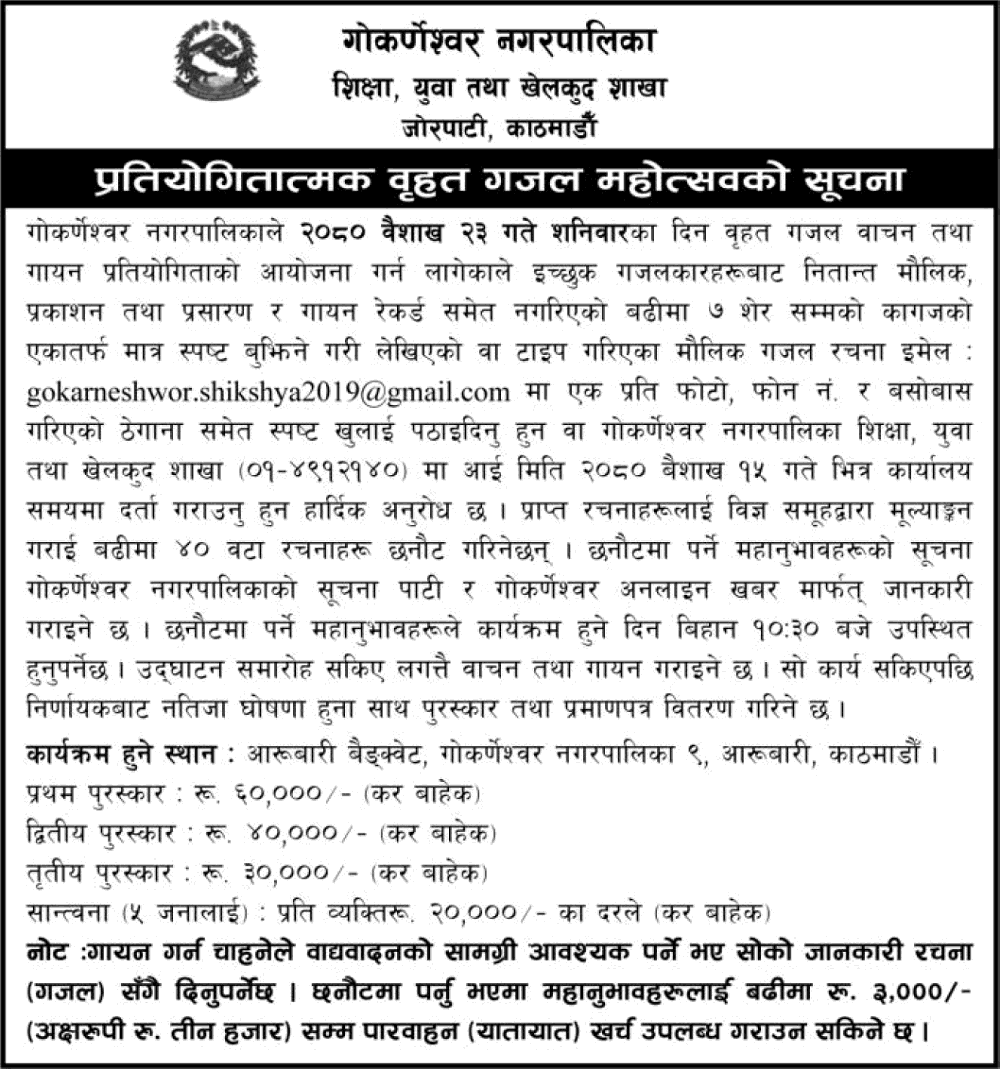 Competition
Festival
Kathmandu