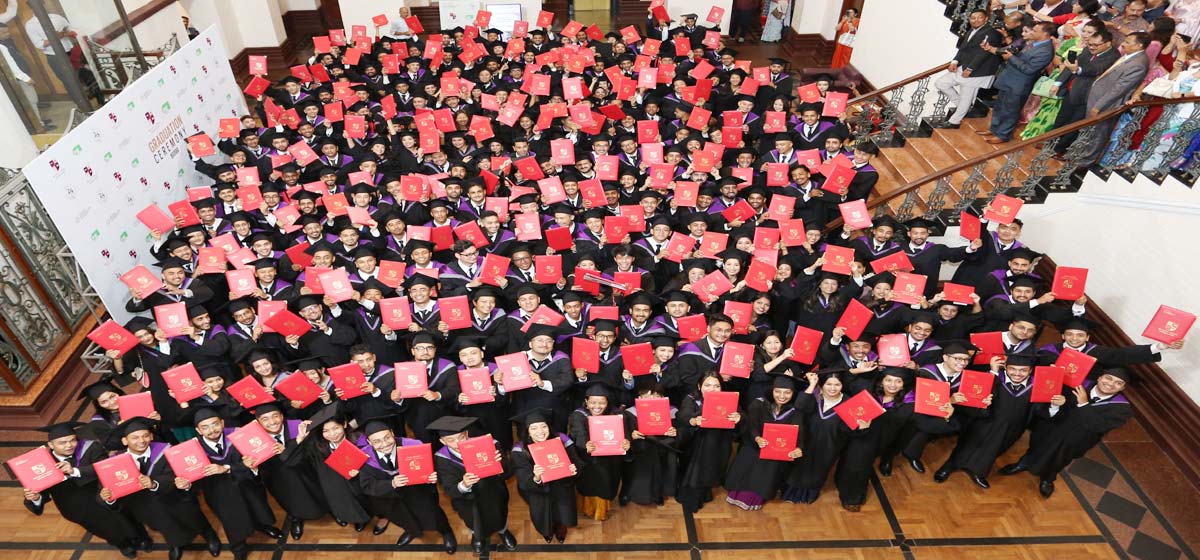 Islington College in Kamalpokhari, Kathmandu has concluded the convocation ceremony for the students who have passed in 2020 and 2021. The ceremony was attended by 502 students of BSc (Hons) Computing, BSc Computer Networking, and IT Security, and BSc Honors Multimedia Technology under the bachelor level in 2020.
In the convocation ceremony, 19 students of Information Technology graduated in the year 2020 at the postgraduate level. Similarly, in 2021, 732 students who completed their studies in B.Sc (Hons) Computing, B.Sc. Computer Networking and IT Security, B.Sc.Hons. Multimedia Technology under Bachelor Level was awarded.
Similarly, in the 2021 academic session, 46 students who have completed the information technology level under the postgraduate level participated in the convocation ceremony. Convocation has not been held for the past two years due to covid infection. This year, the convocation of 2020 and 2021 were held simultaneously.
Convocations were postponed in 2020 and 2021 due to covid infection. The college will now give regularity to all the programs. At the ceremony, 74 graduates of Business Degree (Hons) in 2020 and 119 students of Business Administration and MBA in 2021 graduated.
The college held a two-day convocation on Monday and Tuesday. The parents of the students were present at the ceremony. The college is affiliated with the London Metropolitan University in the United Kingdom and is run by the ING Group.
At the convocation ceremony, Dr. Wendy Bloisi, Head of Academic Partnership of the University, presented the certificate of convocation to the students. Speaking on the occasion, he said that Islington College is one of the best-affiliated colleges in the world.
Dr. Wendy Bloisi said, "On this important occasion, I would like to wish all the students a happy future."
Speaking at the convocation ceremony, the president and executive director of ING Group of the college, Shulabh Budhathoki, said that the students who have passed in this college, which is in the high ranking of London Metropolitan University, have succeeded in achieving the best position in Nepal and different countries of the world. He wished a bright future to the students. Among the colleges affiliated with the London Metropolitan University, this is the first college in Nepal to teaching BIT, BBA, IT computing, networking, and IT security and multimedia technology under the program. Similarly, International Business, Marketing, and Finance are being offered under Business.