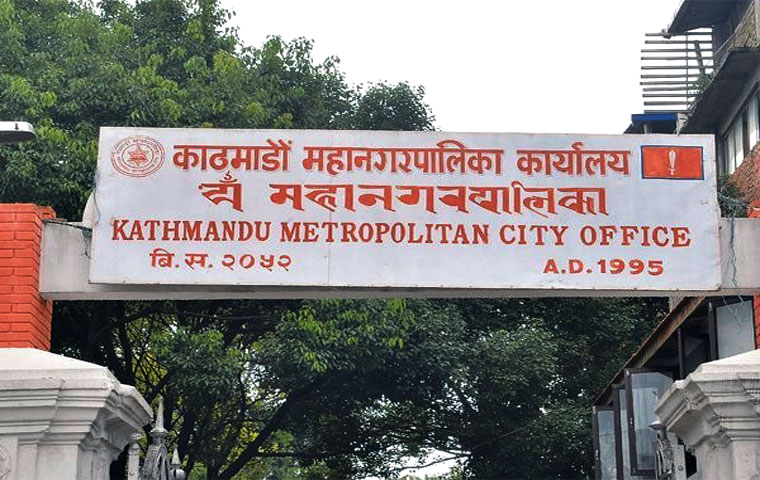 Kathmandu Metropolitan City Career Camp: A Golden Opportunity for Aspiring Urban Planners, Civil Engineers, and Architects
The Urban Planning Commission of Kathmandu Metropolitan City is launching an exceptional Career Camp Program. This initiative aims to train qualified individuals in the fields of Arwan Planning, Civil Engineering, and Architecture. The program is designed to equip trainees with the skills needed to contribute to the city's development and governance.
Who Should Apply?
Target Audience: Graduates in Arwan Planning, Civil Engineering, and Architecture
Purpose: To prepare trainees for real-world projects involving structural modeling, drawing design, cost estimates, and construction supervision.
Program Highlights
Duration: 9 months
Number of Positions: 22
Skill Development: Trainees will gain insights into the current state of urban development and planning systems.
Governance System: The program will also offer a pathway for youth to get involved in the governance system of the metropolitan city.
How to Apply
Eligible candidates are invited to submit their applications through the Career Camp link on the official website of Kathmandu Metropolitan City. The deadline for application submission is 15 days from the date of the publication of this notice.
Minimum Educational Qualification: Graduation in Arwan Planning, Civil Engineering, or Architecture
Application Website Link: [Insert Link Here]
Service Facilities
The program offers specified service facilities, which will be disclosed to the selected candidates.
Contact Information
Office: Kathmandu Metropolitan City, City Executive Office, Urban Planning Commission
Location: Kathmandu Plaza, Kamaladi, Kathmandu
Phone Numbers: 9851172265, 4218137, 4102301
Email: [email protected]
Official Website: www.kathmandu.gov.np
Why You Should Consider This Opportunity
Skill Enhancement: This is a unique chance to enhance your skills in urban planning, civil engineering, and architecture.
Networking: Interact with professionals and experts in the field.
Career Advancement: Gain practical experience that could be a stepping stone for your future career.
Application Link:
http://datacollection.kathmandu.gov.np/#/public/new-dynamic-form/करियर क्याम्प आवेदन फर्म/35/01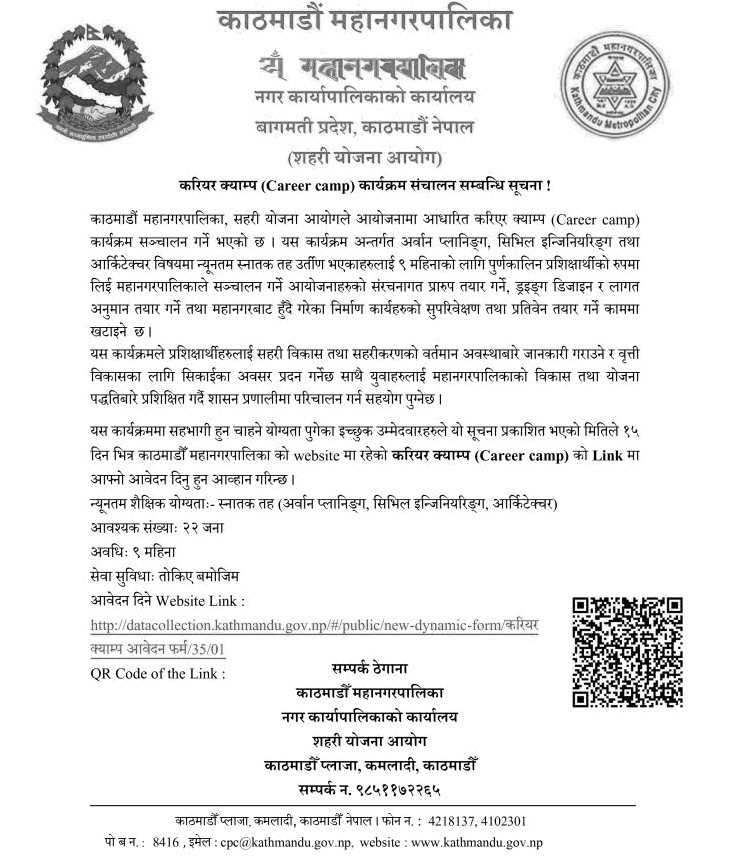 Kathmandu