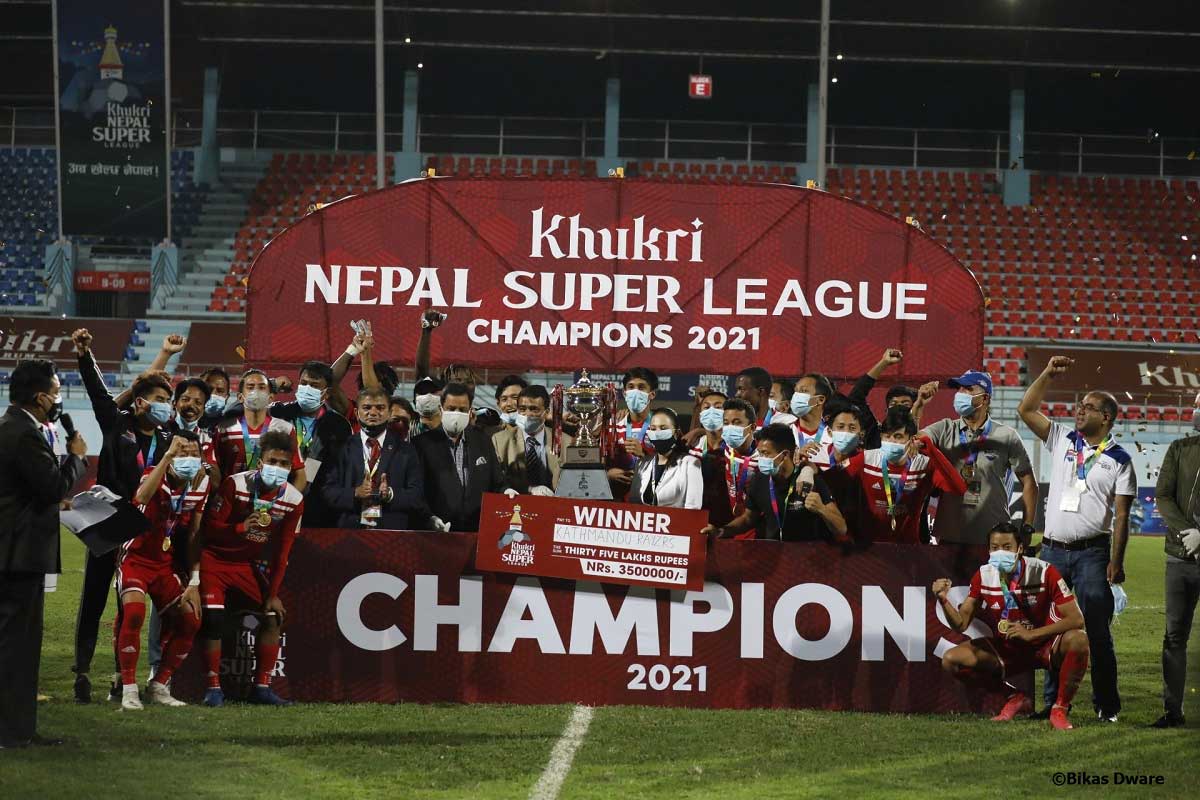 List of best players in the First Edition of Nepal Super League (NSL):
Anjan Bista has been declared the best forward of the first edition of the Nepal Super League (NSL). In the final match held on Saturday, Kathmandu Razors defeated Dhangadhi FC 1-0 to win the title.
Anjan, the captain and marquee player of Lalitpur City FC, who finished third, became the best forward. He had scored 3 goals in the tournament.
Cameroonian Mesouke Olomou, who scored the decisive goal in the final to make Kathmandu Razors the champions, has been declared the best midfielder. He played 9 games in this league and scored a maximum of 8 goals.
Despite losing in the final, Dhangadhi FC captain and iconic player Kiran Chemjong was named the best goalkeeper. Dinesh Rajbanshi of Dhangadhi FC was declared the best defender.
Champion Bal Gopal Maharjan of Kathmandu Razors was selected as the best coach. Similarly, Kathmandu Razors' Kai Bishwas was declared the best emerging player. The best 4 players and coaches got Rs 1 lakh each while Bishwas got Rs 50,000.
Similarly, Butwal Lumbini FC, which came fourth, got the Fair Play Award.
List of Best Players selected in the first Edition of NSL:
| | |
| --- | --- |
| Winner: | Kathmandu Razors - 3.5 million |
| Runner-up: | Dhangadhi FC - 1.5 million |
| Best Forward: | Anjan Bista (Lalitpur City) 1 Lakh |
| Best Midfielder: | Mesouke Olomou (Kathmandu Razors) 1 lakh |
| Best Defender: | Dinesh Rajbanshi (Dhangadhi FC) 1 lakh |
| Best goalkeeper: | Kiran Kumar Limbu (Dhangadhi FC) 1 lakh |
| Best Trainer: | Bal Gopal Maharjan (Kathmandu Razors) 1 lakh |
| Emerging Player: | Bishwas Shrestha (Kathmandu Razors) 50 thousand |
| Fair Play Award: | Butwal Lumbini FC |
Football
Sports