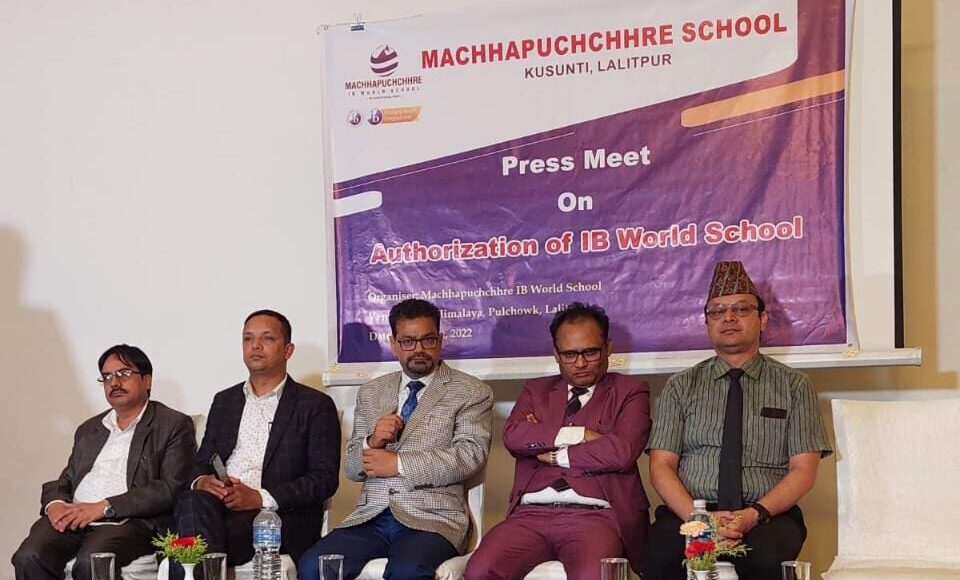 Machhapuchhre School in Kusunti, Lalitpur is celebrating IB World School Festival on 20th August 2020. The school is going to organize a felicitation program with a celebration on the school premises at 2 pm on Saturday.
In a press conference, the school recently announced that it has been officially recognized as International Baccalaureate (IB World School).
Dr. Vinod Prasad Yadav, president of the school informed that the purpose of the school is to provide international-level education according to the learning ability and learning nature of the children.
Machhapuchhre School was established in 1995 and has established credibility in high-quality education and is famous locally. "Machhapuchhre School was established by Dr. Vinod Prasad Yadav, a visionary personality and educationist who has a good eye on the education sector, taking the leadership of the school in October 2015 with the intention of opening a quality school within the reach of middle-level parents in the valley." Under the progressive approach, teaching activities are carried out based on the curriculum in this school, which allows children to build knowledge with their own participation, and the textbooks are used only as reference materials by teachers and students.
In this school, which aims to implement practical education and make it a conductor of social change, the school has a child-friendly structure suitable for the age of the parents, and the internet-connected classroom is facilitated and learning is facilitated with the help of smartboards. Also, the school claims to be a leader in quality education due to physical, mental, emotional, social, and psychologically safe learning by trained teachers.
What is IB World School?
The World Schools of International Baccalaureate (IB Schools) are committed to active, creative, cross-cultural education and allow their diploma recipients to study at universities around the world. IB Education aims to produce responsible, socially aware adults who use their cross-cultural learning to promote world peace. IB schools have become increasingly popular in recent years.
IB schools are notable for how much of the classroom work comes from the interests and questions of the students. Unlike a traditional classroom in which teachers design lessons, children in an IB classroom help with their learning by asking questions that can redirect the lesson. While students do not have complete control over the classroom, they do help contribute to the dialogue with their teachers, as lessons develop. In addition, IB classrooms are typically trans-disciplinary in nature, meaning that subjects are taught in many different areas. For example, students can learn about dinosaurs in science and draw them in art class. In addition, the cross-cultural component of IB schools means that students study other cultures and a second or third language, often working to the point of fluency in the second language.
The Elementary Years Program, for children ages three to 12, helps students develop methods of inquiry so that they can ask questions and think critically. The Middle Years program, for teens ages 12 to 16, helps students make connections between themselves and the larger world. The Diploma program for young adults aged 16 to 19 prepares students for university study and for a meaningful life beyond university. The career-related program applies the principles of IB to students who wish to pursue career-related studies.
Lalitpur