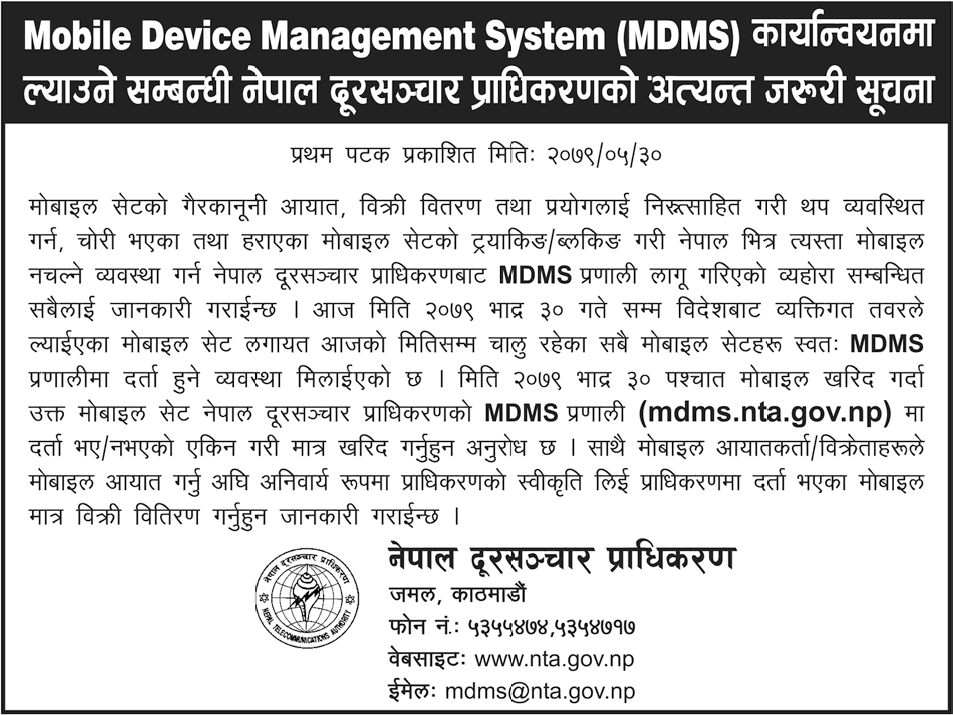 Very important information of Nepal Telecommunication Authority regarding bringing Mobile Device Management System (MDMS): MDMS system has been implemented by Nepal Telecommunication Authority to discourage the illegal import, sale, distribution and use of mobile sets and to further manage them, track/block stolen and lost mobile sets and ensure that such mobiles do not operate within Nepal.
Arrangements have been made to automatically register all the mobile sets that are in operation till today, including the mobile sets that have been brought in individually from abroad till the 30th of Bhadra, 2079.
When purchasing a mobile after the date 2079-05-30, it is requested that the mobile set be purchased only if it is registered/not registered in MDMS system of Nepal Telecommunication Authority (www.mdms.nta.gov.np).
In addition, mobile importers/sellers are informed that before importing mobiles, they must obtain approval from the authority and only sell and distribute mobiles that are registered with the authority.
Nepal Telecommunication Authority
Jamal, Kathmandu
Phone No.: 01-5355474, 01-5354717
Website: www.mdms.nta.gov.np
Email: [email protected]
First published date: 2079-05-30
Nepal Telecommunication Authority is doing software launch of a mobile device management system today i.e. 30th of Bhadra 2078. The project worth about 80 crores, which should have been fully implemented four years ago, has been implemented late.
The Telecommunications Authority has said that even if the software launch is done today, Thursday, it will take more time to be fully implemented.
After the implementation of this system, mobile phones entering Nepal must be registered after August, the authority said. Now there will be a provision to use mobile phones brought from abroad only after registering them. There is no need to register a mobile phone that has already entered Bhadra.
Even after August, mobiles imported from abroad and imported by evading customs will be blocked.
The software and hardware devices of MDMS have been connected to Nepal and will be formally announced.
At present, the equipment has been installed in the building in Chawhil. However, since the data center required for this has not yet arrived, currently the National Information Technology Center Nepal's Government Integrated Data Center (GIDC) is ready to be used for MDMS, said Santosh Paudel, the spokesperson of the authority.
According to the authority, on the day of the soft launch, the authority will block some mobile phones that come from abroad but do not have registered IMEI and show them live. Officials of the authority say that it is not yet decided when it will be operational in full phase.
Businessmen say that the government is losing billions of dollars annually due to illegal imports of mobile phones, and now that 70 percent of mobile phones are being stolen due to the ban on mobile imports.
MDMS, considered as the main weapon to stop illegal mobiles, will be implemented from today.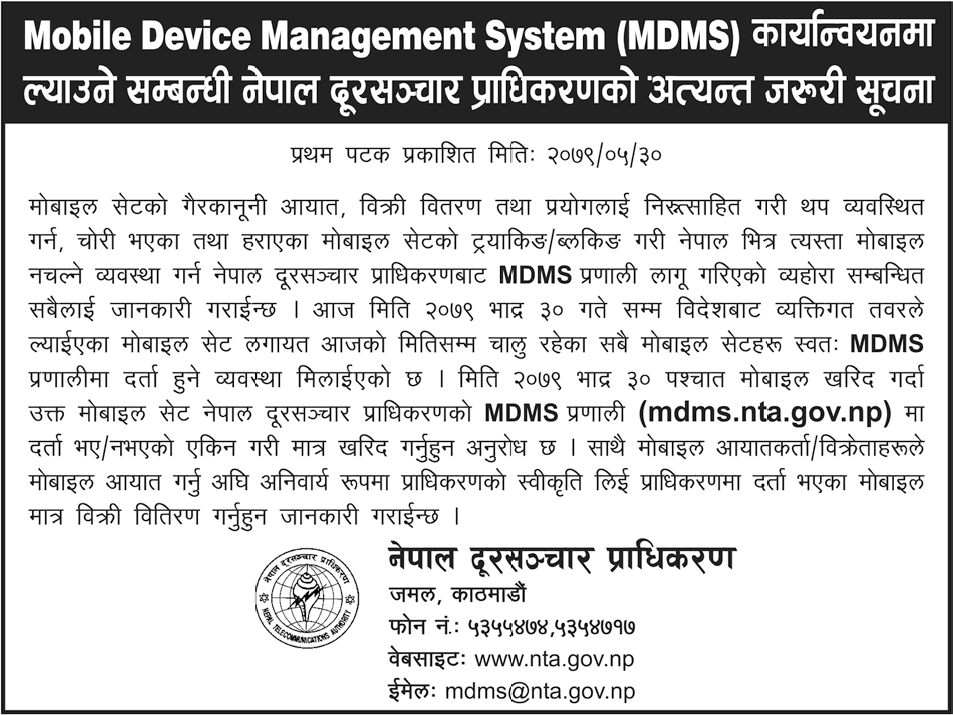 Notice