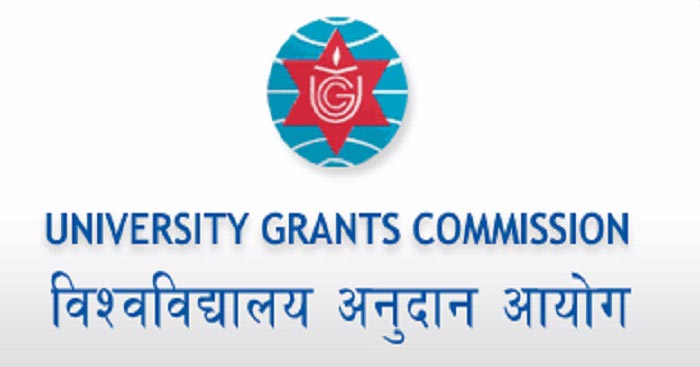 University Grants Commission of Nepal (UGC Nepal), Sanothimi, Bhaktapur provides scholarships and grants to students to enhance the academic, academic and physical capacity of higher educational institutions, refresh the skills, efficiency, and capacity of teachers and staff involved in teaching and learning, research method training, scholarship, research assistance, operation of community campuses The following programs will be conducted with the aim of developing, expanding and improving the overall quality of higher education through programs including physical development grants.
Stakeholders are informed to submit separate applications and proposals for the below-mentioned programs in the format specified in the Commission's Program Procedure-2079 within the mentioned time frame.
Program Procedure-2079 is placed on the Commission's website www.ugcnepal.edu.np. The published manual of the procedure can be obtained from the Commission.
1) Institutional Development – ​​For Affiliated Community Campuses
A) Regular Grant
For regular grants, the campuses must fill out the Online Data compulsorily before registering the application. For this, the Commission has to go to http://ugc.nitc.gov.np:81 and fill in the requested data using the Username/Password provided to the old campuses. New campuses unable to obtain a Username/Password can immediately contact the Grant Determination Branch of the Commission to obtain a Username/Password. While filling out the online data, the campus must fill in the National Commercial Bank account number, contact number, and campus email address compulsorily.
In order to receive a regular subsidy, the minimum number of students should be 50 in the Himalayan district, 75 in the hilly district, 100 in the Terai district, and 125 in the Kathmandu Valley.
B) Physical Facility Development Grant
Building Construction
Book purchase
Furniture purchase
Equipment purchase
Additional Activities Structure Development
- The minimum number of students for building construction grants should be 60 in Himalayan districts, 100 in hilly/terai/inner Madhesh districts, and 140 in Kathmandu Valley.
- The campus can apply for a maximum of 2 titles on the basis of priority.
- Under Structure Development Grant for Extracurricular Activities, campuses that have not received grants under this title earlier will have to submit a proposal.
C) Special Grants:
Community campuses that have completed two years of formal education and have not received regular grants can apply. The minimum number of students for special grants should be 50 in the Himalayan district, 75 in the hilly district, 100 in the Terai district and 125 in the Kathmandu Valley.
Application Deadline:
For Bagmati and Gandaki Provinces: Upto 24-8-2079
For Province 1, Madhesh and Lumbini: From 29/8-2079
For Karnali and Sudurpaschim Province: Upto 2079-9-5
2. Quality Improvement Program:
Research Assistance Program:
A) scholarship
- Ph.D. (scholastic)
- MPhil
B) Research Promotion
- Micro Research Development and Innovation Grant
- Faculty Research Grant,
- Collaborative Research Grant
- Collaborative and Innovation
C) Innovative, technical and scientific disciplines of national importance
D) Technological and scientific investigation and cost study of innovative work, research (educational research, equipment, and consultancy)
Short-duration training and capacity-building programs and others
A)
- refreshment training
- Capacity building training
- Research Method Training
B)
- Educational Institutions Industry-Business Dialogue
- Seminar / Workshop / Conference / - Local and National level
C) Visit the Professor of Higher Educational Institution
D) Educational planning and administration related training of campus head
E) University-Community Liaison Program
Annual other events
A) Postdoctoral profession
B) Vidyavaridhika cost Partial support
C) Cost support for research work done by students with disabilities
D) Journalma Article Publication Collaboration
E) Patent Cooperation
F) Support for Indexing Peer Reviewed Journals
G) Visit to the meeting/seminar participation
H) Seminar/Workshop/Conference - International Level
I) Foreign trip for special study / research
J) Letter of Intent for Grass Level Assurance and Accreditation
For registration deadlines and more information
From 24-07-2079 to 29-08-2079
Again, the documents to be submitted along with the application are given in the Schedule of the Commission's Program Procedure - 2079. In the case of research applications, more information can be obtained from the 'Research Development and Innovation Programs Implementation Guidelines-2021'. No action will be taken on late and late applications. If false information is submitted, the application will be canceled by the commission and the grant will be denied by the commission in the future.
For more information contact the following address:
University Grants Commission
Sanothimi, Bhaktapur
Phone no. 01-6638548/01-6638549/01-6638550
Fax no.: 01- 6638552
Website: www.ugcnepal.edu.np
Email: [email protected]
(First published date: 24-07-2079)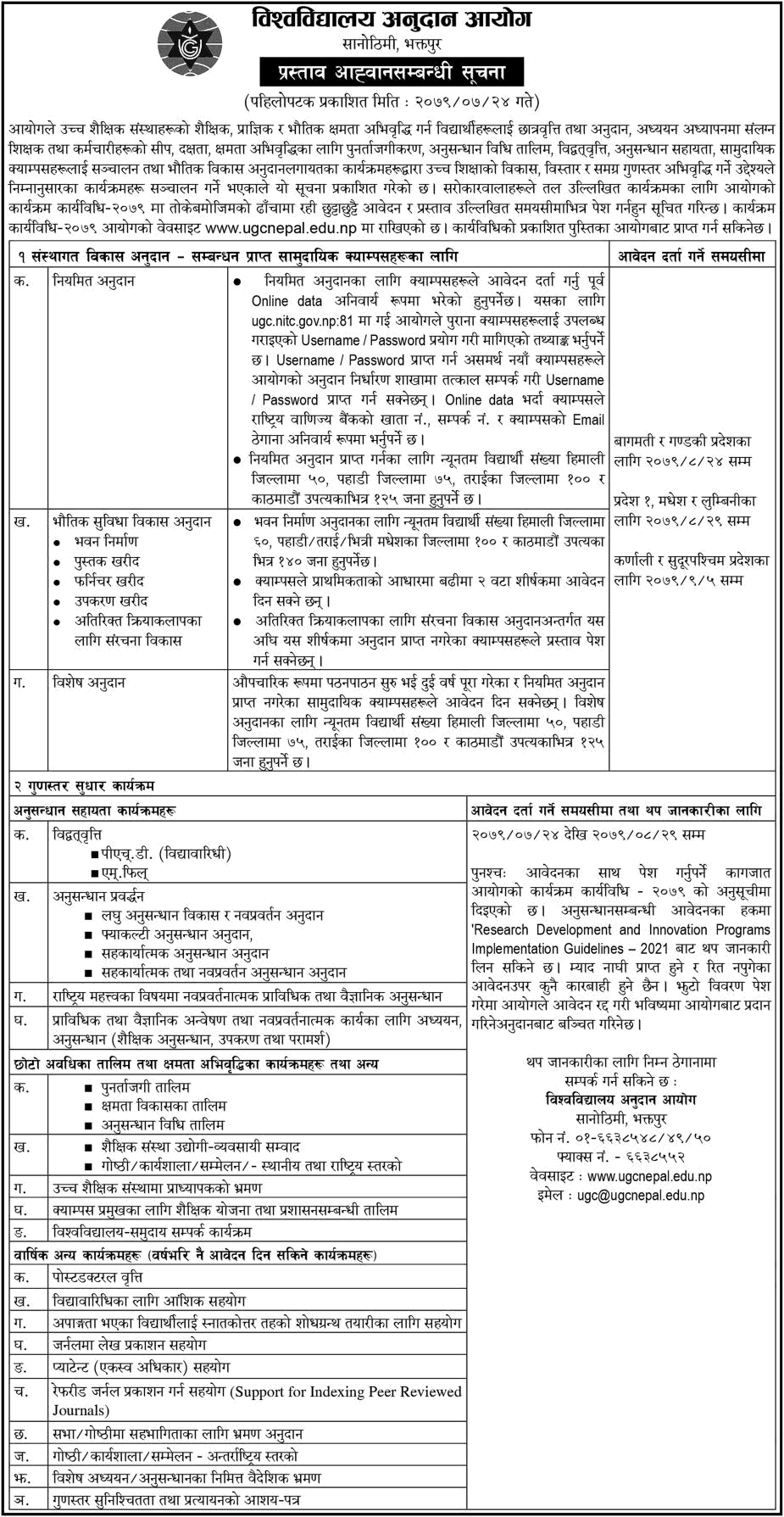 Notice