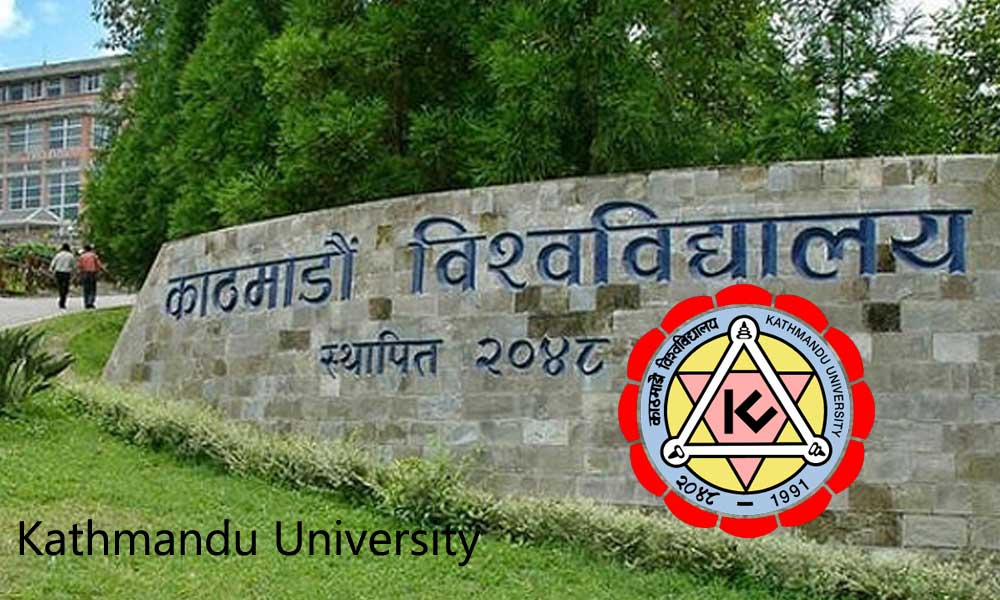 Kathmandu University School of Engineering, Dhulikhel, Kavre Undergraduate Admission 2022/2023 and KUCAT-CBT Committee 2022
BE IN GEOMATICS ENGINEERING SCHOLARSHIP
This is to notify all the applicants of undergraduate, B.E. in Geomatics Engineering, who wants to be considered for various scholarships, to submit the following required documents as proof of their applied category. The documents must be submitted ONLINE through the specified link. The deadline for submission of the required documentation is 8 December 2022 up to 4 PM.
Candidates applying in more than one category must fill the forms and upload the documents separately for each category.
Scholarship Category

Required Document as proof of scholarship Category

1. Nepal Government Employee Group (100%)

Total Seats: 4

Proof of employee of Nepal Government, Engineering Services, Survey Group
Nomination from the Government as per the Civil Service Act 2049
Recommendation from Land Management Training Centre (LMTC)
Copy of citizenship certificate
+2 or equivalent transcript and certificate

2. Provincial Scholarship Group (7*3=21), 35% Scholarship

a) Female -1 seat

Copy of citizenship certificate
+2 or equivalent transcript and certificate

b) AdibasiJanjati/ Dalit! Madhesi -1 seat

Letter from related District Administration Office!
Dalit Commission indicating the candidate is AdibasiJanjati/ Dalit! Madhesi
Copy of citizenship certificate
+2 or equivalent transcript and certificate

c) Backward region/ Economically Deprived -1 seat

Recommendation from the local government indicating the candidate is from a backward region as listed in NijamatiSewaAin and an economically deprived group
Transcript and certificate of SEE and +2 indicating candidate studied from other schools are economically deprived with a supporting letter from the school showing he/she studied in the economically deprived quota or under scholarship

3) Provincial Open Merit - 21 seats

Copy of Citizenship certificate
+2 or equivalent transcript and certificate
Click Here for Nepal Government Employee Group, (100% Scholarship)
Provincial Scholarship Group (7*3=21)35% Scholarship

Click Here for Female Scholarship Group
Click Here for Adibasi Janjati/Dalit/Madhesi Scholarship Group
Click Here for Backward Region/Economically Deprived Scholarship Group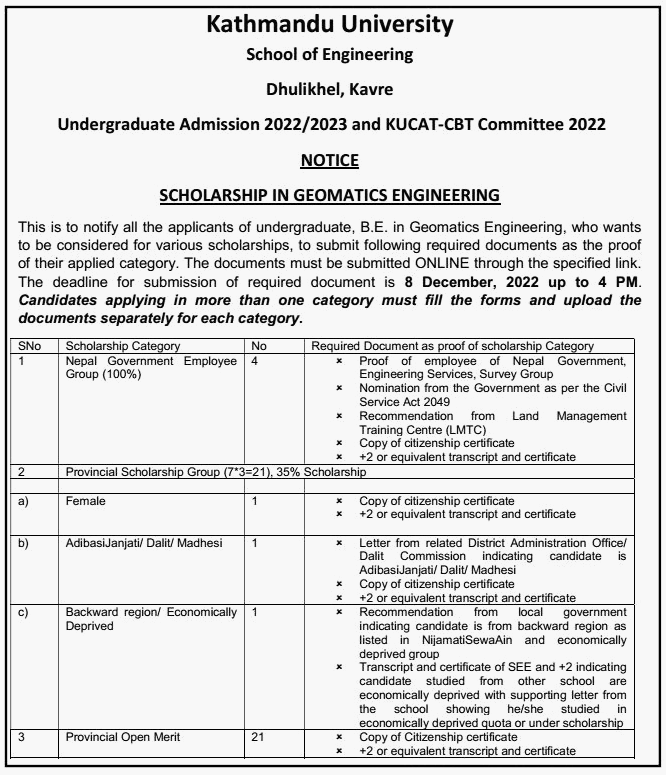 Scholarship in Nepal