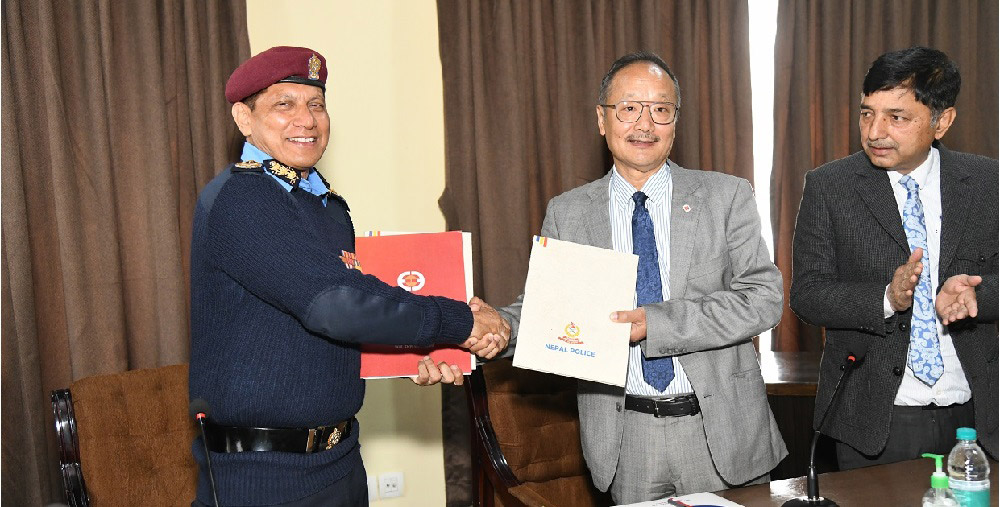 Nepal Police and Everest Bank Limited Sign MOU for Scholarship Akshaya Fund
Nepal Police and Everest Bank Limited have signed a Memorandum of Understanding to establish, operate and manage the 'Nepal Police-Everest Bank Scholarship Akshaya Fund'. The program aims to provide financial support to children of police personnel who have achieved the best grades and are studying in Nepal Police Schools.
MOU Signing Ceremony
On March 5th, 2023, Kedar Dhakal, Head of Nepal Police Headquarters Welfare Division, and Keshav Raj Paudel, Deputy General Manager of Everest Bank, signed the MOU at a program held at the Nepal Police Headquarters. Sudesh Khaling, Chief Executive Officer of Everest Bank, also handed over a check of 2.5 million rupees to Inspector General of Police Dhiraj Pratap Singh to establish the Akshaya Fund.
Benefits of the Program
Under the agreement, at least two Jehendar students from serving, retired, and immortal/martyred and disabled police office assistants to police senior constables will receive annual fee, examination fee, stationery, housing, food expenses in schools with residential facilities, and car rental in schools without residential facilities. The scholarship program will be available to students studying from class 4 to 12 of Nepal Police School.
Future Collaboration
Inspector General of Police Singh thanked Everest Bank for its support and expressed hope that Nepal Police and the Bank will exchange mutual assistance in the future. Similarly, Chief Executive Officer Khaling expressed his satisfaction in contributing to the Nepal Police and discussed the Bank's commitment to helping various areas of the country as part of its social responsibility.
Scholarship Revolving Fund
Everest Bank will establish a 'Nepal Police-Everest Bank Scholarship Revolving Fund' with a minimum of 2.5 million rupees for providing scholarships. The Police Welfare Fund will operate and manage the account, and the interest income received from the fund will be used for providing scholarships. If the interest income received from the fund is insufficient, the problem will be resolved through mutual coordination and agreement.
Overall, The agreement will help boost the morale of lower-ranking police personnel and benefit more and more descendants of police personnel. The program's success will contribute to building the country's future by producing skilled manpower.
Nepal Police