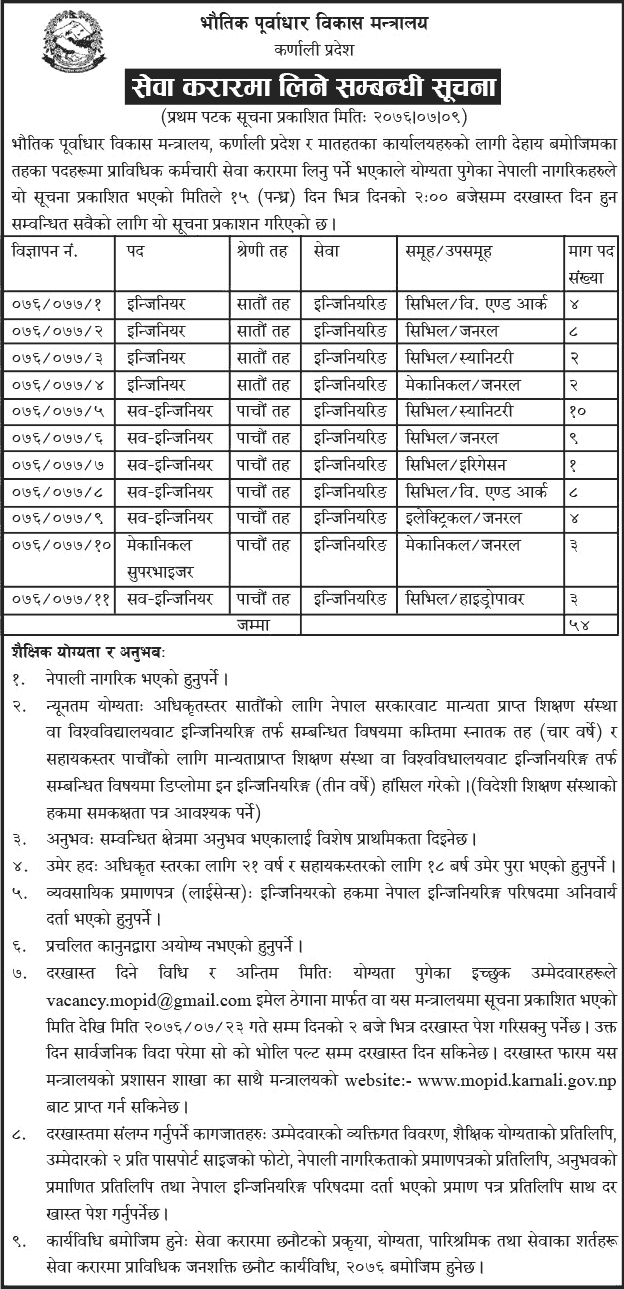 Ministry of Physical Infrastructure Development, Karnali Province
Vacancy Notice as per Contract Basis
(First notice date published: 2076/07/09)
Due to the technical staff service agreement in the following posts for the Ministry of Physical Infrastructure Development, Karnali Province and subordinate offices, this notice has been published for all concerned regarding the application to be filed within 15 days from 2:00 PM on the date of publication.
Educational Qualifications and Experience:
Must have been a Nepalese citizen.

Minimum Qualification: At least undergraduate level (four years) and Assistant level accredited education institution for University level engineering recognized by the Government of Nepal for authorized level seventh, or Diploma in Engineering (three years) on a related subject by the University for Engineering. (In case of Foreign Teaching Institutions needing an equivalent letter)

Experience: Special priority will be given to those with experience in related fields.

Age Limit: Must be 21 years for authorized level and 18 years for assistant level.

Business Certificate (License): Must be compulsory registration in Nepal Engineering Council in favor of Engineer.

Not be disqualified by applicable law.
Application Method and Deadline: Candidates who have qualified
The application must be submitted by email address [email protected] or within 2:00 PM of the day 2076/07/23 from the date the information is published in this Ministry. If a public holiday on that day, it can be filed till tomorrow. The application form can be obtained from the Administrative Branch of this Ministry as well as from the Ministry's http://mopid.karnali.gov.np/
The documents to be enclosed in the application should be submitted along with the personal details of the candidate, 2 copies of the candidate's passport size photo, a copy of the Nepali citizenship certificate, a certified copy of the experience and a copy of the certificate registered with Nepal Engineering Council.
The procedure to be followed: The process of selection, qualification, remuneration, and terms of service in the service contract shall be in accordance with the technical manpower selection procedure, 2076 in the service contract.