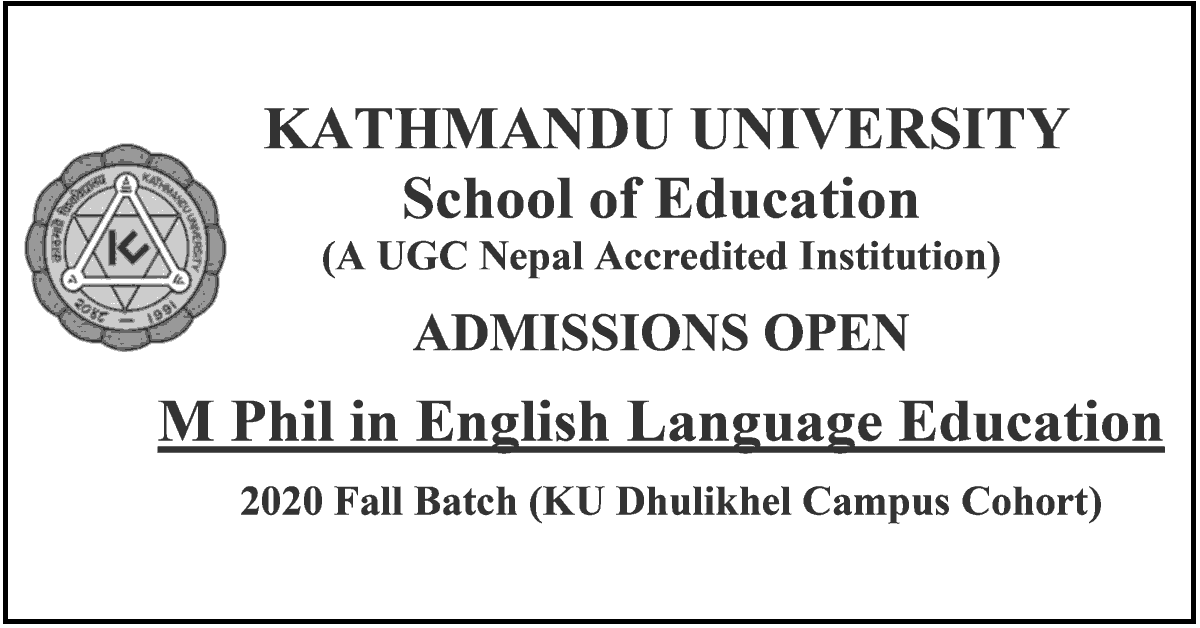 Admission Open for M.Phil in English Language Education 2020 Fall Batch - KUSoEd:
Kathmandu University School of Education (KUSoEd) (A UGC Nepal Accredited Institution) ADMISSIONS OPEN for MPhil in English Language Education 2020 Fall Batch (KU Dhulikhel Campus Cohort)
Entry Requirements A Master's degree or equivalent in ELT/ English Language Education/ English Literature/ English Linguistics with a minimum of 50% in aggregate or CGPA 3.0 out of 4.
Please fill in the online application form by visiting http://kusoed.edu.np/admission and submit it online by August 11, 2020. Classes begin August 20, 2020.
The entrance test will be conducted online on August 13, 2020. All classes will run online until further notice. We will start regular face-to-face classes at KU Dhulikhel Campus when the Covid-19 related situation becomes normal.
Those who are waiting for their Master's degree results can also apply.
The admission process for Masters programs of the Hattiban Campus is ongoing.
For Details, Contact:
Dept. of Management Informatics and Communication, Kathmandu University, Dhulikhel,
Telephone: 977-11-415100
Email: [email protected]
Kathmandu University School of Education, Hattiban, Lalitpur,
Tel: 01-5250524
Email: [email protected]