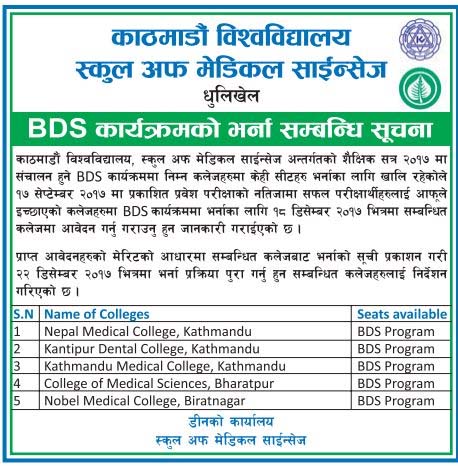 School of Medical Sciences, Kathmandu University invites applications for the BDS program academic session 2017/2018 in the remaining seats of the following colleges
Kathmandu Medical College, Kathmandu
Kantipur Dental College, Kathmandu
Nepal Medical Colleges, Kathmandu
College of Medical Sciences, Bharatpur
Nobel Medical College, Biratnagar
The applicants must fill and submit online application form with a copy of bank voucher worth NRs.3000/- (non-refundable), deposited at Nepal Investment Bank in the name of KUSMS Account Number: 00505030017934. The amount can be deposited through any branches of Nepal Investment Bank.
Deadline for the application: 03 April, 2018.
Candidates who have filled the online forms must colour print their admit card and bring it along with the original citizenship certificate on the day of entrance test.
Eligibility Criteria
The applicant must have completed 10+2 years of education or Intermediate of Science (I.Sc.) or equivalent, having 50% in aggregate (Grand Total) with Physics, Chemistry, Biology (PCB) as main subjects and he/she should have secured not less than 50% of marks in each subject (PCB)
Entrance Date: April 7, 2018 Saturday
Time & Venue: Will be notified later
Entrance test result will be published in www.kusms.edu.np or www.dhulikhelhospital.org
The merit list of the successful candidate will be published on the basis of 70% of its Entrance Examination Score and 30% of Total Aggregate Score of 10+2/I.Sc. or equivalent qualification or B.Sc. or equivalent qualification.
The Examination test will be valid for the Academic Year 2018 March only.
Candidates submitting wrong information in the online application form and also not meeting the University's requirements will not be allowed to sit in counseling session even they pass the Entrance test. Those candidates' entrance test will be automatically cancelled.
The University can deny or cancel University registration any time on the basis of the University eligibility criteria or for any other valid reason.
Older notice:
Kathmandu University, School of Medical Sciences, announces admission in BDS program for the acdemic session 2017 in the few available seats.
The students who passed the entrance examination taken on 17th September, 2017 can apply in colleges of their interest for BDS program.
Deadline for application: 18th December, 2017
Names of the colleges for application:
KUSMS, Dhulikhel
COMS, Bharatpur
KMC, Kathmandu
KDC, Kathmandu
Nobel, Biratnagar