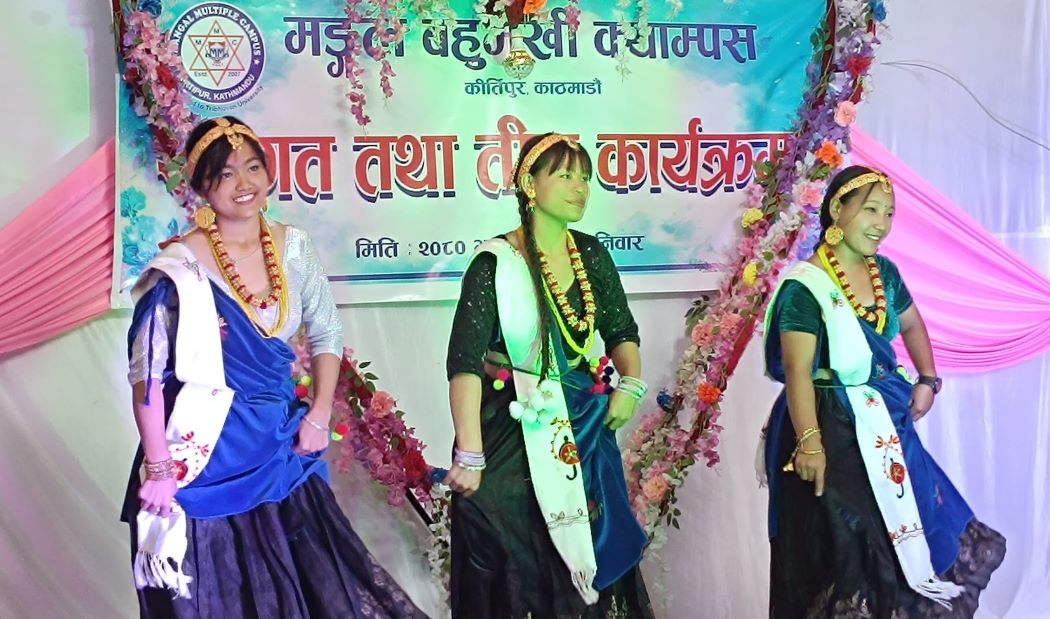 Mangal Multiple Campus in Kirtipur Celebrates Culture with Enriching Program
Kirtipur, Kathmandu, Nepal — On 16th September 2023, Mangal Multiple Campus witnessed an awe-inspiring blend of culture and talent. The undergraduate students put on a remarkable show, integrating various art forms in a single event. The cultural program was part of a welcome and farewell event that took place on the campus.
A Melting Pot of Cultural Performances
Tharu Dance: A traditional dance form that encapsulates the essence of the Tharu community.
Kauda Dance: A rhythmic dance usually performed in a circle, illustrating community unity.
Teej Dance: Celebrating womanhood, this dance is a significant part of Teej festivities.
Deuda: A unique form of song and dance that hails from the Far-Western region of Nepal.
Tamang Dance: A colorful dance that pays homage to the Tamang heritage.
Drama Performances: Gripping storytelling that captured the audience's attention.
Stand-up Comedy: A dash of humor that kept the atmosphere light and engaging.
Poetry and Ghazal Recital: Soul-stirring verses that added a touch of literary sophistication to the event.
Eminent Personalities Grace the Occasion
Campus Management Committee Chairman Prof. Dr. Lakshmi Bahadur Maharjan, Principal Pradeep Maharjan, and other esteemed faculty members were in attendance. Their presence lent an air of academic reverence to the culturally-rich event.
A Platform for Budding Talent
The cultural program was not just an exhibition of art forms but also a platform for students to showcase their skills and capabilities. It was a clear reflection of the campus's commitment to holistic education.
Why the Program Was Significant
In a time when cultural traditions are often overlooked, events like these are crucial for keeping the heritage alive and for educating the younger generation. This program served as a live museum of Nepal's rich cultural tapestry, fostering community cohesion and mutual respect.
As the Mangal Multiple Campus in Kirtipur continues to strive for academic excellence, it also places equal emphasis on cultural enrichment. By celebrating the diverse forms of art and tradition, the campus offers a more rounded education to its students.
Festival