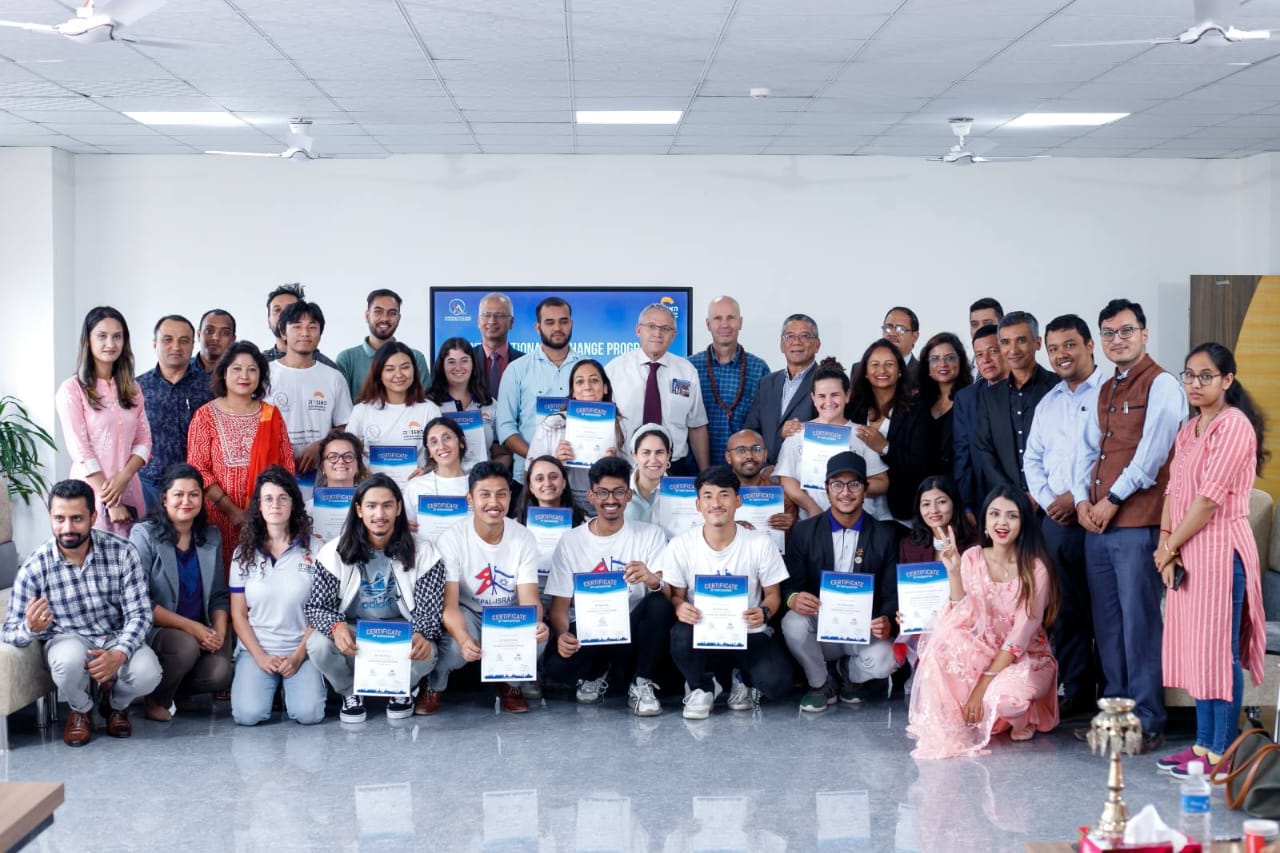 Advanced College of Engineering and Management (ACEM) in collaboration with Kibbutzim College of Education, Technology and the Arts in Israel has concluded an international learning exchange ceremony.
Israeli Ambassador to Nepal Hanan Godar was the chief guest at the ceremony. Intellectual personalities of Israel, special guests, coordinated organizations, and teachers and students studying in various faculties were present at the ceremony.
The ACEM in collaboration with Kibbutzim College in Israel formally launched the program on September 5, 2022. The program lasted for two weeks. The aim of the program was to empower two community schools, Jana Sewa Secondary School and Panga Secondary School in Kirtipur, Kathmandu.
The ACEM said that during the program period, the students visited various educational institutions in Kathmandu valley and also the disability and rehabilitation center.
At the ceremony, Israeli Ambassador to Nepal Hanan Godar congratulated Advanced College and Kibbutzim College for starting the journey of an educational chapter between Nepal and Israel. Ambassador Goder said that this kind of educational exchange program will not only broaden the horizon of innovation in education but also strengthen the relationship between Nepal and Israel.
Kibbutzim College Professor Dr. Adivgal expressed his gratitude to Advanced College for organizing such a successful program. He was of the opinion that programs of this nature would help in improving the overall skills of the students and would also help in the cultural development of both nations.
Professor Dr. Adivgal also informed the attendees about project management and other relevant concerns. Similarly, Savita Desemru of Jerusalem-based international migration consultant Center for International Migration and Integration and another member of the program highlighted the bilateral relations between Nepal and Israel. They also expressed their views on how such programs help to address the inherent challenges in the education system.
Expressing pride in the successful completion of the program, Director Regmi said that he is hopeful that the students of the Advanced College will also gain similar opportunities while gaining experience in Israel's education.
Er. Lochanlal Amatya, Principal of ACEM, expressed his gratitude for the continuous support and coordination of the Kibbutzim family and the Israeli Embassy in Nepal. Also, he was of the opinion that Advanced College is ready to cooperate in the future.
During the program, the students presented a report of their research and exploration for two weeks.