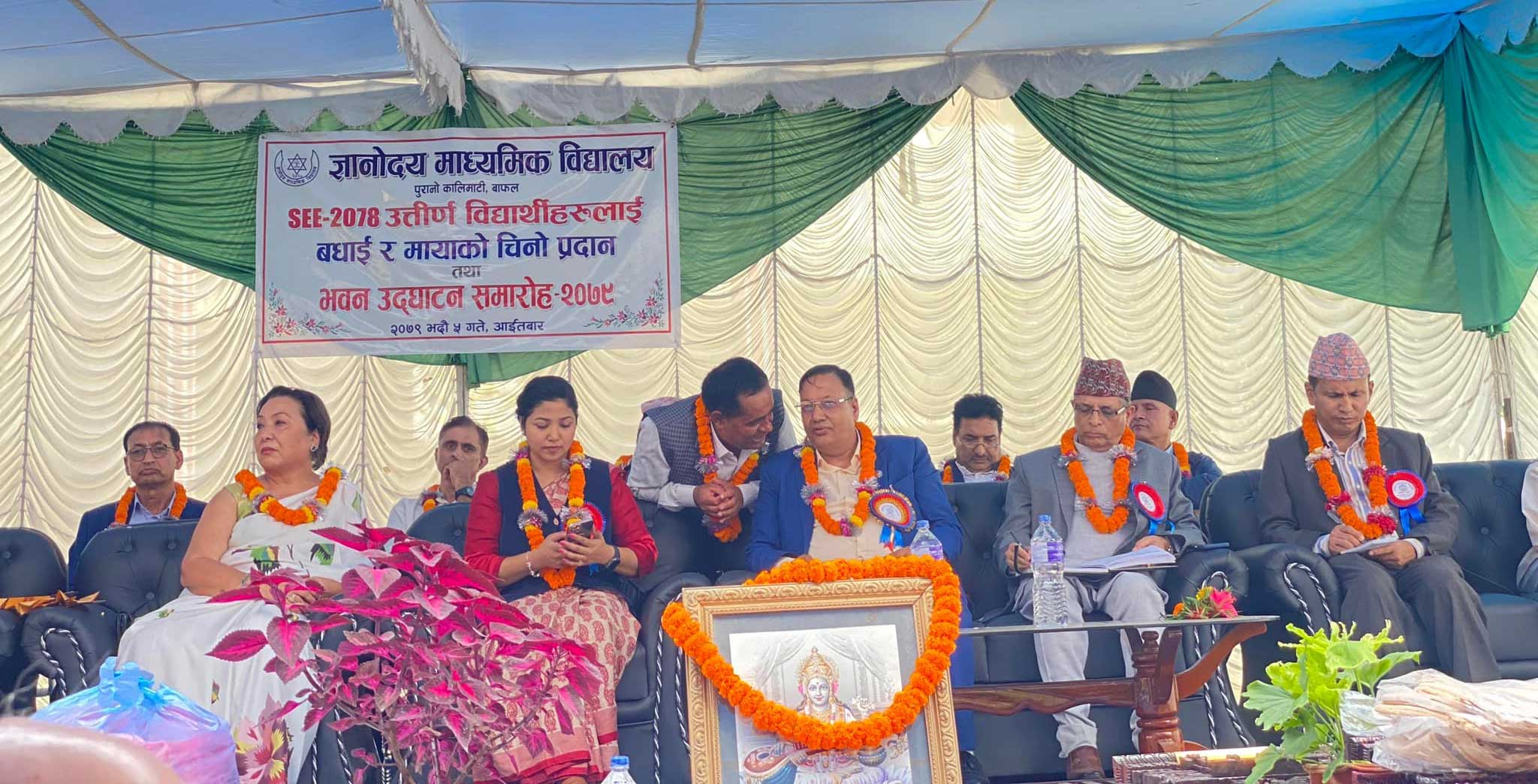 Minister of Education, Science, and Technology Devendra Paudel has said that within the next three years, all public schools will be equipped with facilities. Inaugurating the 35-room building of Gyanodaya Secondary School in Bafal, Kathmandu on Sunday, Minister Paudel said that the public school improvement campaign has started.
"We have announced the 10-year public school improvement plan," he said, "12,000 schools have already been built. Now in three years, we will proceed to complete the physical infrastructure of all schools."
Stating that along with the physical infrastructure of the school, legal reform and the reform of the teaching and learning process are the priorities of the ministry, he said that everyone concerned should make a common decision to improve the school.
"There may be problems with service facilities for teachers, but the Ministry of Education has moved forward to provide service facilities similar to civil servants," he said, "The Ministry of Education is not only for employees but also for teachers." He assured that the ministry will pay special attention to the problems of bus arrangement and seat matching in schools with more than 2,000 students.
He said that the process of connecting technical education with school education started last year to connect higher education and said that this year the program will be conducted in 100 more schools. In the same program, Deputy Chief of Kathmandu Metropolitan City, Sunita Dangol, stated that Kathmandu Metropolitan City is working to improve public schools and expressed commitment that the Metropolitan City is ready to further improve the quality of public schools.
Chairman of the National Examination Board Dr. Mahashram Sharma said that the quality of schools will change with the right leadership. He suggested that the metropolis should pay attention to matters such as mapping of schools, matching of vacancies, etc. while correcting the weaknesses of yesterday.
The new 35-room school building has been completed with an investment of 35 million rupees. There are currently 4,200 students studying in the school.
Kathmandu