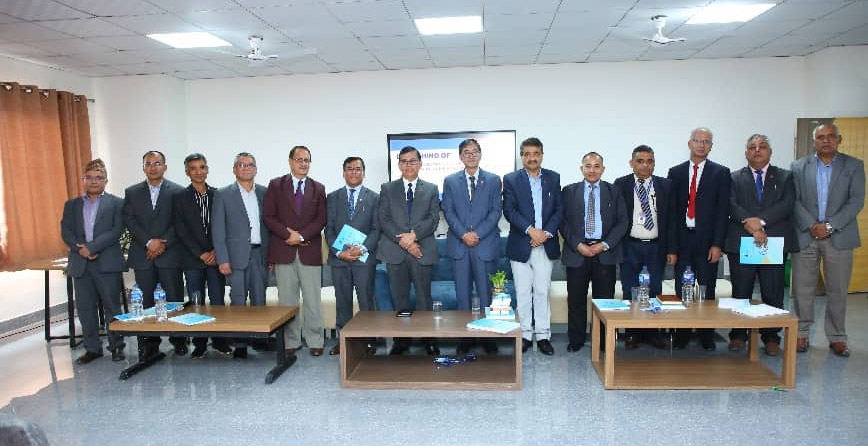 Launching of Journal of Advanced College of Engineering and Management (jacem) Vol-7: For the purpose to provide a venue for academic research discourses that contribute knowledge to the world of engineering, Advanced College of Engineering and Management (acem) launched its Journal 'jacem Vol-7' in its premises amidst the exquisite presence of chief guest Prof. Dr. Dharma Kanta Baskota, Vice Chancellor (VC), Tribhuvan University (TU) and special guest Dr. Sunil Babu Shreshta, VC, Nepal Academy of Science and Technology (NAST).
On behalf of Advanced College, the chairperson of the college Mr. Ramesh Silwal welcomed the distinguished guests, the acem management team and the faculties. Chairperson Silwal expressed his gratitude to the management team of acem for the launching of the journal. Putting the focus on research journals, he stressed that jacem is an excellent forum for engineering students and faculties to disseminate experimental findings to specific audiences.
Highlighting the importance of jacem, Er. Laxmi Bhakta Maharjan, Editor-in-Chief of jacem acknowledged that the research articles reinforce current and future students' deep learning in which students construct new knowledge by meaning-making and applying their knowledge and skills in a complex real-life context. He emphasized that promoting research studies and publishing articles helps both faculties and students develop skills such as being patient, revisiting a persistent problem and developing new ideas with reasonable logic behind it.
Dr. Sunil Babu Shreshta, VC of NAST prioritized the indispensability of journals and rendered his opinion that by incorporating research-oriented teaching, teachers of acem are helping students and oneself make connections to the different experiences and their existing knowledge and build a professional career through paper publications. Dr. Shrestha also mentioned that NAST will be delighted to provide research funds for the faculty and support acem on its upcoming drone conference.
Similarly, Prof. Dr. Dharma Kanta Baskota, VC of TU highlighted the significance of journals and affirmed that an effective means to spread knowledge demands a good research journal, and in this matter jacem has proved to promote transferring of the knowledge and understanding students and faculties acquire through their research studies. "Previous research used to find the truth and current research is focused on impact." Dr. Baskota stated. He also expressed his delight to see the quality academic journal and impressive infrastructure of the college.
The launching ceremony was concluded by the distribution of tokens of love to the guests and with the vote of thanks by Er. Lochan Lal Amatya, Principal of acem. Along with expressing thanks, Er. Amatya maintained that acem has realized its role to shape the future of its faculties and students and thus encourages research studies and publication of the research output through jacem.