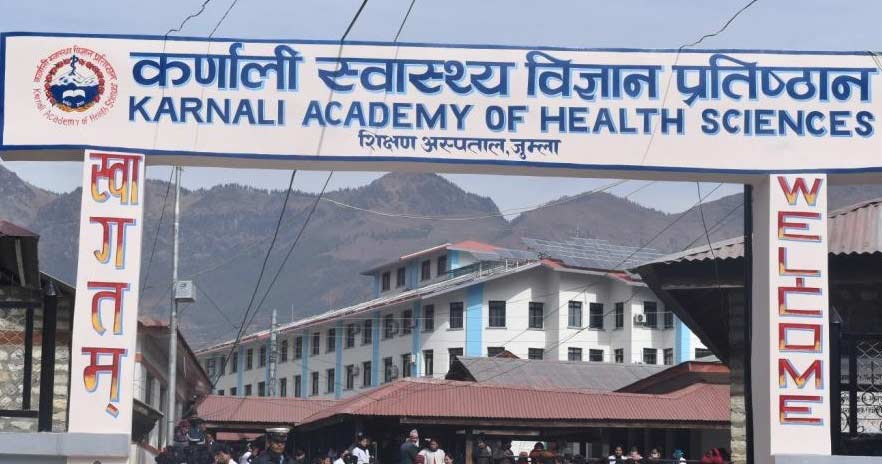 MBBS Class has started at Karnali Academy of Health Sciences (KAHS) in Jumla, Karnali Pradesh. According to the academy, 19 students have been enrolled in MBBS. According to KAHS, President Vidyadevi Bhandari will inaugurate the MBBS course on Sunday. The academy has set a quota of 20 students for MBBS studies. Similarly, 11 students have been enrolled in BPharm, 8 in BAMS, 16 in BNS and 8 in BPS.
According to KAHS, the students who reached Jumla to study at MBBS level are excited. According to KAHS, all the basic arrangements required for the students have been made. Dr. Mangal Rawal, vice-chancellor of the academy, said that the main objective of the academy is to pursue medical studies after a decade of its establishment. "We will not allow any shortcomings for quality education," he said, adding that the institute is moving ahead with its goals.
The foundation is currently providing treatment services in 300 beds. The Academy, set up with the main goal of health education, services and research in backward areas including Karnali, has already shown its mettle in the Corona epidemic, 'said KAHS Registrar Nripendra Mahat. He informed that post graduate level MDGP, MD Pediatrics and MD Anesthesia programs are being conducted in the institute.
Dr. Pujan Rokaya, director of the institute, said that Karnali, which did not get a single doctor yesterday, is now teaching specialists to doctors.
Jumla
Karnali Pradesh