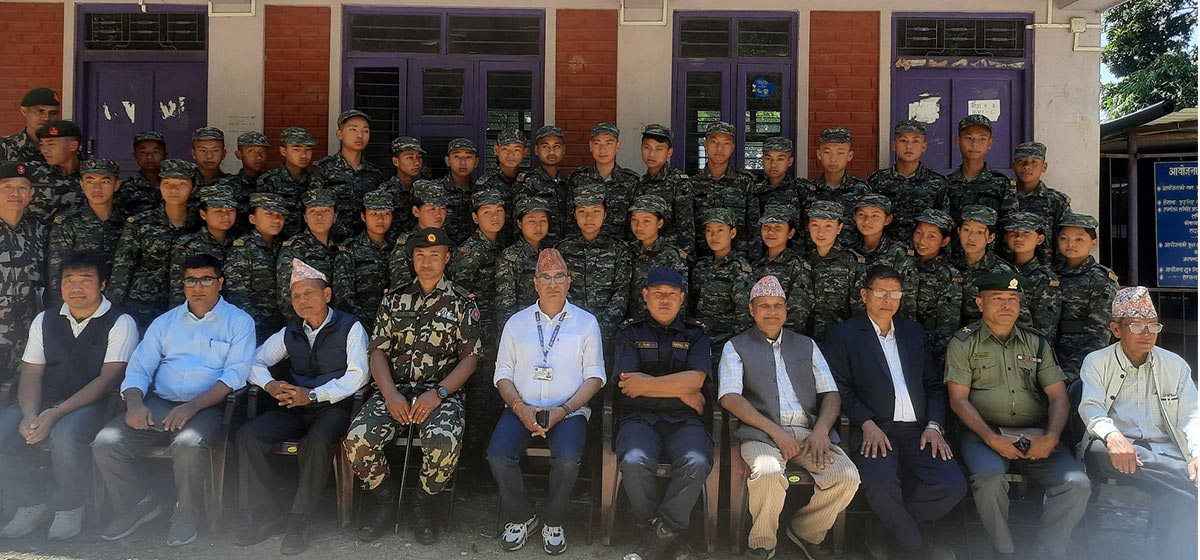 The training of the National Cadet Corps (NCC) started on Sunday in two community schools of Taplejung. NCC training of SN 48th batch has started at Yuvabarsha Secondary School of Ward No. 7 and Janata Secondary School of Ward No. 9 of Phungling municipality.
Inaugurating the training conducted at Yuvabarsh Secondary School, Chief District Officer Mahesh Kumar Pokharel believed that the training would be successful in producing voluntary and honest manpower filled with national spirit.
Recalling that the performance of the participants of Taplejung in the past NCC training was excellent and excellent, CDO Pokharel hoped that the participants of this year's training will also maintain that impression.
Giving the first lecture about NCC Gulmapati Adit Shrestha of Bhimkali Gulma explained the importance of NCC training and its usefulness. According to him, out of one hundred days of training, 79 days of intensive training will be conducted locally and 21 days of training will be conducted in external areas (Yangshila in Morang).
Chief of Police (DSP) of District Police Office Kailash Rai, Chief of Education Development and Coordination Unit Taplejung Yogeshwar Bhattarai, Police Inspector of Armed Police Wing No. 1 Gulma Kanchenjunga Headquarters Kool Bahadur Bhandari, Ward President of Phugling Municipality Ward No. 7 Yogendra Prasad Niraula, Phugling Municipality Ward No. 9 Ward President Lakshman Gurung, Principal of Janata Mavi Hangdeva Sharadraj Niraula, Principal of Yuvabarsha Secondary School Chandramani Paudel, Management Committee of both schools and President of Teacher Parents Association were present.
National Cadet Corps (NCC) is known as a volunteer force. Trained members of the National Cadet Corps (NCC) can be mobilized as needed during disasters. The age of the student who takes this training should be 14 to 24 years. First, the student must be prepared for the training, then the parent's approval is required. In this training of one hundred days, piti parade is conducted and some practical knowledge is also taught. Gulmapati Shrestha of Bhimkali Gulma informed that the main objective of the training is to create a skilled youth squad.
This campaign has been conducted to create a disciplined squad by enhancing the capacity of the youth. There are two types of training in NCC, junior division and senior division. The junior division consists of students from classes 8 to 10 while the senior division consists of students from classes 11 and 12. Both types of training programs are divided into the institutional level and annual camp level. In both the training programs, 79 days of institutional level training and 21 days of annual camp are conducted.
In the training, mass pitty, drill, roles, and duties of volunteers in disaster situations are taught. Weapons training and shooting, horse riding, and rock climbing are also taught for the senior division.
Taplejung
Nepal Army