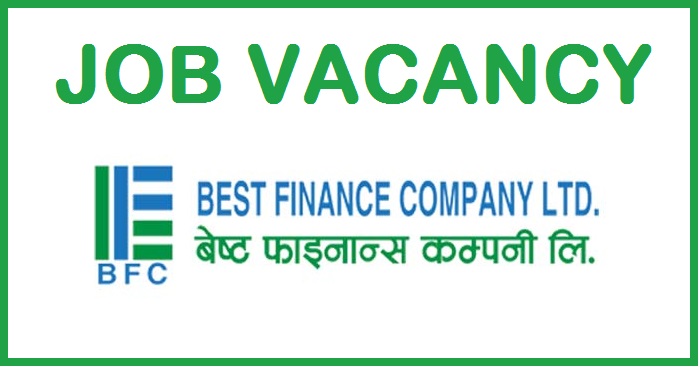 Best Finance Company Ltd., a leading "C; class National Level Finance Company invites applications from self-motivated, skilled, dynamic, and result-oriented Nepalese individuals who have a passion to excel in the banking sector for the following position:
1. Head of Information Technology Department -1
Summary;
Qualification: Should have Bachelor's degree in Information Technology from a recognized University.
Experience: Minimum 2 years' experience in relevant field.
Other Credentials;
Should be able to Lead the Overall IT Team & IT project
Should have Strong knowledge of Pumori Plus, Microsoft SQL Server, CBS operation, windows server management, Active Directory, Virtualization, CBS accounting procedure, and SSRS Reporting System
Should have very sound knowledge of Hardware, Network Management, Network Security, and virtualization of network equipment
Should have exposure to implementing, developing, and upgrading IT operation policies and procedures
Should be able to handle management queries related to the latest trend and technology.
Should be able to propose and implement Information Security Products.
Should have conceptual knowledge in report building and Business intelligence
Should have conceptual knowledge of Security Operation System implementation and monitoring.
Liaise with business users and provide IT solutions as required.
2. Head of Marketing -1
Summary:
Qualification: Should have a bachelor's degree in Management/Economics or Equivalent Degree from a recognized University. Preference will be given for a Master's degree or other Management degrees in Marketing.
Experience: Minimum 4 years experience in Banks and Financial institutions. Preference will be given to candidates having experience with a focus on Marketing and Business Development.
Other Credentials:
Should have excellent interpersonal skills and must be committed to taking on business targets.
Plan and strategize ways in deposit generation and customer satisfaction.
Should have the ability to manage marketing campaigns by creating and implementing strategies.
Ability to handle digital marketing, promotion of products, attend sales activities, presentations and calls to generate new business.
Exhibit a high level of professionalism in appearance, client handling, and client satisfaction.
The candidates are expected to have a smart personality, pleasant and cheerful nature with excellent interpersonal skills, leadership ability and positive attitude.
Age: As per Employee Service Bylaws.
TO APPLY
Interested candidates meeting the above criteria are encouraged to e-mail their application, updated CV and recent photograph at [email protected] within 15 days from the notice published to date.
Only shortlisted candidates will be called for the further selection process. Finance Company reserves the right to reject any/all applications without assigning any reason whatsoever.
Salaries and perks: As per Company's Employees Service Bye-laws.
Banking Career
Job Vacancy
Banking Job