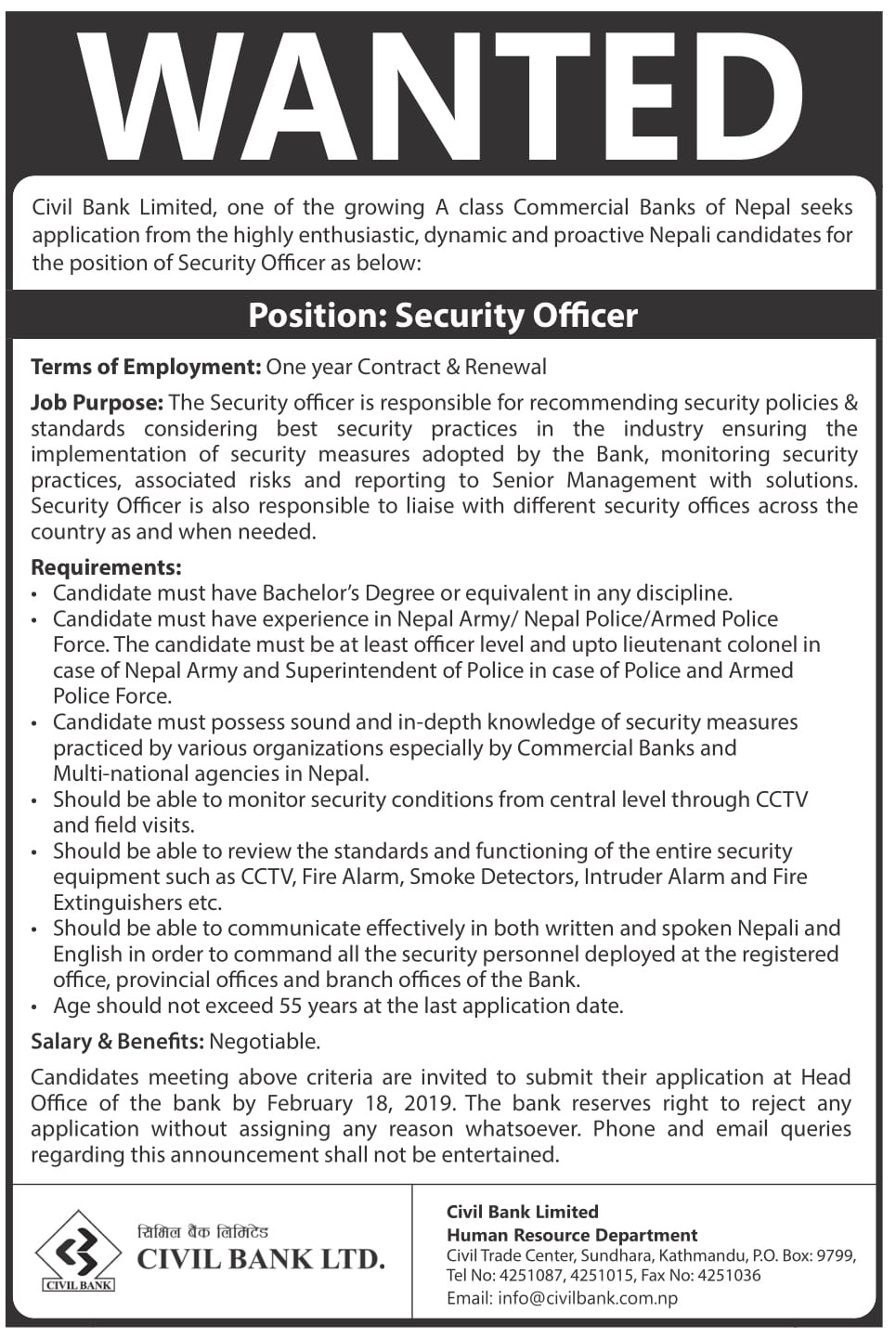 Civil Bank Limited Vacancy for Security Officer:
Civil Bank Limited, one of the growing A class Commercial Banks of Nepal seeks application from the highly enthusiastic, dynamic and proactive Nepali candidates for the position of Security Officer as below:
Position: Security Officer
Terms of Employment: One year Contract & Renewal
Job Purpose: The Security officer is responsible for recommending security policies & standards considering best security practices in the industry ensuring the implementation of security measures adopted by the Bank, monitoring security practices, associated risks and reporting to Senior Management with solutions. Security Officer is also responsible to liaise with different security offices across the country as and when needed.
Requirements:
Candidate must have a Bachelor's Degree or equivalent in any discipline.
Candidate must have experience in Nepal Army/ Nepal Police/Armed Police Force. The candidate must be at least officer level and up to lieutenant colonel in case of Nepal Army and Superintendent of Police in case of Police and Armed Police Force.
Candidate must possess sound and in-depth knowledge of security measures practiced by various organizations especially by Commercial Banks and Multi-national agencies in Nepal.
Should be able to monitor security conditions from central level through CCTV and field visits.
Should be able to review the standards and functioning of the entire security equipment such as CCTV, Fire Alarm, Smoke Detectors, Intruder Alarm and Fire Extinguishers etc.
Should be able to communicate effectively in both written and spoken Nepali and English in order to command all the security personnel deployed at the registered office, provincial offices and branch offices of the Bank.
Age should not exceed 55 years at the last application date.
Salary & Benefits: Negotiable.
Candidates meeting above criteria are invited to submit their application at Head Office of the bank by February 18, 2019. The bank reserves right to reject any application without assigning any reason whatsoever. Phone and email queries regarding this announcement shall not be entertained.
Civil Bank Limited
Human Resource Department
Civil Trade Center, Sundhara, Kathmandu, P.O. Box: 9799, Tel No: 4251087, 4251015, Fax No: 4251036
Other Banking Vacancy: