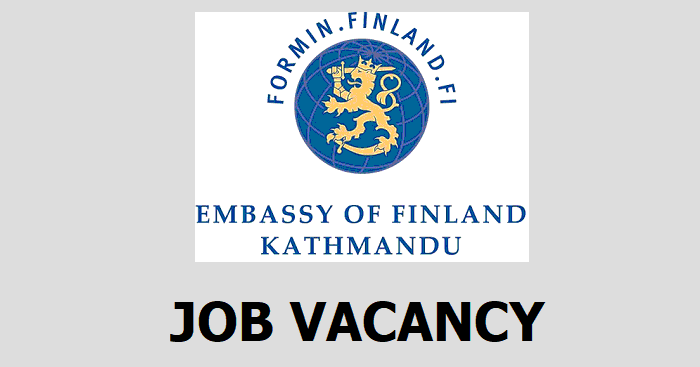 Embassy of Finland, Kathmandu Vacancy announcement for the Position of Special Advisor (Natural Resource Management, Climate Resilience) on contract service.
Job Description: Special Advisor (Natural Resource Management, Climate Resilience)
Contract duration: Fixed-term full-time position for 24 months, with a possibility for extension. The position is based in Kathmandu, Nepal.
Application period: August 17 –August 31, 2022
Description of Position:
The Embassy of Finland in Kathmandu is seeking a qualified individual for the role of locally recruited Special Adviser in the field of natural resource management and climate resilience for a fixed-term full-time position for 24 months starting on November 1, 2022, or as per agreement.
Nepal is one of Finland's long-term development partner countries. Finland has been engaged in development cooperation in Nepal since 1983, and in the water sector since 1989. The overarching goal of Finland's Country Programme 2021-2024 for Nepal is to support Nepal's equitable, economically viable, and environmentally sustainable transition into a middle-income country by 2030. In the period 2021-2024, Finland's cooperation focuses on three sectors: primary education, gender equality, and improved climate resilience and health through sustainable water supply, sanitation and hygiene, and livelihood development.
The Special Advisor will particularly provide advice and support for the preparation, management, and monitoring of interventions related to natural resource management, water supply, sanitation and hygiene (WASH), livelihood development, and climate resilience. These are part of Finland's Country Strategy and Programme in Nepal
https://finlandabroad.fi/web/npl/finland-s-development-cooperation-in-country
Adviser supports in the overall implementation of the Country Strategy and Programme as a member of the Embassy's Development Cooperation team. Key responsibilities include:
Advising and supporting in the preparation, management, monitoring and supervision of Finnish funded and managed projects relatedto natural resource management, water supply, sanitation and hygiene (WASH), livelihood development and climate resilience

Participating actively, as part of the Embassy's Development Cooperation Team, to the implementation of Finland's Country Strategy and Programme 2021.2024 for Nepal;

Compiling, analyzing and reporting information (e.g. statistics) about Finland-Nepal development cooperation, and preparing related background documents, speeches etc.;

Coordination and negotiation, as well as policy dialogue with the Government of Nepal representatives and other relevant stakeholders and development partners;

Additionally, supporting the Team Finland work of the Embassy e.g. by following private sector development in Nepal and meeting with relevant stakeholders;

Following and reporting the national political situation and key developments in governance;

Media monitoring and communication related tasks;

Any other tasks assigned by the supervisor.
Qualifications/requirements
Minimum a Master's Degree in a relevant field;

Minimum 7 years of relevant work experience in the field of natural resource management. climate resilience. water resources. WASH, rural development and/or livelihood development;

Strong experience in multidisciplinary project management and implementation and working with different stakeholders as well as demonstrated experience in building partnerships;

Professional and relevant work experience in a similar position with an international or national organization will be considered an advantage;

Experience in local governance, community-based and community demand driven projects;

Knowledge of climate resilience and low emission development as crosscutting objective will be seen as advantage;

Knowledge of inclusion, discrimination, and gender issues in Nepal will be seen as advantage;

Fluency in written and spoken English and Nepali;

Interest and ability to flexibly learn and adapt to new concepts;

Good organizational, reporting and communication skills, as well as IT skills;

Good analytical and problems solving skills proven by previous work experience;

High motivation and ability to work independently and meet tight deadlines without compromising the quality of outputs;

Excellent team working skills and a strong interest to work in an international, gender neutral environment;

Ability and willingness to travel to the Projects' implementation areas (rural areas).
Interested candidates should submit:
A max. 1 page cover letter expressing interest and clearly addressing the stated requirements for the position and the salary expectation;

Resume/CV in the Europass CV format in English (https://europteu/europass/eportfc4io/screen/cv-editor?lang=en)
Two references and their contact details.
Please submit your application package to [email protected] by August 31, 2022, at 4:15 PM (Nepal Time). In the subject line, please refer to "NRM Special Advisor•. Packages not submitted by the deadline with the specified subject line — or incomplete packages — will not receive consideration. Applications received via standard mail service will not be taken into account. Applications will not be returned.
Only shortlisted candidates will be contacted for the selection process. Further information on the position is provided by email. Inquiries shall be sent to sanomatKAT©forminh with the title "NRM Special Advisors.
The terms of employment are based on Nepal's legislation and conditions applicable to locally hired employees. A security clearance will be conducted on the proposed candidate with the consent of the applicant. The probation period is four months. Salary is to be determined based on the applicant's experience and abilities.
The Ministry for Foreign Affairs of Finland and the Embassy of Finland in Nepal will process the personal data you provide with due diligence and in accordance with EU data protection legislation. The Embassy will not disclose your personal data to third parties without a lawful reason. You can read more about our data protection practice: https://um.fi/dataprotection.
By applying for a job, you accept the terms of data protection practice and give your consent to the processing of your personal data.
Job Vacancy
Kathmandu
INGO Jobs