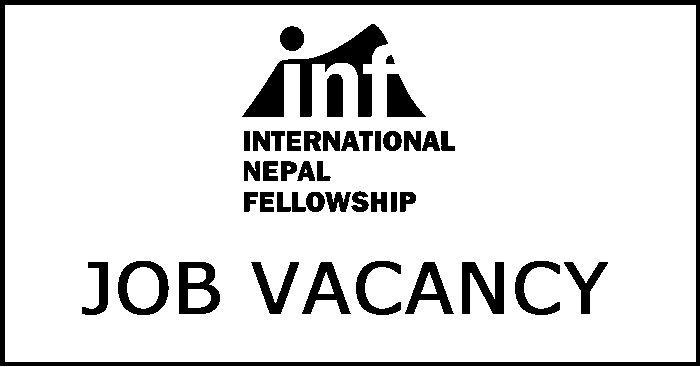 International Nepal Fellowship (Nepal) is a Non-Government Organization established in 1952 and serves the poor and disadvantaged people of Nepal to enable life in its fullness through health and development services. INF Nepal is currently working in health and community development services in Gandaki, Lumbini, Karnali, and Sudurpashim provinces of Nepal.
INF Nepal Green Pastures Hospital (GPH), Pokhara, serving people with specialized treatment and rehabilitation services in leprosy, dermatology, spinal cord injuries & other neglected trauma, ear care, palliative care, etc. is looking for qualified, skilled, service-oriented, and committed Nepali citizens who share our vision, missions, and values.
1. Position: Pharmacy Assistant
Required Number: 1
Location: GPH- Pokhara
Purpose of the Job:
The Job holder is responsible for maintaining and keeping an up-to-date record of the stock of medicines, and surgical sundries and to dispense prescribed medicines and keeping accurate records.
Required Qualifications, Skills, and knowledge:
Must have a Diploma in Pharmacy with registration at Nepal Pharmacy Council.

Must have 1 year of post diploma experience in pharmacy or dispensary. Experience in a hospital setting is an advantage.

Basic knowledge on Microsoft Office- Word/ Excel.

Experience in handling software related with pharmacy.

Experience in storekeeping and bookkeeping is an advantage.

Good written and spoken English and Nepali.

Good counselling skills and attitude to help people.

A proactive approach to patient care.

Able to maintain the confidentiality of the clients/patients.

Able to ensure and demonstrate INF values in work and dealing with others.
2. Position: Staff Nurse
Required Number: 2 (Rehab Ward), 1 (Palliative Care Ward)
Location: GPH- Pokhara
Purpose of the Job:
The Job holder is responsible for promoting and restoring patients health need in collaboration with multidisciplinary team members, provision of direct and qualitative patient care, provision of holistic care as per patients' needs along with their visitors, documentation, reporting and maintenance of records to facilitate smooth functioning.
Required Qualifications, Skills and knowledge:
Must have PCL Nursing, with registered with Nepal Nursing Council.

Minimum of One year of practical experience in hospital setting

Demonstrate sensitivity and confidentiality.

Skills to use automated and technical equipment.

Good computer knowledge with word, excel.

Must be pleasing personality and with a positive attitude.

Follow doctor's instructions and maintaining coordination.

Practical experience of using hospital software/ system is an advantage.

Prepare plan of care as per patients need.

Able to ensure and demonstrate INF Values in work and dealing with others.
3. Position: Palliative Care Worker (ANM)
Required Number: 2 (Day Therapy & Clinical Ward)
Location: GPH- Pokhara
Purpose of the Job:
To provide a holistic clinical Palliative Care service completing the nursing process for Palliative Care and Chronic Disease (PCCD) patients cared for in clinics, day therapy of other services in the Hospital; collaborates with multidisciplinary teams and provides physical and psychosocial support for patients and their families. Need to carryout night shift as per roster as required.
Required Qualifications, Skills and knowledge:
Must have passed Auxiliary Nurse Midwifery (ANM) with registration with Nursing Council.

Must have One Year of relevant work experience. Knowledge or Experience at Palliative Care will be an advantage.

Good interpersonal skills, patience empathy and ability to motivate and encourage people.

Ability to read and write in English/ Nepali Language.

Basic computer skills - Word/ Excel/ PowerPoint.

Ability to keep all matters pertaining to patient care confidential.

Be honest and demonstrate integrity.

Compassionate to patients and commitment to serve needy people.

In agreement with the vision, mission and values of INF.
All eligible and interested candidates who meet the above criteria can send their application stating the post applied for with detailed curriculum vitae on the given email address by Er September 2022.
INF Nepal, Pokhara
Email: [email protected]
Only shortlisted candidates will be invited to participate in further assessment and selection process. INF Nepal encourages applications from persons with disabilities disadvantaged and vulnerable groups.
INF Nepal reserves the right to hold partial or whole applications process at any time without giving any reason whatsoever. Any effort by the candidates to influence the selection process may result in disqualification.
Hospital Job Vacancy
Job Vacancy
NGO Job
Health Job