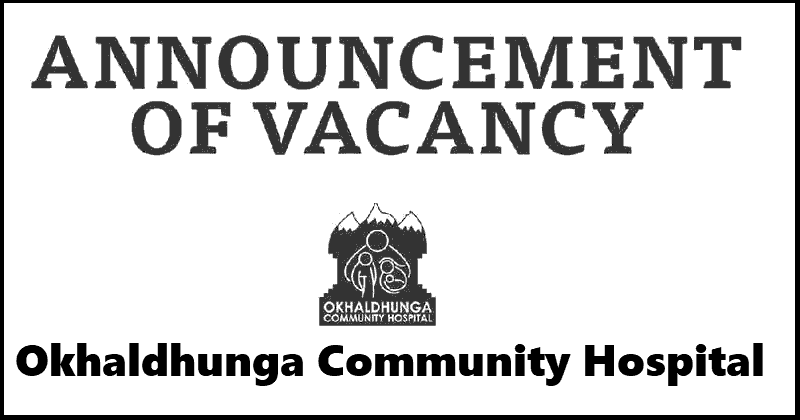 Okhaldhunga Community Hospital Vacancy for Pharmacist and Pharmacist Assistant
In its ongoing commitment to enhance the health and wellness of the community, Okhaldhunga Community Hospital (OCH) — a successful initiative of the United Mission to Nepal Medical and Development Trust (UMN MDT) — is calling for ambitious and dedicated professionals to join their esteemed team.
Located east of Kathmandu, OCH has made strides in providing quality, affordable healthcare services to the people of Okhaldhunga and the surrounding districts. Our offerings span general medicine and surgery, orthopaedics, paediatrics, obstetrics, and gynaecology, and are complemented by community-based rehabilitation and mental health programs. We also house the Okhaldhunga School of Health Sciences, training nurses to build a healthier Nepal.
1. Pharmacist (Grade level 6)
Vacancies: 1
Role: Dispensing medications, checking prescriptions, managing stock inventory, advising on drug interactions and reviewing adverse drug reactions, supervising pharmacy assistant staff.
Qualifications: Bachelor of Pharmacy (BPharm)
Experience: One to two years of hospital or community pharmacy work is advantageous. However, fresh graduates are also welcome.
2. Pharmacy Assistant (Grade level 4)
Vacancies: 1
Role: Dispensing medications, checking prescriptions, counselling patients, managing stock inventory.
Qualifications: Diploma of Pharmacy (DipPharm)
Experience: One to two years as a pharmacy assistant is preferred. Fresh graduates are also encouraged to apply.
Salary and benefits align with OCH standards. We encourage everyone meeting the minimum qualifications to apply, particularly women and members of marginalised groups.
To apply, download the Job Description and Application Form from our website: www.umn.org.np/vacancy. Send your completed application (in English and WORD format) along with electronic copies of academic qualifications, certificates of equivalence, a passport size photograph, citizenship document, and registration certificate from the Nepal Pharmacy Council to [email protected] by 5pm Monday, 31 July 2023 (15 Shrawan 2080). Note that only electronic applications will be considered and late applications will not be entertained.
Interviews will be conducted at Okhaldhunga Community Hospital Siddhicharan-11, Sobru, Okhaldhunga District, Province 1 in early August 2023. Shortlisted candidates will be notified and called for an interview.
Published on 19th July 2023
Hospital Job Vacancy
Okhaldhunga
Job Vacancy
Health Job