Rasuwa Hospital Vacancy for Medical Officer, Nurse, HA, AHW, ANM, and Helper:
Ministry of Social Development, Directorate of Health, Rasuwa Hospital, Bagmati Pradesh invites job application for the position of Medical Officer, Nurse, HA, AHW, ANM, and Helper on contract service.
As per the decision of the Council of Ministers dated 2078/1/19 and the letter of the Ministry of Social Development dated 2078-01-23 and the date of Rasuwa Hospital Operation and Management Committee dated 2075-02-01 considering the increasing contagion of the second phase of COVID-19 which is currently spreading as a global epidemic. As per the decision, there is recruitment for the following employees. This notice has been published for all concerned to submit the application within 7 (seven) days from the date of publication of the notice by the interested Nepali citizens who have reached eligibility.
Vacancy Details:
Positions
Level
Req. No.
Medical Officer
8th
2
Health Assistant (HA)
5th
2
Staff Nurse
5th
3
AHW
4th
1
ANM
4th
1
Office Helper
4
Total Vacancies
13
Qualification
1) Must be a Nepali citizen.
2) Age: Completed 18 years and not exceeding 35 years.
3) Passed the related subject from the recognized educational institution of the Government of Nepal and registered in the concerned council.
4) Not disqualified according to the prevailing law.
5) Place of submission of application: Administration Branch, Rasuwa Hospital.
6) Last date for submission of application: 2078-02-09 within office hours.
7) Shortlist and interview information will be published later.
8) Documents to be submitted
- 3 photos taken recently.
- Copy of personal details.
- Copy of Nepali citizenship.
- Copy of educational qualification, citizenship, and other certificates
9) Contract period: up to 6 months (six months).
10) Selection Process: Interviews.
11) General Literacy in the case of Office Helper.
12) According to the application form of the Public Service Commission, the application can be submitted through the administration branch of this Rasuwa Hospital or by email to the hospital.
A medical examination certificate must be submitted on the day of the interview.
First published date: 2078-02-02
Contact Details:
Rasuwa Hospital, Gosaikunda, Dhunche, Rasuwa, Nepal
Phone: 010-540245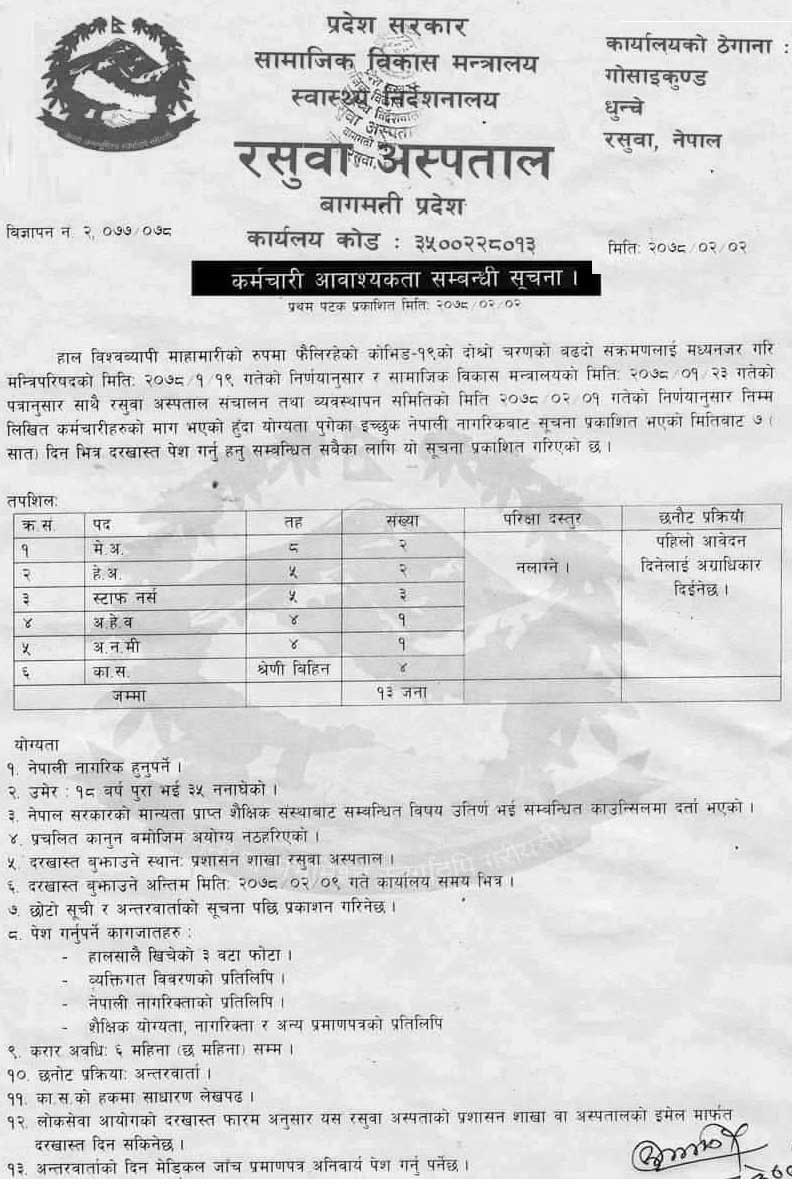 Rasuwa
Bagmati Pradesh
Job Vacancy
Health Job
Government Job