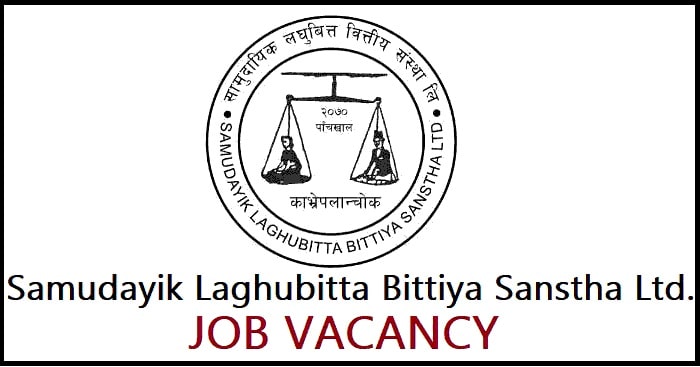 Samudayik Laghubitta Bittiya Sanstha Limited, a Class D Licensee from Nepal Rastra Bank, is required to fill the vacancies through open competition as the following posts require staffing. The application form can be downloaded from the website of this financial institution www.samudayikbank.com.np. The application can be sent along with 2 recent passport-size photos, a copy of the educational qualification certificate, a copy of Nepali citizenship, and biodata to the organization's central office or at e-mail [email protected]
The short listing of eligible applications and examination-related programs will be published later on the financial institution's website.
Vacancy Details:
| | | |
| --- | --- | --- |
| Position / Level | Minimum qualification required | Req. No. |
| 1. Deputy Manager (Internal Audit Department) | CAP of Chartered Accountancy Fund Passed and completed Articleship. | 1 |
| 2. Junior Officer - (Officer Level) | Passed the bachelor's degree. | 8 |
| 3. Senior Assistant ( Branch Head / Assistant Level) | 10+2 / Passed proficiency level. | 10 |
| 4. Assistant (Assistant Level) | 10 + 2 / Proficiency certificate passed. | Few |
| 5. Junior Assistant (Trainee) | Passed SLC / SEE or similar level. | Few |
1) Age limit: Completed 25 years for the managerial Level and not exceeding 45 years; 21 years for the Officer Level and not exceeding 40 years; And 18 years for the Assistant Level and not exceeding 35 years. In the case of women candidates, the upper age limit will be increased by 5 years.
2) Must have knowledge of email, internet, and computer operation for the mentioned posts.
3) Postgraduate level in management subject for junior officer post, bachelor level in management subject for a senior assistant post, and proficiency certificate level pass for junior assistant (trainee) post will be accepted.
4) Preference will be given to persons who have obtained a motorcycle/scooter driver's license.
5) Salary Allowance and other service facilities: will be as per the rules of the financial institution.
6) Selection Process: Written, Presentation, and Interview.
7) All the rights related to staff recruitment will be vested in this financial institution.
Samudayik Laghubitta Bittiya Sanstha Limited
Vacancy Committee
Central Office, Banepa-14 Sanga, Kavrepalanchok,
Phone: 011-662241 / 011-660442
(Date of publication of information for the first time: - 2079-3-19)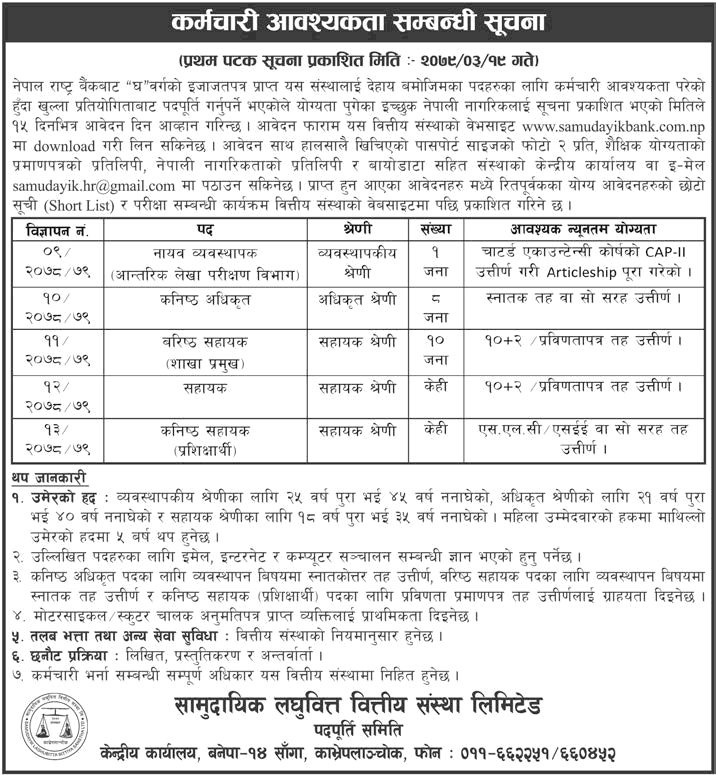 Laghubitta
Banking Career
Job Vacancy
Banking Job