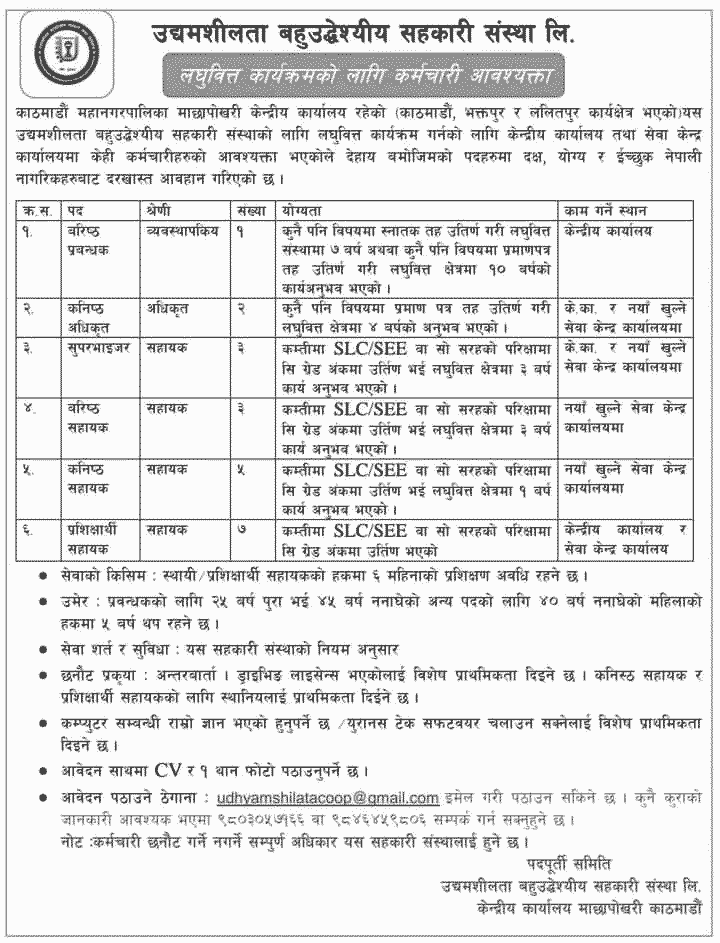 Udhyamshilata Multipurpose Cooperative Society Limited (Udhyamshilata Sahakari Sanstha Limited), which has a central office located in Kathmandu Metropolitan City, Machhapokhari and it has working areas in Kathmandu, Bhaktapur, and Lalitpur jurisdiction. It's required staff in the Central Office and Service Center Office to conduct microfinance (Laghubitta) programs. Applications are invited from skilled, qualified, and interested Nepali citizens for the following posts.
Job Vacancy Details:
| | | |
| --- | --- | --- |
| Position | Level | Required No. |
| Senior Manager | Managerial | 1 |
| Junior Officer | Officer | 2 |
| Supervisor | Assistant | 3 |
| Senior Assistant | Assistant | 3 |
| Junior Assistant | Assistant | 5 |
| Trainee Assistant | Assistant | 7 |
Type of Service: Permanent (Trainee Assistant will have a training period of 6 months.)
Age: Completed 25 years for the manager and not exceeding 45 years; and not exceeding 40 years for other posts; In the case of women, there will be 5 more years.
Terms of service and facilities: As per the rules of this cooperative
Selection Process: Interview. Special priority will be given to those who have a driving license. Junior assistants and Locals will be given priority for trainee assistants.
Must have good computer knowledge / Special preference will be given to those who can run Uranus Tech software.
CV and 1 photo should be sent along with the application.
Address for sending application: It can be sent by email to [email protected] If you need more information, you can contact 9803057166 or 9846459806.
Note: This cooperative will have all the right to choose the employees or not.
Vacancy Committee
Udhyamshilata Multipurpose Cooperative Society Ltd.
Central Office, Machhapokhari, Kathmandu
Banking Career
Job Vacancy
Lalitpur
Bhaktapur
Kathmandu
Banking Job