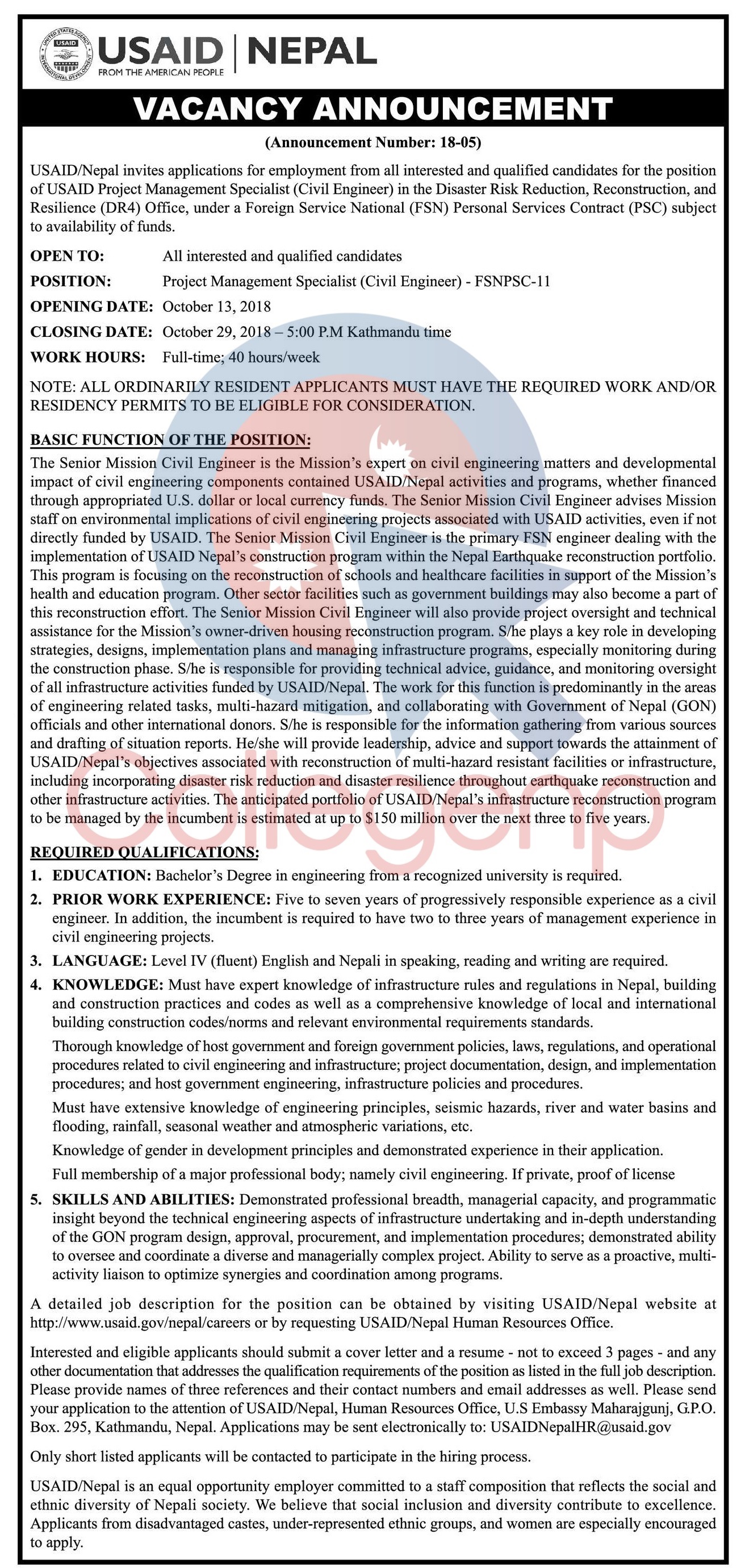 USAID/Nepal invites applications for employment from all interested and qualified candidates for the position of USAID Project Management Specialist (Civil Engineer) in the Disaster Risk Reduction, Reconstruction, and Resilience (DR4) Office, under a Foreign Service National (FSN) Personal Services Contract (PSC) subject to the availability of funds.
OPEN TO: All interested and qualified candidates
POSITION: Project Management Specialist (Civil Engineer) - FSNPSC-11
OPENING DATE: October 13, 2018
CLOSING DATE: October 29, 2018 — 5:00 P.M Kathmandu time
WORK HOURS: Full-time, 40 hours/week
NOTE: ALL ORDINARILY RESIDENT APPLICANTS MUST HAVE THE REQUIRED WORK AND/OR
RESIDENCY PERMITS TO BE ELIGIBLE FOR CONSIDERATION.
BASIC FUNCTION OF THE POSITION:
The Senior Mission Civil Engineer is the Mission's expert on civil engineering matters and developmental impact of civil engineering components contained USAID/Nepal activities and programs, whether financed through appropriated U.S. dollar or local currency funds. The Senior Mission Civil Engineer advises Mission staff on environmental implications of civil engineering projects associated with USAID activities, even if not directly funded by USAID. The Senior Mission Civil Engineer is the primary FSN engineer dealing with the implementation of USAID Nepal's construction program within the Nepal Earthquake reconstruction portfolio.
This program is focusing on the reconstruction of schools and healthcare facilities in support of the Mission's health and education program. Other sector facilities such as government buildings may also become a part of this reconstruction effort. The Senior Mission Civil Engineer will also provide project oversight and technical assistance for the Mission's owner-driven housing reconstruction program. S/he plays a key role in developing strategies, designs, implementation plans and managing infrastructure programs, especially monitoring during the construction phase. S/he is responsible for providing technical advice, guidance, and monitoring oversight of all infrastructure activities funded by USAID/Nepal. The work for this function is predominantly in the areas of engineering related tasks, multi-hazard mitigation, and collaborating with The government of Nepal (GON) officials and other international donors. S/he is responsible for the information gathering from various sources and drafting of situation reports. He/she will provide leadership, advice and support towards the attainment of USAID/Nepal's objectives associated with reconstruction of multi-hazard resistant facilities or infrastructure, including incorporating disaster risk reduction and disaster resilience throughout earthquake reconstruction and other infrastructure activities. The anticipated portfolio of USAID/Nepal's infrastructure reconstruction program to be managed by the incumbent is estimated at up to $150 million over the next three to five years.
REQUIRED QUALIFICATIONS:
EDUCATION: Bachelor's Degree in engineering from a recognized university is required.
PRIOR WORK EXPERIENCE: Five to seven years of progressively responsible experience as a civil engineer. In addition, the incumbent is required to have two to three years of management experience in civil engineering projects.
LANGUAGE: Level IV (fluent) English and Nepali in speaking, reading and writing are required.
KNOWLEDGE: Must have expert knowledge of infrastructure rules and regulations in Nepal, building and construction practices and codes as well as a comprehensive knowledge of local and international building construction codes/norms and relevant environmental requirements standards.
Thorough knowledge of host government and foreign government policies, laws, regulations, and operational procedures related to civil engineering and infrastructure; project documentation, design, and implementation procedures; and host government engineering, infrastructure policies and procedures.
Must have extensive knowledge of engineering principles, seismic hazards, river and water basins and flooding, rainfall, seasonal weather and atmospheric variations, etc.
Knowledge of gender in development principles and demonstrated experience in their application.
Full membership of a major professional body; namely civil engineering. If private, proof of license
SKILLS AND ABILITIES: Demonstrated professional breadth, managerial capacity, and programmatic insight beyond the technical engineering aspects of infrastructure undertaking and in-depth understanding of the GON program design, approval, procurement, and implementation procedures; demonstrated the ability to oversee and coordinate a diverse and managerially complex project. Ability to serve as a proactive, multi-activity liaison to optimize synergies and coordination among programs.
A detailed job description for the position can be obtained by visiting the USAID/Nepal website at http://www.usaid.gov/nepal/careers or by requesting the USAID/Nepal Human Resources Office.
Interested and eligible applicants should submit a cover letter and a resume - not to exceed 3 pages - and any other documentation that addresses the qualification requirements of the position as listed in the full job description.
Please provide names of three references and their contact numbers and email addresses as well. Please send your application to the attention of USAID/Nepal, Human Resources Office, U.S Embassy Maharajgunj, G.P.O.
Box. 295, Kathmandu, Nepal. Applications may be sent electronically to: [email protected]
Only short listed applicants will be contacted to participate in the hiring process.
USAID/Nepal is an equal opportunity employer committed to a staff composition that reflects the social and ethnic diversity of Nepali society. We believe that social inclusion and diversity contribute to excellence.
Applicants from disadvantaged castes, under-represented ethnic groups, and women are especially encouraged to apply.