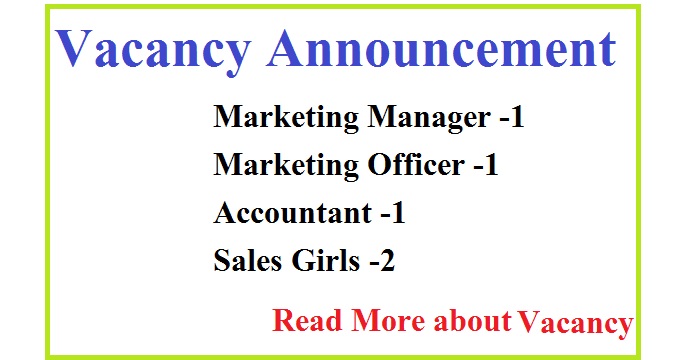 An established running company associated with Organic Tea and Coffee, requires the following personnel.
Marketing Manager- One
Good Academic Background with bachelor in commerce in market specialization, MBS/MBA is more preferred, Three to Five years working experience in marketing field in the related position, worked in the related trading field is more preferred. Good communication skill and good command, ability to take on the overall responsibilities of marketing division. Ability to fluently speak and write English is plus point. Motor Cycle License is essential.
Marketing Officer- One
Good Academic Record and passed 10+2. Bachelor in market specialization is preferred. Communication skill in marketing field is a must. Two to three years' experience in this field. Ability to work in group or team.
Accountant- One
BBS/BBA with good academic record. Good knowledge in accounting with VAT and Income TAX is essential. Three to five years working experience in the related field is a must.
Sales Girls: Two
SLC passed, Ability to communicate for marketing and sales purposes.
Salary and other benefits for serial no. 1 are negotiable and for serial no. 2, 3 and 4 are as per Company's rule. Apply with full bio-data (CV) through this email [email protected] or [email protected] within seven days of published date. Only shortlisted candidates will be called for interview.
This vacancy also published on Kantipur Daily 2nd July, 2018