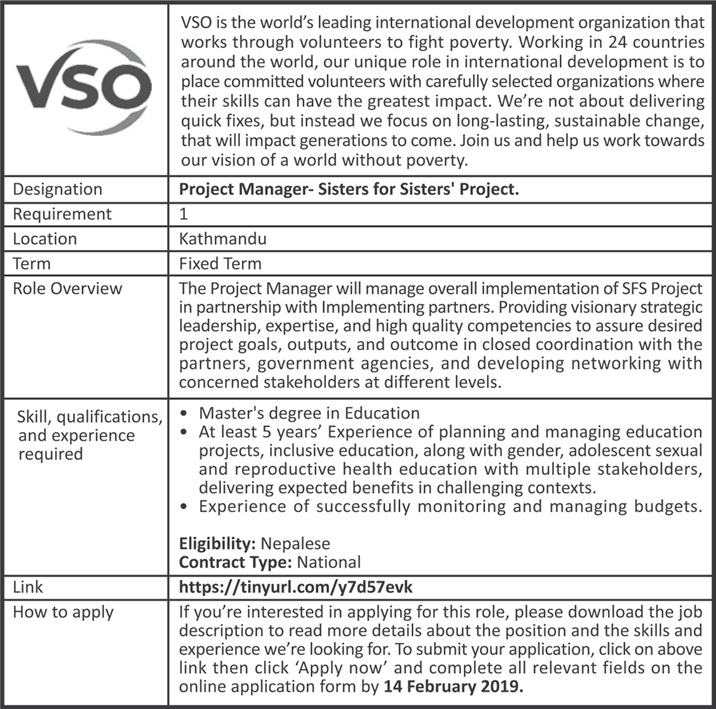 VSO is the world's leading international development organization that works through volunteers to fight poverty. Working in 24 countries around the world, our unique role in international development is to place committed volunteers with carefully selected organizations where their skills can have the greatest impact. We're not about delivering quick fixes, but instead, we focus on long-lasting, sustainable change, that will impact generations to come. Join us and help us work towards our vision of a world without poverty.
Designation

Project Manager- Sisters for Sisters' Project

Requirement

1

Location

Kathmandu

Term

Fixed Term

Role Overview

The Project Manager will manage the overall implementation of SFS Project in partnership with Implementing partners. Providing visionary strategic leadership, expertise, and high-quality competencies to assure desired project goals, outputs, and outcome in close coordination with the partners, government agencies, and developing networking with concerned stakeholders at different levels.

Skill, qualifications, and experience required

Master's degree in Education
At least 5 years' Experience of planning and managing education projects, inclusive education, along with gender, adolescent sexual and reproductive health education with multiple stakeholders, delivering expected benefits in challenging contexts.
Experience of successfully monitoring and managing budgets.

Eligibility: Nepalese

Contract Type: National

Link

How to apply

If you're interested in applying for this role, please download the job description to read more details about the position and the skills and experience we're looking for. To submit your application, click on the above link then click 'Apply now' and complete all relevant fields on the online application form by 14 February 2019.