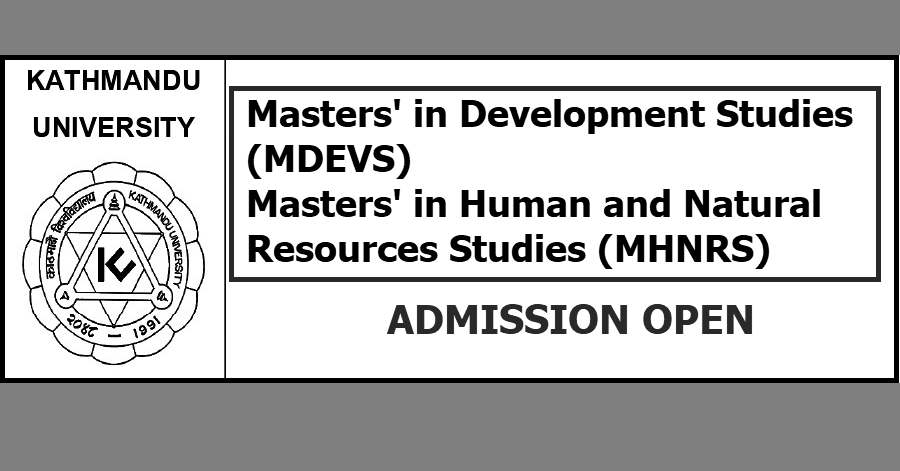 Admissions Open for Masters' Program: Kathmandu University, School of Arts, Department of Development Studies announces the opening of admissions for two-year Masters' programs in Development Studies and Human and Natural Resources Studies for the spring Session of 2023 (starting February 2023).
Eligibility:
Completion of a 3-year Bachelor's degree, or a Master's degree, with a cumulative grade point average (CGPA) of 2.5 out of 4.0 or an equivalent of 50 percent marks in the latest degree acquired will be the basic criteria. Also, securing an acceptable label or ranking in the entrance exam will be essential. The entrance exam will test the candidate's language proficiency and analytical abilities.
Duration: Two years
Form distribution: December 10, 2022 to January 30, 2023
Last date for form submission: January 31, 2023
Entrance Exam: February 2, 2023
Interview: Feb 5 & 6, 2023
Final Result Publish: Feb 7, 2023
Admissions for selected students: February 8-22, 2023
** UGC scholarship (formula-based funding) is available for 20% of the total number of admitted students. — 10% of seats are available for foreign students.
The new semester will begin on February 28, 2023. For application forms and further information, contact:
Department of Development Studies
School of Arts,
KU, Balkumari, Lalitpur
P.O. Box 6250, Kathmandu, Nepal
Tel: 01- 5911 307
Mobile: 9820108001, 9820108002
Email: kusoaaku.edu.np
Website: https://kusoa.edu.np/
Admission Open