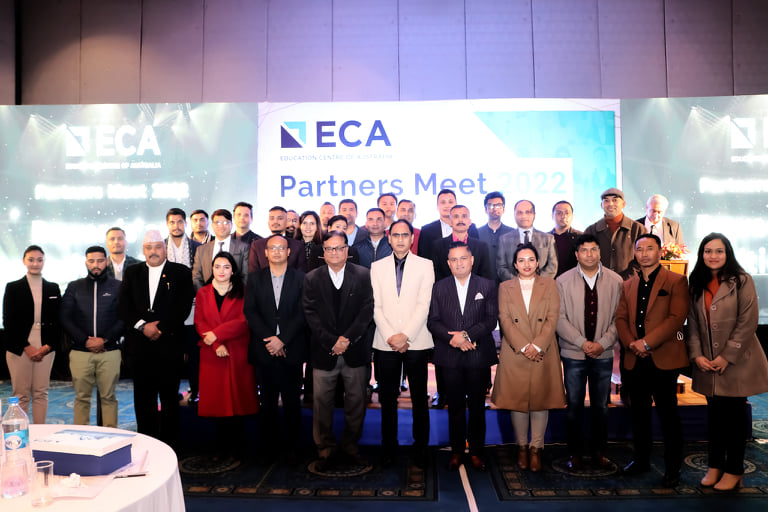 The Partners Meet of the Education Center of Australia has been completed. The Partners Meet is organized in a semi-virtual modality, bringing together partners who have been sending students to various Associated Universities, Colleges, and Institutes at the Education Center of Australia for a long time.
At the Partners Meet held at Yak & Yeti Hotel in Kathmandu; Harmeet Gill, Country Manager, Education Center of Australia ECA, jointly welcomed the various ECA officials from Sydney and the ECA families and partners present in Kathmandu.
ECA's Associate Director of Sales, Rodrigo Jumeiraz, gave detailed information about the courses, fee structure and service facilities provided by the educational institutions such as Victoria University, Swinburne University of Technology, Charles Sturt University, University of Canberra, London Metropolitan University and under ECA Group - Asia Pacific International College, EALSIS English Language School, ECA Graduate Institute, ECA College, ECA Professional Year, Australian College of Care Leadership and Management, ECA Internship, and Higher Education Leadership Program.
Further information regarding recruitment was provided by ECA Director of Admissions Lee Kennedy Davidson.
During the presentation, Senior Int'l Regional Manager- Subcontinent, Stefan Hofmann presented the renowned universities, colleges, and institutes to the partners and students keeping in view the needs and aspirations of the students from South Asian countries. Similarly, Rupesh Singh, CEO, ECA Group, briefed the partners on the new product by giving information about the sales marketing strategy of the new product.
Based on the feedback, ECA also informed that it will further its marketing strategy. The program was very interactive even though it was semi-virtual. Similarly, ECA Global CEO, Rajesh Singh informed that the partners have contributed to the success of ECA and the same contribution is expected from the partners in the future as well. The best partners were also awarded honors and certificates as Silver, Gold, and Platinum Partners.
Harmeet Gill, Country Manager, ECA, thanked everyone for their support in making the event so elegant, dignified, and dignified. Announcing that next year's Partners Meet will be in Cambodia, and also invited to attend.