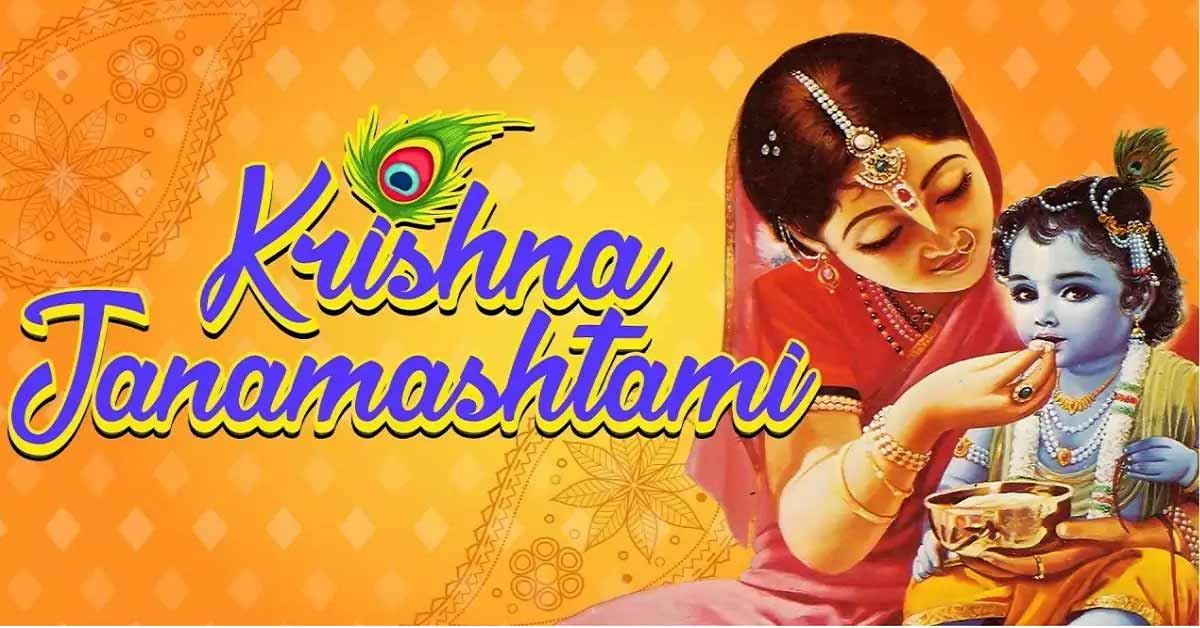 Happy Krishna Janmashtami:
Today, the birthday of Lord Krishna is being celebrated on Bhadra Krishna Ashtami. Today, the birth of Lord Krishna is described in the scriptures in Mathura, India in the Dwapar era from the womb of father Vasudeva and mother Devaki. Lord Krishna is considered the founder of knowledge, karma, and devotional yoga.
There is a religious belief that Lord Krishna was born as the eighth incarnation of Vishnu from the eighth womb of Vasudeva and Devaki to liberate mankind from the tyranny of Mama Kansal and others. According to the scriptures, Krishna killed Kansa, who was synonymous with sin and released his grandfather Ugrasen, parents Devaki and Vasudeva from prison.
This month is also celebrated as Premotsav (Jhulnotsav) due to Krishna's love affair with a girl like Gopini and Radha. Vishnu is believed to have descended to earth as Krishna in the form of a human incarnation with the aim of protecting mankind from injustice, oppression, and demonic tendencies.
Krishna was in favor of lifelong truth and inspired the human community to do good deeds. In the crusade between the Kauravas and the Pandavas at Kurukshetra, Krishna, as the charioteer of Arjuna, one of the five pro-truth Pandavas, taught war.
Krishnashtami is celebrated by meditating on the proclamation, "When there is an oppression of the wicked and sinners on earth, I will return to earth and uplift religion."
Devotees have been worshiping Lord Krishna till today, remembering his childhood love, love for Gopini, and the love story that captivated everyone with the melody of the flute.
Ashwin Shukla Ashtami's Kalaratri, Kartik Krishna Aunsi's Sukhratri, Phagun Krishna Tritiya's Mahashivaratri, and this Bhadra Krishna Ashtami's Moharatri are described in the scriptures as having great significance.
Krishna Pranami, ISKCON, an international organization of Krishna devotees, has been celebrating Janmashtami with grandeur all over the world.
Krishna Temple of Patan, Krishna Temple of Makwanpur Bhaise, Matatirtha, Hanumandhoka Durbar Complex, Krishna Temple of Gothatar, and all other Krishna temples are worshiped on this day. However, due to the Corona epidemic this year, people have been urged to celebrate Krishnashtami at home.
According to the Hindu Vedic tradition, Shrikrishna Janmashtami is one of the various religious festivals. Especially the date of Bhadrakrishna Ashtami is called Krishna Janmashtami.
The manifestation of Lord Krishna is believed to have taken place on this day. According to the Garga Samhita, the manifestation of Lord Krishna is believed to have taken place at midnight on Bhadra Krishna Ashtami Wednesday in Rohini Nakshatra Harshana Yoga. The night when Krishna appears is also called Moharatri.
The purpose of Krishna's birth is to be free from being one with Krishna by restraining the mind and removing it from worldly affairs. Yogamaya's hand is in Krishna's entire leela. Because God cannot take incarnation without the shelter of love. Without Yogamaya, Krishna alone is not enough.
The birth of Krishna is believed to destroy iniquity and protect religion. It is mentioned in the scriptures that the manifestation of Lord Krishna is to destroy the demons of demonic nature and to protect the saints. It is also mentioned in the scriptures that it is better to fast Krishna Janmashtami on the day when Ashtami Tithi touches midnight.
It is mentioned in the Garg Samhita that the incarnations of God include Anshavatar, Aveshavatar, Kalavatar, Purna Avatar, and Parinartam Avatar. Matsya, Kachap, etc. incarnations are considered as Kalavatar, Parashuram, etc. are considered as incarnation incarnations. When Parashuram was born, he was not an incarnation of God, he was Rishi Kumar.
He later went to Shivaji in Kailashdham to learn arms. At that time, Shiva was about to recite the Ram Gita to Parvati. After listening to the Ram Gita, he incarnated as Narayan and returned to the ashram after receiving archery from Shivaji.
Later, in the marriage of Sita in the tent of Rama incarnation, Parashuram's Narayan incarnation was transferred to Rama in Dhanurbhanga and Parashuram remained as a sage. As Parashuram is Chiranjeevi, he is still considered alive. Lord Rama is considered to be the perfect incarnation and Krishna is considered to be the most perfect incarnation.
The incarnation for the salvation of short-lived beings for a short time is a partial incarnation and the incarnation for the welfare of eternity and eternal life is a complete incarnation. Krishna's incarnation is characterized by many supernatural and wonderful pastimes from childhood to Swadhamagaman.
The main gift of Krishna's incarnation is the Bhagavad Gita. This is the essence of the four Vedas and eighteen Puranas in the earth, in which Karma Yoga, Bhakti Yoga, and Gnana Yoga are preached in order to get rid of Arjuna's lust at the beginning of the battle of Mahabharata. The same Gita scripture is the heritage of Hindu society.
On this day, it is considered best to fast all day and celebrate the birth of Lord Krishna at midnight, to worship Lord Krishna in a methodical way, and to receive offerings. On the day after Krishna Janmashtami, it is customary to carry the idol of Lord Krishna in a chariot.
On the day of Krishna Janmashtami, Krishna is worshiped in the temples of Krishna in our country. On this day, a big fair is held at the Changunarayan temple in Bhaktapur built during the reign of King Mandev. Similarly, the world-famous Krishna Temple in Patan, Lalitpur District, built by Siddhinar Singh Malla, attracts a large crowd of devotees to worship Lord Krishna.
On this day, Krishna devotees, followers of Chaitanya Mahaprabhu, also celebrate Krishna's Leela Utsav with a grand fair at Krishna's temples in Nepal, India, and other parts of the world.
Similarly, Krishna Pranami Krishna devotees also have a tradition of celebrating Lord Krishna in a grand manner. This Krishna Janmashtami festival is a universal festival. Therefore, it is a festival of welfare for all human beings. Lord Krishna is above caste and creed. This is the essence of Krishna Dharma and Bhagavad Gita.