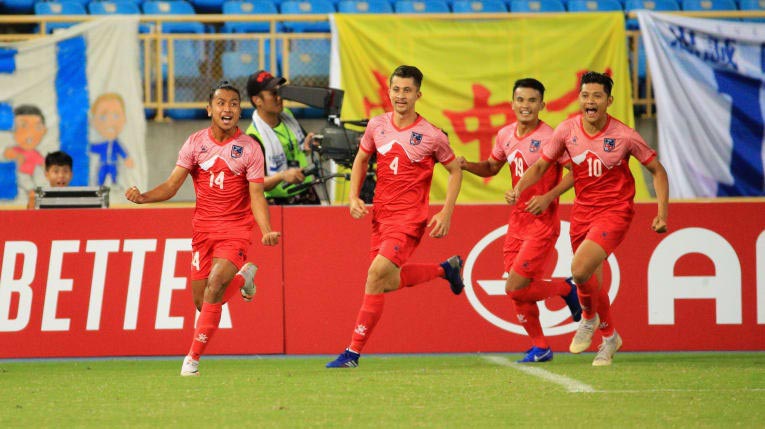 Nepal has defeated Chinese Taipei 2-0 in the qualifying match of the FITA World Cup 2022. Nepal defeated Chinese Taipei 2-0 in the second round match of the World Cup 2022 qualifiers.
Nepal scored one goal each in the first and second half of the match played at the Jaber Al Hamad International Stadium in Kuwait. Anjan Bista and Navyug Shrestha scored one goal each in Nepal's victory. Anjan scored in the third minute of the game to give Nepal an early 1-0 lead. Nepal got a penalty in the third minute of the match. Anjan turned the opportunity into a goal. The referee awarded a penalty after a Chinese Taipei player was handed a free kick by Santosh Tamang.
Nepal took a 1-0 lead in the first half and had a good chance to score in the 80th minute. Manish Dangi increased the ball in a single attempt and it came out from above the post. But in less than a minute, Navayuga doubled the lead by scoring a goal. Navyug Shrestha doubled the lead in the 81st minute. Suman Aryal's cross from Anjan Bista's pass from inside the penalty area gave direction to the goal.
Head coach Abdullah Almutairi replaced Sunil Bal in the 65th minute. Navayuga scored in the 16th minute of the match.
With the win, Nepal, which is in Group B, has secured the fourth position. Nepal has added six points after winning two out of six games and losing four. Nepal has won both of its matches against Chinese Taipei.
Australia tops Group B. He has added 12 points from four games. Both Jordan and Kuwait are in second and third place with 10 points apiece from five games.
Nepal had changed two players in the friendly match against Iraq in the starting eleven for the match against Chinese Taipei. Manish Dangi and Navayug Shrestha were not the first choices. Sunil Bal and Ashish Lama were in the first place in place of both of them.
Nepal followed the strategy of 4-3-3 against Chinese Taipei. Nepal will face Jordan in their seventh qualifier. In the final match, Nepal will compete with Australia. Nepal will be selected for the 2022 FIFA World Cup only in case of any miracle. In order for Nepal to be selected, both Kuwait and Jordan will have to add less than 11 points while Nepal will have to beat Australia and Jordan in the remaining two games. Both Kuwait and Jordan have three games left to play. Kuwait is facing Australia in the next match to be played today. However, the possibility of Nepal's selection for the Asia Cup 2023 is still alive.
Football
Sports