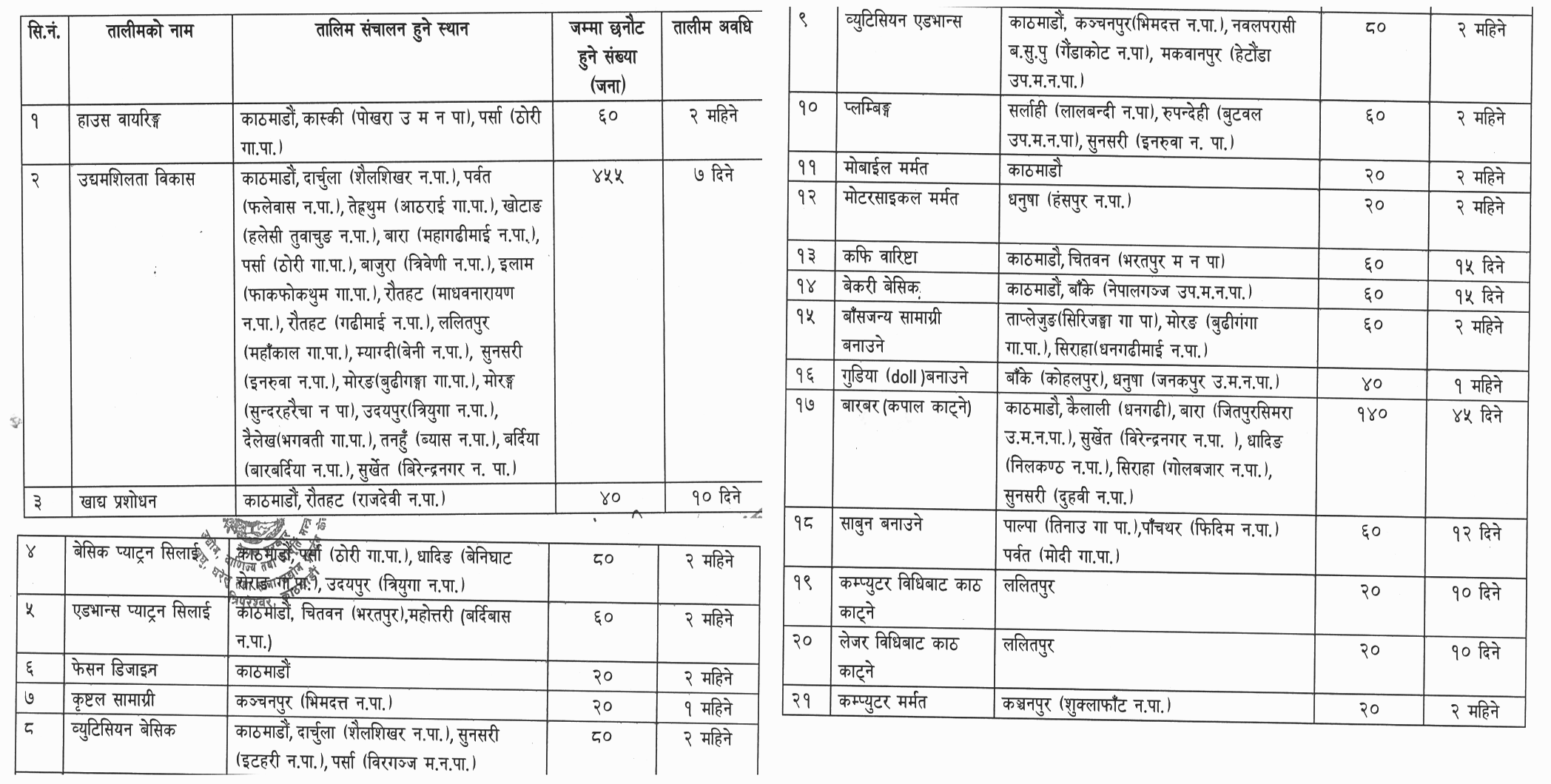 Training Announcement: Micro, Cottage, and Small Industry Promotion Center, Nepal
The Government of Nepal, specifically the Ministry of Industry, Commerce, and Supply, brings forth an exciting opportunity for individuals looking to enhance their skills or venture into a new business. Here's a comprehensive breakdown of the training and how you can participate:
Overview:
Organizer: Micro, Cottage, and Small Industry Promotion Center (Laghu, Gharelu Tatha Sana Udhyog Prabardan Kendra)
Location: Tripureshwor, Kathmandu
Official Portal: www.mcsipc.gov.np
Training Courses for 2080/81:
House Wiring
Entrepreneurship Development
Food Processing
Pattern Sewing (Basic to Advanced)
Fashion Design
Crystal Material Manufacturing
Beautician Courses
Plumbing
Mobile & Computer Repair
Motorcycle Maintenance
Culinary Courses (Coffee Shop & Bakery)
Bamboo Crafts, Doll Making, Barber Skills
Innovative Wood Cutting Techniques
And more!
Note: Detailed information about each training and associated instructors can be found on the website's notice board.
How to Apply:
Application Process: Interested candidates are requested to submit their applications online within 21 days of this announcement's publication.
Eligibility:

Nepalese citizen
At least 18 years old
Basic literacy
Specific qualifications for certain trainings (as mentioned below)

Documents Required:

Certificate of Nepalese citizenship
Passport-sized photograph
Educational certificates
Business plan summary (Max 2 pages)
Relevant qualifications for advanced courses
For certain trainings, engineering qualifications are required. Please check the website for specifics.

Selection Criteria: Primary consideration will be the business plan submitted.
Priority Groups: Special consideration is given to marginalized and underprivileged groups.
Application Deadline: 2080.07.02.
Important Points:
Free Training: There are no fees associated with application or participation.
Training Location: Chosen based on various criteria like resources, budget, and applicant number.
Notices: For any updates, regularly check the website or get in touch directly with the center.
Application Limit: A candidate cannot apply for more than two trainings.
Allowances: Trainees will not receive any additional allowances or facilities during training.
Final Notes:
Ensure all provided information is accurate and complete. Incomplete or unclear applications risk cancellation.
Stay updated by checking the center's website frequently. The center may not send personal notifications.
For additional details or queries, please refer to the center's website or use the contact details provided therein.
Online Application Link (अनलाइन आवेदन यहाँ बाट दिनुहाेस): https://apply.mcsipc.gov.np/Account/Login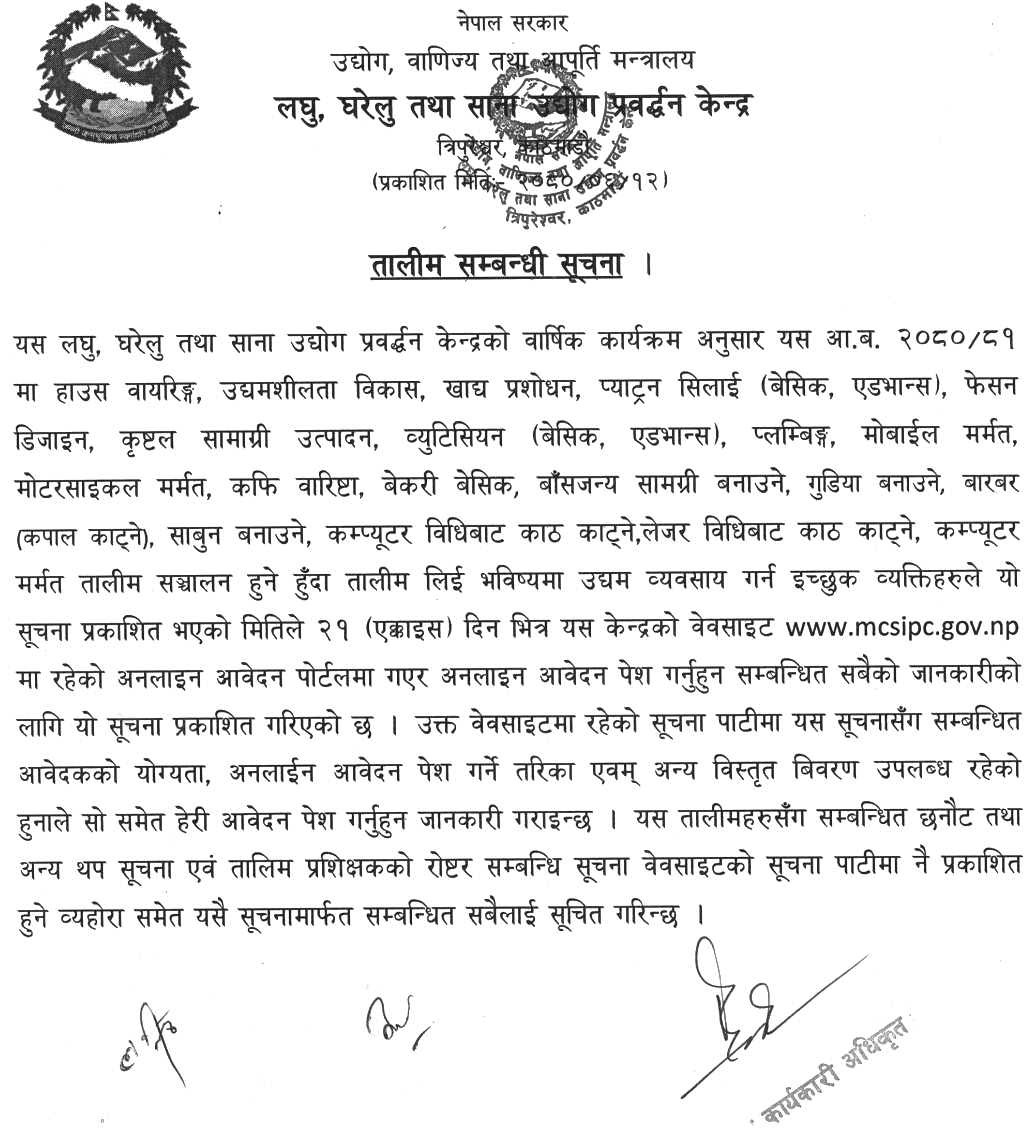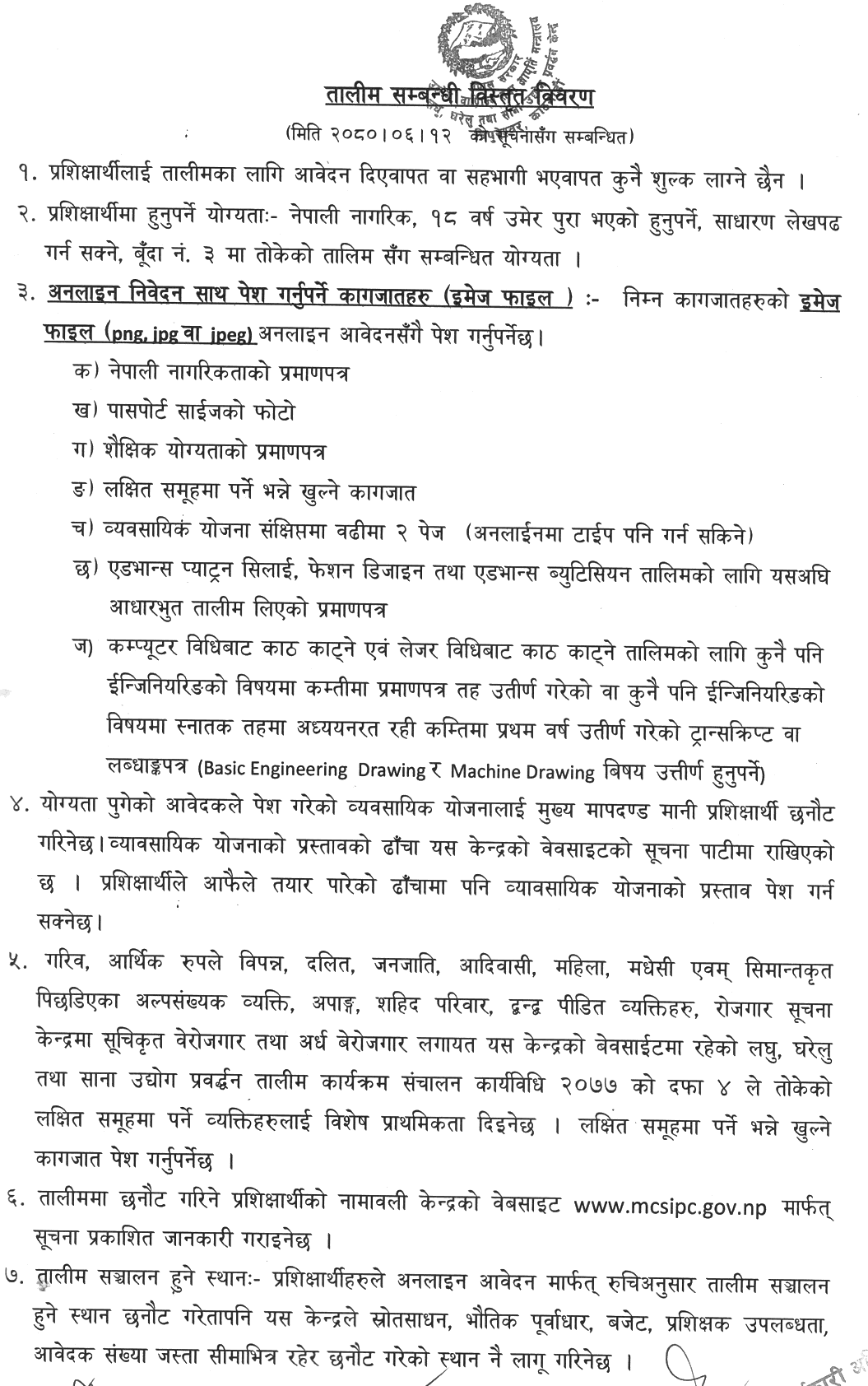 Notice
Free Training
Training