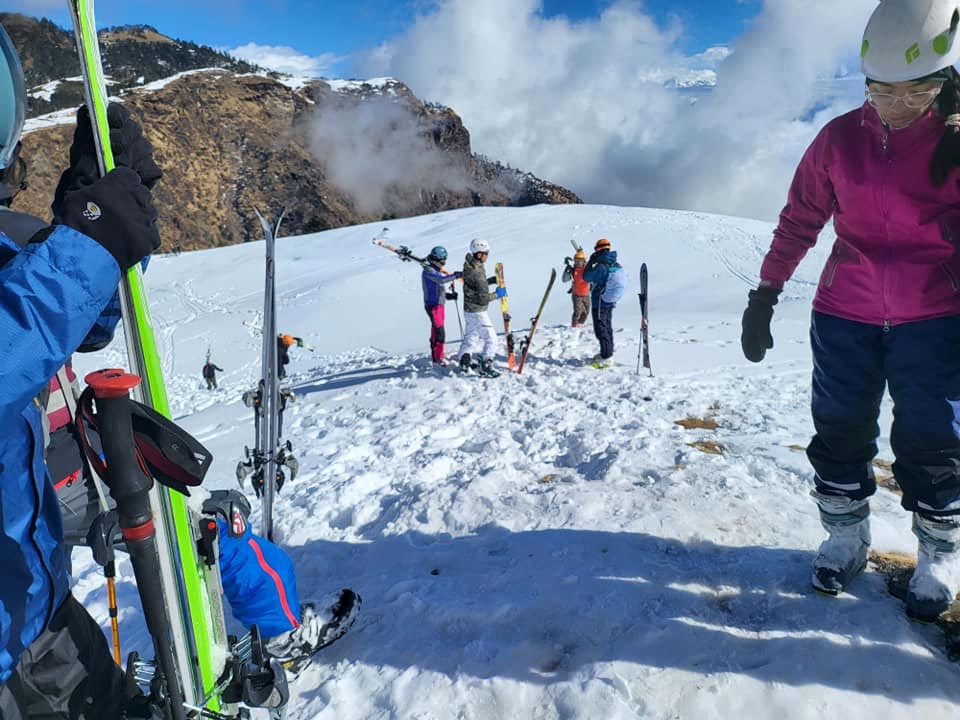 A one-week ski level 1 training has started at Kalinchok Kuri in Dolakha under a joint project of Nepal Mountain Academy and Nepal National Mountain Guides Association (NNMGA). Uttam Bhattarai, director of the institute, said that the training was started with the objective of increasing the number of internal and external tourists through recreational skiing. In this training, trainees will be taught how to play ski, balance and other skills.
According to the organizers, there are four trainers and 19 trainees in the training. At the end of the ski training which will be held on Sunday, the trainees will also be given an experimental skill test. Having passed this, they will be able to participate in level 2 training.
The training has been conducted in Kuri since 2015. This is the sixth batch of training conducted. By the fifth batch, 100 ski level 1 players are ready. Those who have passed Ski Level 1 will be taken to Switzerland, France, and other countries for Level 2 training, while Level 3 training will be conducted in Nepal in the mountains above 6,000 meters. Bhattarai informed that a person who has received level 3 training can become a trainer.
Kalinchok Kuri is considered to be the most popular ski sport in the world. The Government of Nepal has prepared a master plan and detailed project report (DPR) to develop Kuri as a ski resort. He also informed that the work of the resort will start from next year.
Feasibility studies have been done for skiing in many places including Dhorpatan of Baglung, Muktinath of Mustang, and Khaptadal of Karnali. The aim is to develop ski sports and promote tourist attractions. More than six thousand mountains are considered useful for merapeak skiing. It is seen that there is a special interest of foreign tourists in this scheme.
From the Facebook Post of Nepal Mountain Academy:
As we received the message from Education chief Mr. Nima Tenji Sherpa upon ongoing Aspirant guide course (AGC)-2021/22, all of the 8 applicants had successfully completed the Entry exam on Ice and Snow and Mixed Terrain Test. Previously, there were 12 applicants for the Oral exam and Rock Climbing Course with rock shoes and alpine boot at Kathmandu where only 8 of them secured their position for next entry exam at Rolwaling, Dolakha.

Onward they'll participate as trainees for the Aspirant Guide Course (AGC)-2021/22. The course is conducted jointly by Nepal National Mountain Guide Association (NNMGA) and Nepal Mountain Academy (NMA) at Rolwaling, Dolakha where Naren Shahi Thakuri, Tashi Sherpa, Hareram Khadka, and Abiral Rai are accompanied with Education Chief Mr. Sherpa.
Dolakha
Sports
Training